Iconic Hawaii songstress Amy Hanaialii revives the legendary Hawaiian Room
Her new show at Maui's Grand Wailea resort is a fine-tuned act of Hawaiian classics, her greatest hits and heartfelt storytelling.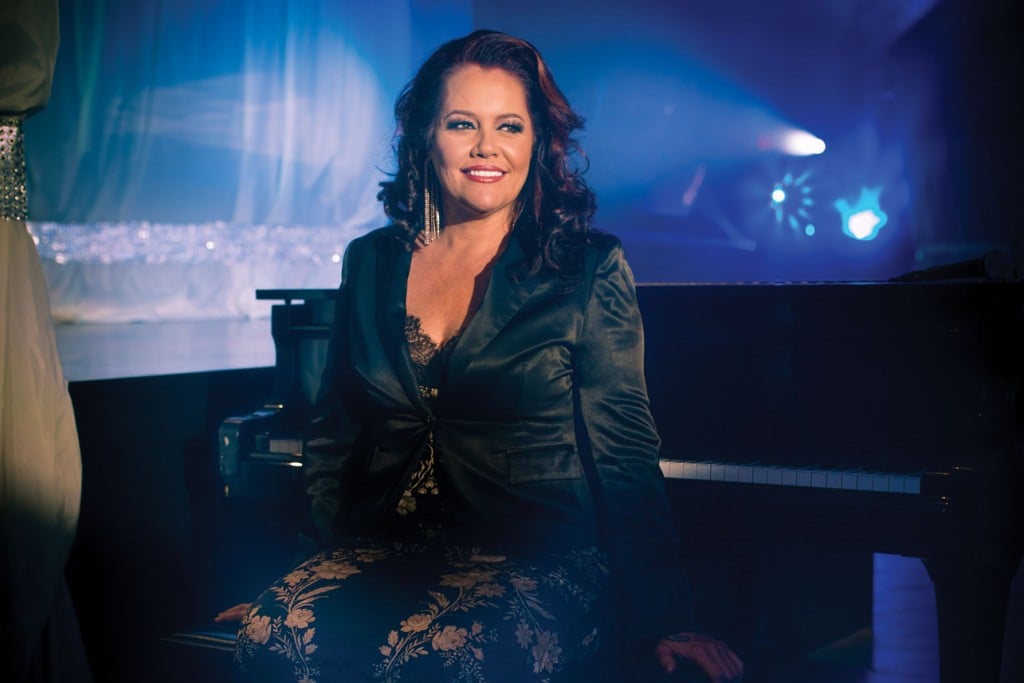 Sitting atop a piano in a glamorous, black evening gown, a red feather boa flung dramatically around her neck and belting out a popular 1940s Hawaiian standard, Amy Hanaialii is in the zone.
In the darkened room, a single spotlight beams down as she charms the audience from her throne with a jazzy rendition of "The Hukilau Song" sung entirely in Hawaiian. Her voice is commanding, with a roomy middle register that's a force of nature all its own. When Hanaialii takes it up an octave, high notes echo from the heavens, only to dip down deep into the recessed valleys of a bassy growl, scatting up a storm that would make a vocal great like Billie Holiday want to dance in its rain of improvisation. At this moment, Hanaialii is so inspiring she turns her audience into instruments themselves—the crowd cheering and clapping like trumpets and cymbals, clashing away to the music.
"I've always wanted a show where I could do this on my own piano," the singer proudly says, moments before sliding off the stage onto the baby grand's lustrous black hilt, the piano player tickling the keys. And, now, with The Hawaiian Room at Maui's Grand Wailea, she can, for two hours, every Friday and Saturday night starting in September.
Billed as Hawaii's top-selling female artist of all time, Hanaialii's success has taken her well across Polynesia, the United States, Europe and Asia. She's no stranger to the ins and outs of a nightclub, whether it's the Cotton Club of New York or Feinstein's in San Francisco. With a wide-ranging songbook of Hawaiian music, affinity for classical jazz performance and hilarious off-the-cuff one-liners, Hanaialii was destined for this latest junction in her 20-year career—to headline her own showroom—and there's no better place than her native home.
"I'm just a Maui girl," Hanaialii likes to remind the captive audience of her backyard roots, as much as she likes to instruct you to order her namesake wine, Hanaialii Fine Wines, from the bar. Rest assured, someone who owns their own label of wine knows how to throw a soiree.
Entertaining runs in her blood, after all. The Hawaiian Room lifts its name from the original Hawaiian Room in New York City's famed Lexington Hotel and pays homage to Hanaialii's tutu (grandmother), Jennie Napua Woodd, who was a performer there in the 1930s. Led by Hilo-born singer Ray Kinney, the first Native Hawaiian to perform in a major Broadway play, he recruited Woodd to sing and dance for the show where she delighted international guests with her sweet songbird voice and penchant for comic hula. It was so insanely popular, the Hawaiian Room ran for 60 years and sold out seven nights a week.
"People leave with an authentic Hawaii story," Hanaialii says, of recreating The Hawaiian Room's prestige, "that shows how our entertainers have graced the world's greatest stages."
It's quite a legacy to live up to, but Hanaialii has the chops, the confidence and the humor to hold it down, no doubt. She's a bonafide Hawaiian storyteller who knows how to make you hang onto her every note and word. The real pleasure of any showroom is intimacy with a larger-than-life artist and, with The Hawaiian Room, Hanaialii warmly pulls back that curtain to let you in on her, and her family's, opulent world of music.
"I truly am the official Lucille Ball of Hawaiian music, and I love to talk story," Hanaialii says. "The world is kind of missing the old element of that type of show."
She refers to the humor and banter that comprise some of the evening's most memorable moments. Between her greatest hits like "Haleiwa Hula" (which her grandmother composed and features hai, a distinctive Hawaiian falsetto style, that instantly transports you to another era the moment Hanaialii opens her mouth) and "Nui La Ea" (an anthem for her family name that traces itself back to Moloka'i), she cracks jokes and offers back stories. "All Hawaiian songs are about two things—food and sex," Hanaialii exclaims from the piano, before launching into "Holoholo Kaa," a riotous tune written in the early 1900s, whose chorus of a bumpy car ride over Oahu's Old Pali Road is an allusion to the backseat romp of a young couple in heat, she reveals. During another interlude, Hanaialii spins a yarn about the glamorous heyday of the Hawaiian Room, when an Oscar-winning actor once visited nightly to watch Woodd perform, with the hopes to woo her away after the shows. (That Hollywood playboy? Marlon Brando.)
Hanaialii's talents are also brilliantly displayed in her ability to quiet a room, too. Her cover of "Blue Moon" on this night, with a surprise accompanying appearance from slack-key master Jeff Peterson, makes you feel like as though all of Wailea is revolving around it. At select interludes, The Hawaiian Room uses video projections to unearth heartfelt clips from the Hanaialii vault—black-and-white footage of Woodd performing "The Cockeyed Mayor of Kaunakakai" and a family recording of Hanaialii and Woodd, in the twilight of her life, singing on the family porch. Hanaialii then eases into a ballad she wrote for her grandmother, "Napua," and there isn't a dry eye in the room.
With this new iteration of The Hawaiian Room, it's clear its legacy and memories are in good hands. In Hawaiian culture, talents are passed down and guarded by its succeeding generations. She treats and reveres it as such, like a duty. For Hanaialii, the show must go on.
---
The Hawaiian Room at the Grand Wailea is now accepting reservations for Amy Hanaialii's shows starting September 1. For showtimes and pricing, call (808) 793-2488 or visit hawaiianroomshow.com.