Into the Wild Napali: A Hiker's Journey on the Kalalau Trail
The Kalalau Trail winds its way through the Napali Coast State Wilderness Park on the north shore of Kauai, in and out of numerous valleys which have been left, for the most part, untouched since Native Hawaiians inhabited them.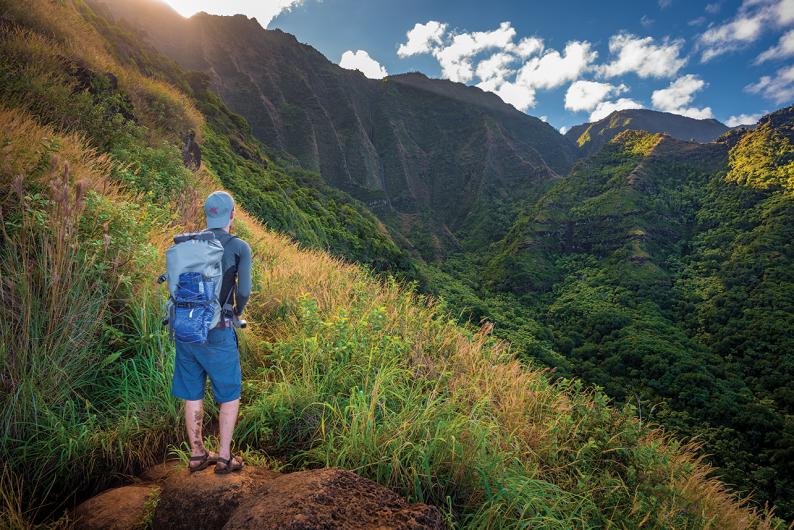 For the past seven months, I've had to explain myself to others: I'm hiking the 11-mile Kalalau Trail on the Napali Coast of Kauai. I'll be off the grid for four days and three nights with absolutely no cell phone service. I'm carrying with me food, some water and a tent. Yes, it's dangerous. Yes, people have died on this trail. And, yes, I really want to do it.
The responses to me were the same. Most women would give me the Wow, you're really doing that? look, followed by the question, "You're going with someone, right?" Numerous times, I'd answer, "Yes, I'm going with a group; there are four of us." Men were the ones who were excited about my adventure, especially my dad. "If it were me, I'd probably drink right out of the waterfall," he told me over the phone after I explained to him my well-planned water-purification process.
Maybe I am crazy. I can't deny that something beyond my control is drawing me to this rugged coastline, so much so that I revamped my diet and started running again, even overcoming a month's worth of debilitating knee pain by pure determination. I also hiked all over Oahu—in sun, mud and rain, up strenuous elevation gains, with and without a backpack, dodging the masses on popular hikes and growling dogs on less-visited ones—motivated completely by the desire to hike just this one trail.
I blame the author of Kauai's Na Pali Coast: A Unique Adventure. I found a copy of the book sitting on the coffee table of my family's vacation condo when I was a teenager visiting Kauai for the first time and was fascinated by its stunning photography and stories of the coast's history. My aunt and uncle took me on the Kalalau Trail that same week, hiking the first 2 miles to Hanakapiai Beach—a popular day hike among visitors. Fast-forward 20 years later and my obsession with this trail has reawakened. I saw the Napali Coast by boat for the first time last year, and then a close friend asked if I'd hike the entire trail with her. My immediate answer was "Yes," and, now, here I am, sitting in the backseat of a four-door sedan, being driven to the Kalalau Trailhead at Kee Beach.
The weather app on my phone is calling for partly cloudy skies with rain the whole week, but that's not unusual for this part of the island, where sunny-showers are the norm.
"My landlord was worried about you guys because she said there was a storm coming," our driver, a Kauai resident, says.
"What storm?" we ask, looking out our car windows at the sunny and clear, perfect-blue sky. We couldn't have asked for better weather.
She drops us off at the beach park around 7:15 a.m., then we use the bathroom facilities one last time, douse ourselves with mosquito repellent, do some final stretches, tighten our hiking-shoe laces, take a swig of water, then strap on our packs—mine weighs 35 pounds. After adjusting the eight straps around my shoulders and waist so that it sits comfortably on my hips, we pick up our hiking poles and take our first steps onto the trail. Our plan is to camp at the halfway point, the 6-mile marker in Hanakoa Valley, before continuing on to Kalalau the next day. We can take our time.
The first 2 miles of the trail rise 1 mile up to a 400-foot elevation then 1 mile down to Hanakapiai Valley and Beach. The trail is busy with many day hikers on the same route, passing us in both directions.
"You guys going all the way?" one of them asks us. He's dressed in khaki shorts and tennis shoes, and obviously is not.
"We are," my friend answers, though our large backpacks and poles instantly give it away. He wishes us luck and skips off ahead, while we steadily pace ourselves up the mountain.
At the 0.5- and 1-mile lookout points, we stop briefly to take photos of Kee Beach behind us and the Napali (which means, "the cliffs") coastline ahead of us. Its magnificence is unchanged—cliffs overlapping cliffs, rising 4,000 feet into the sky and plummeting all the way down to the deep, blue sea.
The beach at Hanakapiai peeks through the trees as we make our descent into the valley and we hear the roar of its waves crashing against the shore. Hanakapiai Stream is infamously known for the number of rescues and deaths that have occurred here due to its flash floods. There's even a wooden sign posted right before the stream, tallying the number of visitors who have died in this valley, either swept away or drowned at the stream and beach. Two years ago, the Kauai Fire Department rescued 121 people stranded on the other side of the stream, forcing some of them to stay overnight until a helicopter could rescue them. If Hanakapiai Stream lets us pass, I think, then we're clear to go the rest of the way. Turning the corner around the tree-lined trail, we see the water is shallow and calm, and people are crossing it with ease. This is our green light.
After safely crossing to the other side, we stop at the beach to take a break to look around. The surf is pounding the shore, waves rolling in from different directions crashing into each other, sometimes letting out a loud boom. It's May, not quite summer, so the surf is still sizable and the sandy beach beneath the water isn't fully visible yet. What are in plain sight are hundreds of rocks on its boulder beach that have been stacked, one on top of the other, by people who have visited this beach, see it and follow suit. I'm not particularly a fan of the practice.
As I stand on the piece of land between the stream and beach, I look down at my feet and see four large boulders mostly buried in the dirt (meaning they've been there a long time) and they're positioned in a straight line (an indication that a human did this). "It could have been a habitation site," my friend says, who's a Hawaii archaeologist. It's in poor condition and much of it has been disturbed—a large fire pit sits near it, probably made up of stones from the historic site.
With plenty of light left in the day, we turn away from the beach and head uphill toward our next hurdle on the trail—a steep climb some people nickname Heartbreak Ridge, because the weight of your bag is supposed to kill your spirits. I'd been worried about this part. It's a series of switchbacks that takes you up to the highest point on the 11-mile trail, an 800-foot-elevation change, and also marks mile 3. While my bag and the uphill climb do cause me to stop to catch my breath a few times, I feel Oahu's trails are not much different from this. I also like seeing the native plants double and triple in numbers the higher we go—naupaka shrubs, ti and hala (pandanus) trees, and I've never seen so many ohia lehua flowers in my life. Seeing the beauty around us helps encourage me to continue. At the top of Heartbreak Ridge, we drop our bags, sit down and eat the turkey sandwiches and spam musubis we bought the night before. This will be the last tasty meal we'll have for three days.
The next mile or so into Hoolulu Valley, we see our first glimpse of the wild goats scattered along the coastline. They were first brought to Hawaii by Capt. James Cook in 1778, as gifts to the Hawaiians. We watch the animals walk right over ledges and onto cliff faces to reach plants that must be worth the effort. In the interior of the valley, we walk through kukui tree groves, the nuts buried in the dirt of the trail, producing a gravel-like pathway. We're getting used to hiking in and out of the valleys now, as the trail continues to snake along the coastline in this manner. We also welcome the occasional hikers we meet traveling in either direction. After Hanakapiai, the foot traffic reduces tremendously, but it's nice to have quick exchanges on trail conditions and updates on mileage with people that pass by. "How much further to Hanakoa?" I ask one woman, who's walking back from Kalalau. "You have about 2 more miles left, but there are waterfalls and pools waiting for you."
We hike up a narrow pathway along a cliff, at around mile 4, and turn a corner at a high point that juts out toward the sea. We're leaving Hoolulu Valley and about to enter Waiahuakua Valley. It's here we get our first look inside of it and spot a waterfall in the distance that has to be at least 1,000 feet tall. It's an amazing sight—the waterfall flowing down the mountain of the untouched valley. Most of the valleys on the Napali Coast are hanging valleys, meaning they don't return to sea level. Aside from Hanakapiai and Kalalau, there are no other beaches along the trail, but Waiahuakua Valley is known for its sea caves, which tour boats frequent. Looking up at the sky, which has slowly been covered by clouds, we worry about rain and pick up our speed into Waiahuakua as best we can.
Evidence of Hawaiians living in this valley is clear. We see rock-wall agricultural terraces too numerous to count when something magical happens. The entire pathway ahead of us is sprinkled with ohia ai (mountain apple) blossoms, a natural occurrence that happens in late spring. Similar to the ohia lehua in look, the ohia ai blossoms are a bright fuchsia. We sit once more to take a break in this shaded wonderland, and I imagine what it must have looked like in its past when Hawaiians lived here long ago—kalo (taro) growing in the terraces and large quantity of ohia ai trees all around. We're basically walking through what was once a major source for sustainable living.
At about 3 p.m., my calves are hardening, my feet hurt and my toes feel like they're about to fall off, bruised from the downhill slopes. We've been hiking for eight hours and have finally made it to Hanakoa Valley, searching among trees alongside the trail for the campsite that's supposed to be right past the 6-mile mark we just passed. Finally, we see our tent, already made, set atop a dirt plane that was once part of this valley's coffee-producing terraces. Two friends, who hiked ahead and put it up for us are returning from the stream's pools and waterfalls, which we had heard all about. We collapse inside the tent then change into our bathing suits.
In what seems to be a matter of minutes, there's a flash flood. I see it on the cloud-topped mountains first—one of the two waterfalls sitting at least 1,000 feet high in the valley's walls is brown. I walk to the stream and find it completely flooded and murky, water rushing very fast. Rain seems imminent at this point, so we go back to our tent, wipe ourselves clean and I eat a lukewarm, precooked Indian dinner out of its minute-ready microwaveable bag.
It rains hard all night. The sound of water is everywhere, rain hitting our tent like pellets from a gun, dropping into puddles around us; the stream sounded like a train. This was the storm our Kauai friend's landlord had been referring to. I sleep, dreaming about water lifting our tent off the ground and it floating away, but each time I woke and checked, there was no leak in our tent, and nothing terrible happens that night, aside from the loss of sleep.
The next morning, we check on the stream, stepping over a new small waterfall that appeared overnight, and count five more tall waterfalls flowing down the sides of the valley's half-moon walls. It's absolutely beautiful. The stream is no longer brown, but is still moving swiftly, the current still noticeably strong. Across the way, we see other hikers checking out the conditions, waiting to cross the stream from Kalalau. One man carefully rock-hops his way toward us, only to be stopped at a rock he can't jump from. He motions to us, asking if we have a rope. We don't, so he returns to the other side of the stream, looking disappointed.
"If the water doesn't go down by 9:30 a.m., then I'm not continuing," one of my friends announces. She doesn't want to hike in the dark and I respect her judgment. She's an experienced hiker, who's hiked all over the Islands and abroad, with Mounts Kilimanjaro and Everest under her belt. She also knows firsthand the force of a flash flood, having almost been swept away by one in the past. Soon, 9:30 turns to 10, and she and her husband leave the stream to set up camp for another night before returning to Hanakapiai the next day. I was left with a decision to make: Split up the group and hike the 5 miles to Kalalau, which will probably last till evening, or stay together. In the midst of this, we notice that no one has hiked up the trail from the direction of Hanakapiai. We guess that the Department of Land and Natural Resources (DLNR) probably closed the Kalalau Trailhead at Kee Beach this morning after last night's rain. It was an eerie feeling, because we were crossing paths with so many people the day before from both directions and now there is no one. ​
Around 10:30, the water subsides a bit, and we watch as four women cross the stream on their way back from Kalalau. They tell us there was a flash flood at the Kalalau Stream, too, they had to wait out. We ask them about a section of trail at the 7-mile mark called Crawler's Ledge, which is known for its almost nonexistent path along a steep cliff, which many people decide to crawl. "It's pretty sketchy and slippery," one girl says, but another adds it's not nearly as difficult as the part after it, referring to a section of the trail on a large slope made up of loose red sand and dirt, with absolutely nothing to grab onto if you slip and fall. It's just mud, one says. "Two of us had to crawl on all fours because of the thickness of it," another girl says, explaining their shoes lost traction. If you lose your footing, you're pretty much a goner, she says.
I don't feel comfortable continuing on the trail in the wet and slippery conditions, nor do I like the idea of splitting up, or that we'd be taking a chance that our food supply would run out if there were more flash floods. So, we didn't continue on to Kalalau as we had planned, but we did make the most of our time in Hanakoa. The little waterfalls that sprouted up overnight turn out to be great places to fill up our water bottles, wash our clothes and take cool showers. Then we hike to Hanakoa Falls, a half-mile, clearly marked trail from our campsite. It is an easy hike with a big reward—the falls are spectacular and we have them all to ourselves. They look about 300 to 400 feet tall, but we're seeing only the bottom tier of a 1,000 foot waterfall. It helps lift our spirits and I am happy we are able to actually experience the valley, rather than rush through as most people do.
It isn't until around 2 p.m. that we see the first backpackers come up the trail from Hanakapiai. I stop to ask where they came from and tell them they are the first people we've seen from that direction. One tells me they encountered the flash flood yesterday between miles 4 and 5 at Waiahuakua Stream and had to overnight it there until it was safe to cross. Four hours later, a wave of hikers come up the trail. They confirmed that Hanakapiai Stream had flash flooded, too, and DLNR didn't open the trailhead until 1 this afternoon. Our campsite is busy with people that night as they settle in for the night.
I awake to my friend standing over my tent asking if I had heard the landslide last night. I sit up, surprised, wondering if I am still dreaming. Her husband, who also heard it, had left to see if the trail had been blocked. "It happened about 10 p.m.," she continues, "It's a really scary sound, like a freight train rumbling. You hear rocks crashing and trees cracking." She's seen landslides before, and I've read they are common in these numerous valleys, and I believe her. We even passed old landslides along the trail, now overgrown. Her husband returns and says he doesn't see anything blocking the trail, but it could have happened anywhere.
We pack up our stuff and head back on the trail toward Hanakapiai, and I feel ready to leave. The trail seems easier this time, and, though we're disappointed we didn't make it to Kalalau, I am thankful for the experience we were given. We're all safe, we're all together and we got to spend two nights in Hanakoa Valley, which proved to me there's much more to this trail than just one destination.
When we get to Hanakapiai, my friends take a detour to hike to its falls, so I sit down alone to rest once more at the boulder beach. I watch happy people cross the stream and picnic around me, then I stare pensively out at the sea. I think about the past few days, listening to the waves crashing against the beach as the sun dips lower in the sky, and finally understand what I must do: hike the Kalalau Trail once more, because my journey isn't over.