Ironman Triathlon, Molokai Hoe headline sports-filled October in Hawaii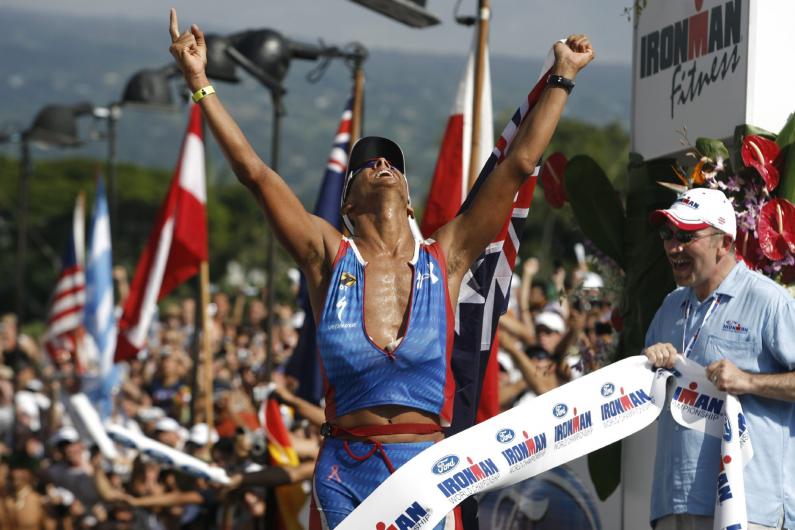 Outdoor activities and sports—both extreme and not-so-extreme—are perennially popular in the Islands. In a place where the passing of seasons from, say, fall to winter is marked mostly by a change from warm sunny days to, well, cool sunny days, that's not much of a surprise.
But each October, we're reminded just how perfect Hawaii's location and weather are for a diversity of outdoor activities. This comes courtesy of two of the state's most-enduring, challenging and world-renowned homegrown sports events—The Ironman World Triathlon Championship and the Molokai Hoe.
The Ironman Triathlon, celebrating its 31st birthday today, is the granddaddy of the sport—a 2.4 mile ocean swim in Kailua-Kona Bay, followed by a 112-mile bike ride across blazing hot South Kohala Coast lava fields, finishing with a 26.2 mile marathon back into the lava fields. The Molkai Hoe, happening on Sunday, is a 41-mile open-ocean single-hulled team canoe race from Molokai to Oahu, across the unforgiving Kaiwi Channel.
We wrote about both of these annual events in a HawaiiMagazine.com feature preceding last year's events. Click here for the feature.
If you're on the Big Island's Kailua-Kona side today, the best place to watch the Ironman is at the start and finish line, which are fortunately at the same location: the Kailua-Kona Pier. The triathlon's 1,800-plus participants cutting into the calm waters off the pier at 6:45 a.m. makes for a very cool Kodak moment. Be sure to occasionally return to the pier the rest of the day to watch triathletes finish each stage of the event.
For more info on the Ironman Triathlon, including news, course maps and schedules, click
here
. Can't be there in person? Watch NBC's coverage of the Ironman on Dec. 19 (check local listings for time).
The best place to watch the Molokai Hoe? If you're on Molokai this weekend, you can watch the teams leave from Hale O Lono Harbor at 7:30 a.m., on Sun., Oct. 11, just after a blessing ceremony. By late morning, the first canoes will be visible on Oahu's south shore as they move past Hanauma Bay, Diamond Head and Waikiki before finishing at Fort DeRussy Beach, next door to the Hilton Hawaiian Village. Can't be on either island? For the first time ever, Molokai Hoe organizers will be streaming the race live on the Web. Just click here at 7:30 a.m. Sunday for the live feed, or more info on the race.
Beyond this weekend's Ironman Triathlon and Molokai Hoe, other statewide sports event and challenges this month include:
• Hawaii International Rugby Tournament, Oct. 23 and 24, 9 a.m.-sunset, Kapiolani Park, Waikiki, Oahu. This year's tournament will be hosted by the Hawaii Harlequins Rugby Football Club, and include teams from Australia, Japan and New Zealand. Though rugby is a well-known sport throughout Europe and the U.K., it's rare to fina a tournament right here in our own backyard. Spectators are welcome. For more info, click here.
• The XTERRA Makena Beach Trail Run, Oct. 24, Makena Beach & Golf Resort, Maui. The appeal of this run is its very scenic course—taking runners through the inland forests, lava trails and past oceanfront scenery in the west Maui resort community of Makena. Both the three- and six-mile runs start at the resort. For more info and to register, click here. If a beach trail run is too easy for you, or if you really feel like punishing yourself just 24 hours after completing this run, you may want to consider …
• The XTERRA Off-Road Triathlon World Championships, Oct. 25, Makena Beach & Golf Resort. This challenge covers a 1.5 km run, 30 km bike ride and 10 km run across intimidating terrain blessed with ominous names such as Heartbreak Hill, Boneyard and The Plunge. Spectators can cheer on their favorite triathletes from the sidelines, or from inside the Makena Beach & Golf Resort via a big-screen TV, the latter while enjoying food and libations. For more info, click here.