Is Donald Trump's name still on Waikiki's nearly done Trump Hotel?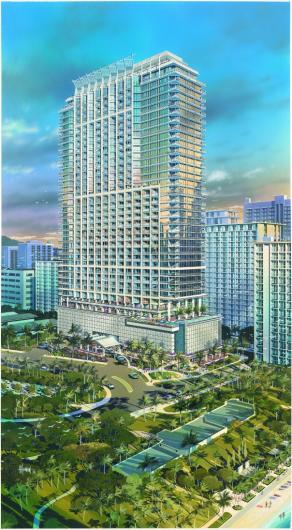 Is multimillionaire developer Donald Trump's name still attached to a high-rise luxury Waikiki condominium-hotel nearing completion?
That's one of the questions being asked by a handful of condo buyers in a recently filed lawsuit against Irongate Capital Partners, project developers of the property initially called the Trump International Hotel & Tower.
The property recently got a new name: Trump International Hotel Waikiki Beach Walk. We've got an update on the lawsuit and the status of Trump's name on the project.
The lawsuit alleges that California-based Irongate misled potential buyers by referring to Trump as a co-developer of the 38-story "condotel." Trump is only licensing his name to the project—the first in Hawaii that would bear his much-recognized moniker.
In the event the Trump license is terminated, all references to Trump's name would be removed from the property. The absence of the Trump brand would likely cause a huge depreciation in buyers' original investment.
Honolulu attorney Warren Price III, who is representing the 11 plaintiffs, argues Irongate concealed the terms and conditions of the Trump license agreement—facts that should have been provided before buyers signed their sales contracts. The 11 buyers now seek to cancel their contracts—which required a 20 percent deposit for units that ranged in price from $460,000 to $9 million.
All 464 units in the tower, at the Diamond Head end of Fort DeRussy, were sold hours after going on sale in November 2006. Touted as one of the biggest single-day sales in real estate history, the units are valued at nearly $700 million total.
However, with the nationwide decline in real estate, it's unlikely that the units are now worth what buyers promised to pay for them, even with the Trump name attached.
This isn't the first Trump-Irongate project with legal trouble. A similar condotel in Baja was abandoned earlier this year. Trump filed a lawsuit against Irongate, fueling concern from investors that Trump may pull out of other licensing agreements.
At this point, however, that's speculation. Representatives from PR firm Middleton & Gendron told HawaiiMagazine.com that the real estate mogul's name is still attached to the Waikiki project.
They also confirm construction of the tower will be completed in September 2009, as scheduled. Reservations are already being taken online for dates as early as November 16, at rates between $255 and $1,700 per night. For more information, click here.
We'll keep you posted as more news on the Trump Waikiki property develops.