It takes everyone to bring fresh local food to keiki
Under the Aina Pono initiative, schools are serving nutritious meals using locally sourced ingredients.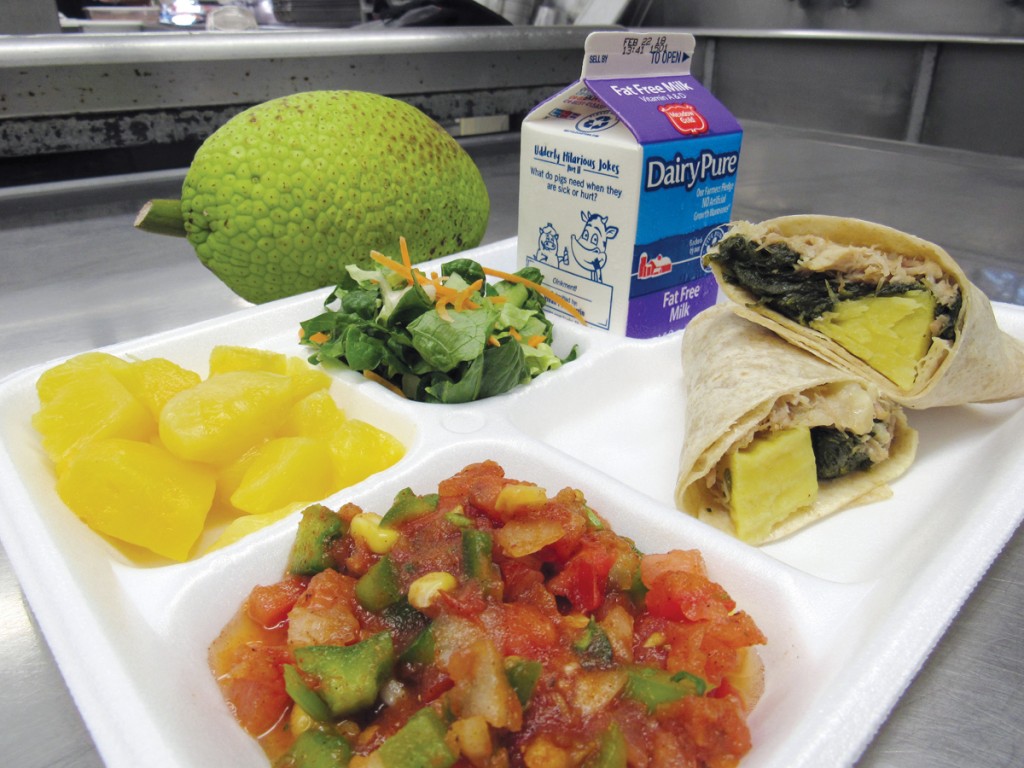 You know the ritual: Kids ask what's for dinner, parents check the refrigerator, a conversation ensues about what sounds good, and with an agreement reached, all hands work to get it on the table. Now imagine that same ritual happening in school cafeterias around the state.
Sounds crazy, right? Between USDA standards, DOE requirements, recipes scaled for a thousand-plus kids, and never-ending budget constraints, who's got time to care what kids want to eat, what cooks want to make and what's in the refrigerator, right? Wrong.
That's exactly what's happening right now under a new initiative partnering schools, farms, kids, nonprofits and government — bringing fresh, local foods into school cafeterias and empowering cooks to make what kids want to eat. And here's the real kicker: It's healthier and cheaper, there's less waste and more food consumption, and more kids are eating school lunch — because they like it.
Aina Pono, initiated only three years ago in the lieutenant governor's office, has transformed school lunches in two school complexes around the state and is on its way to schools statewide. Jayson Watts, senior adviser to the lieutenant governor and project coordinator, says it all started with a few questions. "We asked the kids what they want to eat and cafeteria workers what they like to make," he says, "and then we asked local farms what they have."
This farm-to-school initiative looks to connect keiki with Hawaii's natural resources while investing school dollars locally and relying on local recipes and traditions to lay the groundwork for cafeteria menus — all while staying true to USDA standards for school lunches and DOE budgets and requirements.
While there are similar one-off programs in place in other schools, Watts believes this one has the ability to scale across the state, working with local farmers to create a market for right-sized crops within local districts and tailoring the menus based on local products and favorites. "Ask a farmer if he can supply tomatoes for 100,000 meals per day, and he'll say no," Watts says. But ask him if he can provide enough for the schools in his immediate area, and there's a deal to be made. "We are looking to break up procurement within individual islands and communities," Watts says, "thinking differently and putting the pieces together differently."
The project started small, in the Hawaii Island Kohala District, home to 780 students in elementary, middle and high schools. The kids reported that they wanted things like chicken katsu, a salad bar and more fresh fruit. The staff tweaked their recipes, baking the chicken instead of frying it, and then brought the students in to taste-test the results. Together, they created new menus.
Their results were immediate and staggering. Locally procured food (excluding milk) went from 1.5 percent to 21.5 percent. Fresh food served increased from 27 percent to 82 percent. Costs decreased by $30,000 and the number of kids opting for school lunch over home lunch clicked up a few points.
It worked with a few hundred kids, but what about a few thousand? Mililani came next, one of the largest complexes in the state with some 3,900 mouths to feed every day, five times the number in Kohala. This time, the kids took it viral, not only helping to create the menus and testing the recipes, but also launching what they dubbed "The Food Revolution" and taking to social media to brag about it. Again, numbers don't lie. Local food procurement tripled, fresh food consumption went from 16 percent to 50 percent and costs decreased by $108,000. Most promising however, might be the number of kids lining up — a whopping 56 percent increase in kids leaving their lunchboxes at home and choosing school meals, and over 90 percent of them reporting that they really like what they're eating. (The only casualty: chicken katsu came in with a 78 percent favorability, down slightly from its Kohala-based fans.)
"Farmers are definitely willing to grow what the DOE needs," Watts says, pointing to the successful partnerships experienced when the demand is manageable and the market is ready to receive it. The program is now testing the waters statewide with its "Harvest of the Month" program, working with multiple farms across the state to procure enough of a single product each month to provide one Aina Pono meal to every child in every school every month. Launched in December 2017, the program started with 18,000 pounds of local beef, followed in subsequent months with 20,000 pounds of bananas, 18,000 pounds of papaya and even 2,600 pounds of 'ulu.
Teaching the kitchen staff to run a sustainable kitchen and scale recipes to feed a thousand kids a day without creating waste required thoughtful work, as anyone who's ever been to a local potluck understands. "Auntie in the kitchen worries about running out of food, not having enough for doggie bags, [which is] the local way," Watts says. Chefs and kitchen consultants taught staff to transition from "heat-and-serve" foods and start with fresh, raw ingredients. They scaled recipes to feed the daily population, mentoring the staff to follow the recipe measurements carefully so they only made enough for that day's lunch crowd. "By teaching staff to hold to the numbers in the recipes," Watts says, "we were able to reduce waste and demonstrate how the money saved could be reinvested back in the school." While they're not there yet, the intention is that money saved can eventually be used to upgrade the cafeteria, perhaps adding new and better equipment in the kitchens.
Thanks to the coconut wireless and social media interest, demand might be momentarily exceeding supply. "We can't keep up with the want," Watts says. "The buzz is out there and now our challenge is keeping up." When asked whether a change in the lieutenant governor's office might slow the project, Watts shakes his head. "It's a DOE program now — already set up for success and with private sector and nonprofit partners in place." With a five-year action plan in play, national accolades from organizations like the National Conference of State Legislatures, nonprofit partners like Ulupono and The Kohala Center, cost savings and enhanced revenues, the puzzle pieces seem lined up, regardless of who's sitting behind the lieutenant governor's desk.
"It's more than a farm-to-school program," Watts says. "It's about efficiency, sustainability and food security," and keeping Hawaii dollars in Hawaii communities. The program's mission is to create "citizen eaters," keiki who understand the connections between local foods, health and agriculture and who make the connections part of their daily lives. Once lunch is conquered, they look to tackle breakfast too, partnering with Hawaii Appleseed to increase participation and ensure more keiki start their mornings with a full belly. School gardens, keiki gardeners and kitchen staff harvesting herbs for their customized scratch recipes are all right on the horizon, the next steps in the statewide vision.
Right now, the greatest staff incentives might be what's not in the trash cans. In Mililani, the Kōkua Hawaii Foundation stepped in to help institute a waste management program, thus measuring how much food is consumed — and what gets thrown away — by the students. "Kitchen staff members teared up when they saw the almost empty trash bins," Watts says, "They had so much pride that the food they made was now being eaten by the students. Kids were actually coming up and thanking them for it." A clean plate, a full belly and a heartfelt thank you. It doesn't get much better than that.
"It's more than a farm-to-school program… It's about efficiency, sustainability and food security."