It's Don Ho Day!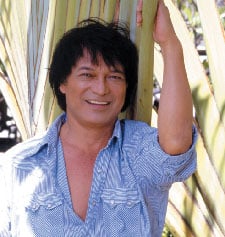 Break out the sparking wine (or at least a ginger ale). Cue "Tiny Bubbles" on the stereo. Honolulu Mayor Mufi Hanneman has declared today "Don Ho Day."

A documentary of his life, "Don Ho Remembered," premieres on Honolulu television station KGMB-9 at 8 p.m., Jan. 22. (An encore will be aired at 8 p.m., Jan. 28)

There's a great new autobiography of the Ambassador of Aloha's life, "Don Ho: My Music, My Life." Written by one of the great music writers, Jerry Hopkins, who also bio'd Elvis and Jim Morrison, and publsihed by Honolulu's Watermark Publishing, it's for sale here.

If you're in Honolulu tonight, stop by Don Ho's Island Grill at 5 p.m. and celebrate the book's release with some of the folks who knew him.

We'll be there, hanging loose. Throw us a shaka if you come by.