It's Friday the 13th: Travel to Oahu's most haunted areas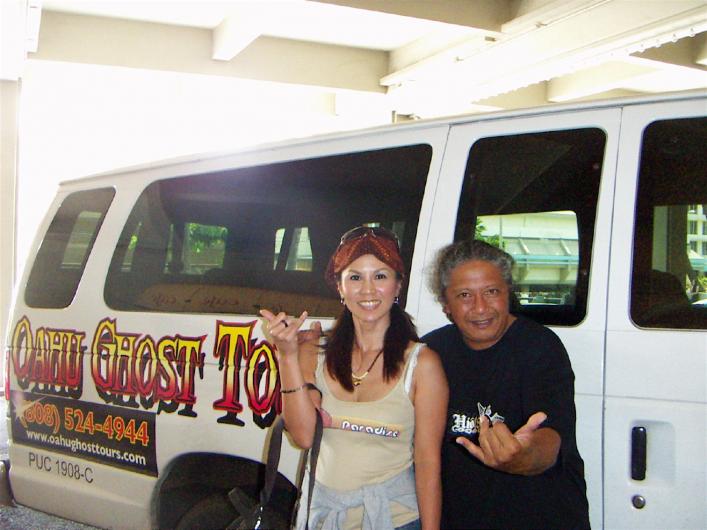 In the spirit of Friday the 13th, Oahu Ghost Tours is offering a special Orbs of Oahu bus tour at midnight.
See some of Oahu's most haunted areas including the Pali Lookout and the Chinese cemetery in Manoa. The trip will also teach you why you shouldn't bring pork over the Pali Highway.
According to Hawaiian legend, many areas on Oahu are haunted because they were once large battlefields. If you're lucky (or perhaps, unlucky) to see any of these Hawaiian night marchers (ghosts of ancient warriors), avoid looking into their eyes. Legend has it that you will disappear and may never been seen again. Experts recommend lying down on your stomach, face down to avoid eye contact.
During the bus tour, you'll even get a chance to take a walk around these creepy sites if you're brave enough. The tour will cost you $66.60, and includes a special commemorative T-shirt. Seating is limited to 25 guests. Pickups for the bus tour are available in Waikiki at 11:30 p.m.; tour ends around 4 a.m. (This tour is not recommended for children under 10 years old.)
Not on Oahu at this time? Not to worry. This year, Oahu Ghost Tours will be holding its special Friday the 13th bus tours on March 13 and Nov. 13.
Throughout the year, Oahu Ghost Tours also offer three types of tours: "Honolulu City Haunts" (night walking tour), "Sacred Spirits" (day driving tour) and its regular "Orbs of Oahu" (night driving tour).
For more information, call (808) 524-4944, toll free at 1-877-597-7325 or click here to sign up.