It's still Obama-rama in Hawaii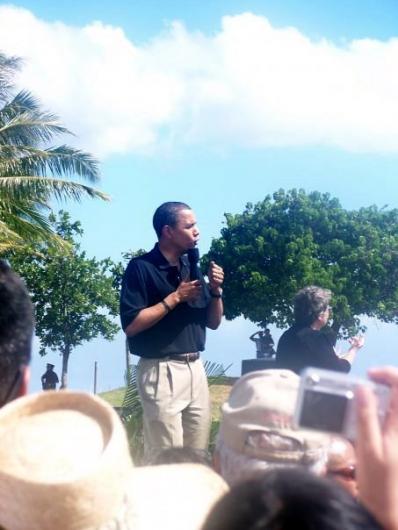 Barack Obama fever has been running unrestrained statewide this week.
The U.S. senator's public appearance at Oahu's Keehi Lagoon Beach Park just after his Hawaii arrival last Friday kicked off a nine-day visit for the Democratic presidential hopeful. The Hawaii-born Obama's raison d'etre for being here? Some serious vacation time.
Obama promised to grab a plate lunch—Zippy's and Rainbow Drive-In were his preferences—get some shave ice, bodysurf and visit his grandmother. In the four days since, he's managed some of the above twice, caught a movie, dined at Alan Wong's restaurant and shot a round of golf—with the media following his every move.
Today's big activity was a basketball game with campaign staff and former classmates at alma mater Punahou School, and lunch at Honolulu burger-and-sandwich joint Kua Aina. An Obama campaign fundraiser for well-heeled supporters at the Kahala Hotel & Resort topped tonight's schedule.
My invitation for tonight's shindig was, I presume, lost in the mail. But I was at Keehi last Friday.
More than 3,000 supporters had formed a lengthy line (right) to get into a viewing area when I showed up shortly after noon. Gates to the park didn't open until 12:30 p.m. A few folks had been there as early as 9:30 a.m. Some even gladly admitted they'd skipped work to be there.
Security was tight—metal detector wands and close examination of personal items. Checkpoints—manned by Honolulu Police, U.S. Secret Service and even the local Teamsters union—split the main line in two. While I considered which would get me where I was going quicker, a man behind me bluntly pointed out: "It's a democratic rally, you can't choose the right."
Sigh.
Turns out even Barack Obama gets delayed at the airport. His motorcade didn't show up at Keehi until 3:00 p.m. I got a horrible sunburn and was dehydrated. Where were the drink vendors? There was serious cash to be made.
After speeches from a few prominent Hawaii politicos, Obama arrived and took the stage to thunderous applause.
Humbled by the reception, he expressed his desire not to talk politics and instead thank Hawaii residents for their support. Inevitably, he wound up doing both. And then he was gone—off to his grandmother's Honolulu condo and points unknown.
Me, I've still got the sunburn.