Jack Johnson features in fundraising song for Hokulea worldwide voyage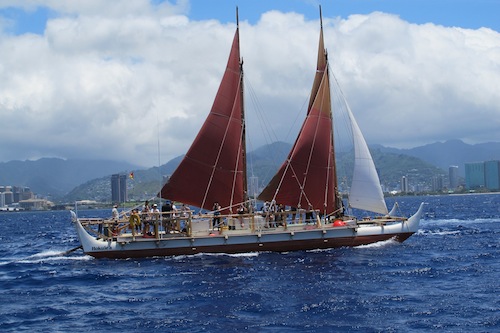 The Polynesian Voyaging Society's (PVS) traditional double-hulled voyaging canoe, the Hokulea, is currently celebrating its 40th birthday. Instead of the typical birthday song, members of the society may be found singing along to a custom track made in honor of the canoe's current voyage.
Composed by Hawaii artist Chucky Boy Chock and featuring guests Jack Johnson and Paula Fuga, the song, "Na Hookele Opoipio," translates to "The Young Navigators." The track is currently featured on RallySong.com as a crowd-sourced fundraiser for the society and its endeavors.
The Hokulea and its sister support canoe, Hikianalia are currently one year in to the organization's first-ever around-the-world voyage. The boats are making the journey guided entirely by traditional voyaging and wayfinding techniques using the waves, wind and stars.
The three-year voyage, dubbed the Malama Honua ("Care for our Earth") Worldwide Voyage, seeks to educate global communities about the value of environmental stewardship and traditional navigation techniques.
Hokulea and Hikianalia left Hawaii for the first international leg to Tahiti last June, and are currently docked outside of Auckland, New Zealand.
The fundraiser kicked off today and will run through the middle of next month. It seeks to raise $75,000 for the voyage as the boats prepare to leave the Pacific for the first time. The canoes will cross the Tasman Sea from New Zealand to visit Australia before heading on through the Indian Ocean to southern Africa later this year.
Any monetary contribution to their fundraiser will get you a copy of the song. But to be entered to win a Jack Johnson-signed ukulele and a surfboard made of wood from the koo pola (support brace for the deckboards) of the original Hokulea—you'll have to give at least $2. Additional collectors' items, like signed Jack Johnson CDs and memorabilia are available at different donation levels.
In addition to the fundraiser, the Polynesian Voyaging Society is also hosting a series of Hawaii-based events to celebrate the Hokulea's birthday including talk story sessions with former crew members and a beach cleanup the week of Earth Day. For a schedule of events, click here. To contribute or to see the full spectrum of contribution levels, visit rallysong.com/jackjohnson. And, check out the video below for an interview with Johnson and a clip of the trio singing their fundraising song!
Jack Johnson Polynesian Voyaging Society Fundrasier Video from HAWAII Magazine on Vimeo.