Japanese flute grand master to play this weekend at shrine pilgrimage on Kauai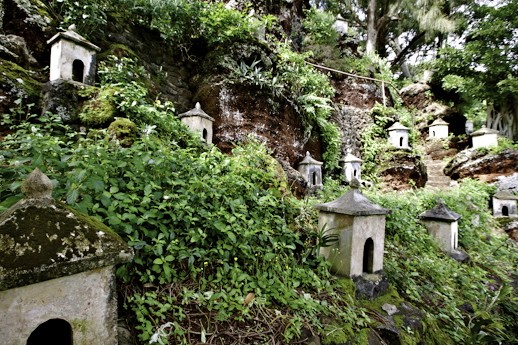 Tucked into tranquil Lawai Valley, near Kauai's south shore, is Lawai International Center, which features 88 miniature shrines inspired by a thousand-mile pilgrimage in Shikoku, Japan.
This Sunday (Aug. 12), the center will celebrate its 12th annual Pilgrimage of Compassion during which visitors will be invited to walk a hillside path lined with the shrines while listening to serene shakuhachi (Japanese flute) music played by Grand Master Riley Lee. The annual pilgrimage program is slated for 3 p.m. to 5 p.m. Before the pilgrimage gets under way, there will be mochi-pounding demonstrations at 1:45 p.m. and 2:15 p.m.; taro-pounding demonstrations, 1 p.m. and 3 p.m. ikebana (the Japanese art of flower arrangement) demos, 1 p.m. and 3 p.m. Plus, a silent auction, which is already under way online, will wrap up at 5 p.m. Click here for more information about auction items and bidding.

If you're on Kauai this weekend, and you like the idea of feeling far-removed from the cacophony of modern life, we recommend taking part in the pilgrimage.
Built in 1904 by the first generation of Japanese immigrants, the shrines were inspired by the ancient pilgrimage of 88 temples in Shikoku, Japan.
In decades following their construction, the Lawai shrines attracted pilgrims from across the island, some of whom walked barefoot for days while hoping for healings and praying for miracles, says Lynn Muramoto, who heads Lawai International Center, a nonprofit community project based on a 32-acre site that includes the shrines.
Prior to the 20th century, immigrants from Asia built Taoist, Shinto and Buddhist temples in Lawai Valley. Also, Hawaiians built a heiau in the area for their sick and wounded.
In a story about the center in the September/October issue of 2011 of HAWAII Magazine, Muramoto recalls that when she first visited the site in the early 1990s she sensed spiritual strength but could see only seemingly endless tangles of neglected foliage. "It was totally overgrown. You could not tell that there were shrines," Muramoto said. In the preceding decades, as sugar production faded and a nearby pineapple-packing factory shuttered, residents moved away from Lawai and the shrines fell into disrepair.
Muramoto has devoted much of the past two decades to leading an effort to restore the shrines and establish the center as a nondenominational, multicultural gathering place. The community project draws on the site's rich spiritual history, but is not affiliated with any religion-based organization.
Volunteers have repaired, restored and rebuilt shrines, and raised funds for other improvements. Ongoing work includes maintaining the site and continual landscaping. Future plans include construction of a pagoda, a gathering pavilion and gallery, festival grounds for the arts, and meditation areas, Muramoto says.
Donations will be accepted during Sunday afternoon's event. For more information about Lawai International Center, including driving directions, click here.