Japanese Spa Trend Alert: Ganban Yoku Healing Hot Stones
Try this unique treatment at Spa Pure Waikīkī.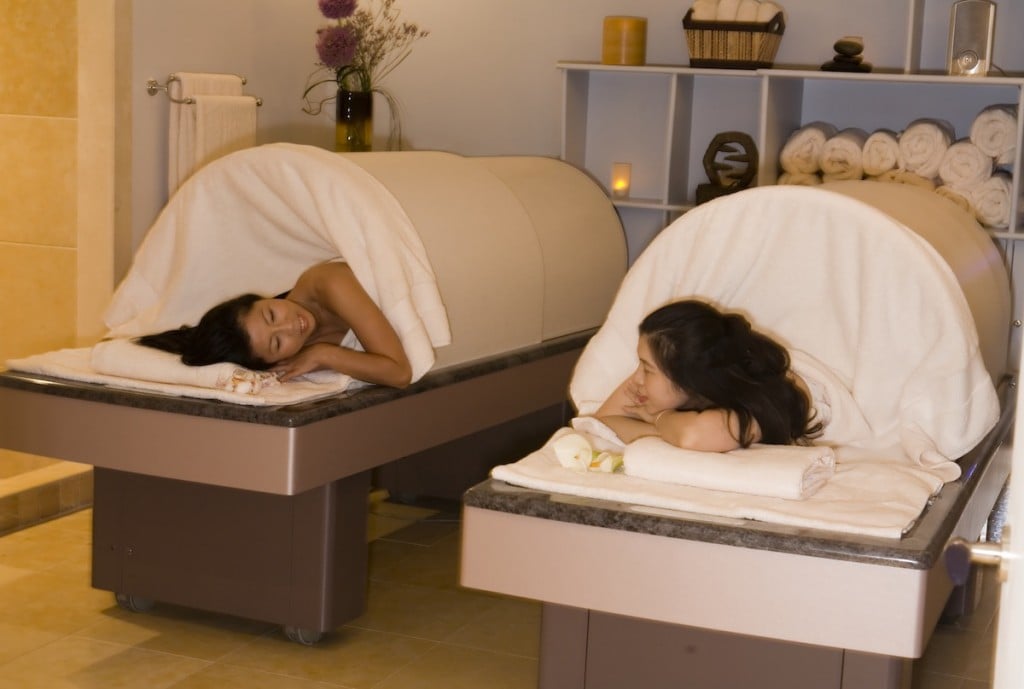 ---
In Japan, relaxation is an art. In fact, its influence on spa culture can be seen around the world, from shiatsu massages to the glorious onsen (thermal baths). Even in Hawaiʻi's spas, you can find these Japanese influences. The latest trend is the luxuriously regenerative ganban yoku, available only at Spa Pure Waikīkī.
This hot stone treatment is popular throughout Japan, explains Spa Pure Waikīkī owner Dennis Miller, who was turned on to the concept by his Japanese clients. "They said, 'You should get ganban yoku. No one else has it.'" After a bit of research into the relaxation and wellness benefits of this treatment, Miller decided to import two stone tables and make his spa one of the few in the United States—and the only one on Oʻahu—to offer the service, he says.
In Japan the treatment takes place in a large room, with granite slabs on the floor spaced out by partitions. The room is humid, like a gentle sauna. Clients, typically women, spend an hour and a half alternating between laying down on the heated slabs for 10 minutes and relaxing in a sitting area for another 10 minutes. By the time they're finished, they feel cleansed and gently detoxed.
At Spa Pure Waikīkī, things are slightly different. The procedure relies on the naturally present far infrared light present in the granite. The far infrared light, Miller says, stimulates the skin to produce collagen, while soothing muscles and joints. The two granite tables Miller imported are actually made of a different type of Indian granite than the traditional tables used in Japan. This Indian granite was recently discovered to have more of the naturally present far infrared light than regular granite. "So," explains Miller, "if you're getting more light, it's supposed to produce more collagen and sooth more of your muscles."
The Spa Pure tables are also much more enveloping, topped with a dome for thermal insulation, instead of relying on a humid room. A steamer, which diffuses lavender oil, is put in the back of the dome, providing the client with a totally immersive detox experience that combines the ganban yoku soft-steam benefits with those of aromatherapy. The result is cleansing and rejuvenating for your skin, especially for issues such as eczema, Miller says. "You can feel sweat just pushing its way out of your skin," he adds. "And, it's low heat, so it doesn't make your heart jump like it does in a dry-heat sauna or when you take a bath, which will get your heart pumping."
Miller says guests—Japanese and non-Japanese alike—are raving about this unique experience. "Americans are loving it," he says. "They don't really know what it is, but they're giving it a shot. When people try it, they're like, 'Oh my God, I feel so good!' Your skin feels rosier after, your muscles are relaxed."
Spa Pure Waikīkī offers the treatment on its own, but Miller suggests combining it with other treatments for a full day of relaxation. That could mean starting off with the ganban yoku steaming to loosen up muscles, moving over for a table massage and ending with a floating massage in the spa's saltwater pool.
$80 for one person, $95 for two, for 30 minutes in a private room. Spa Pure Waikīkī, Courtyard by Waikīkī Beach Hotel, 400 Royal Hawaiian Ave., (808) 924-3200, spapurewaikiki.com.