Kamaaina Kids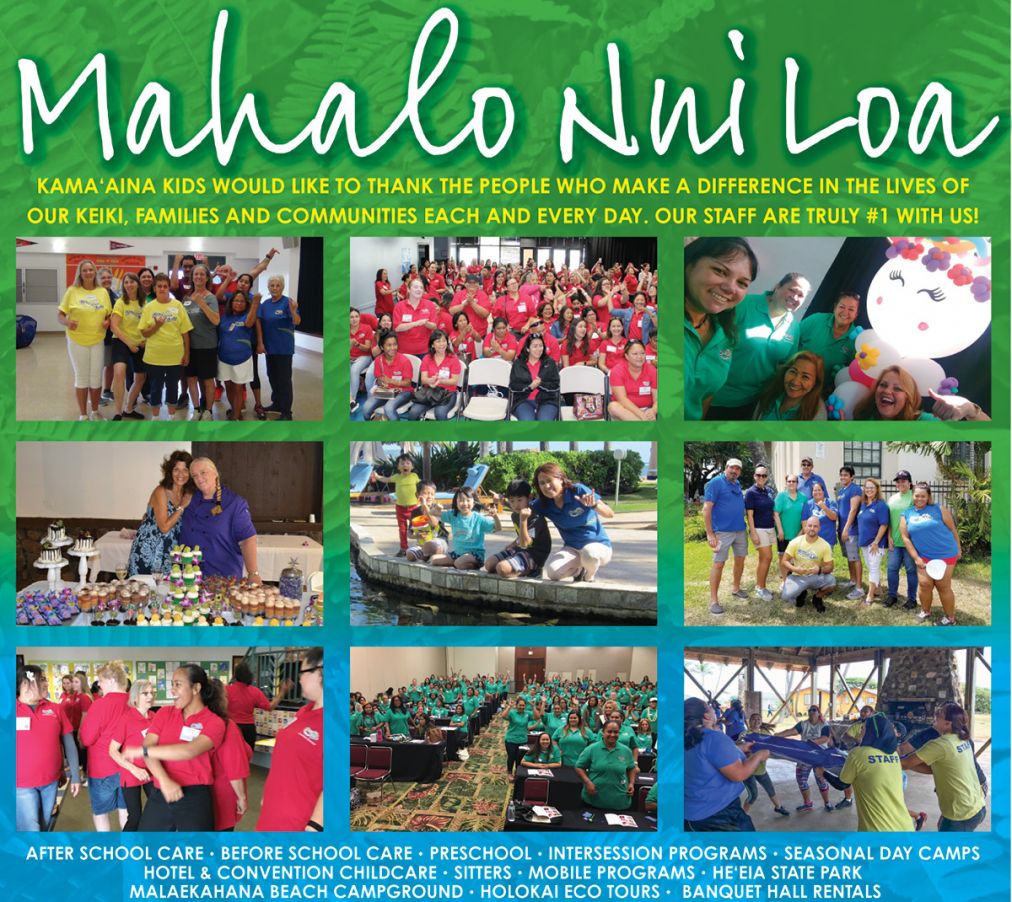 MISSION
To serve children, families and our communities by providing ongoing quality education and enrichment programs to help build a sense of Self, Community and Environment.
KEY SERVICES PROVIDED
Kamaaina Kids is a private, non-profit, multi-service organization dedicated to serving children and their families primarily through quality childcare. Our services include, but are not limited to, preschool programs, before & afterschool programs, day camps, environmental education programs, enrichment programs, sports clinics, hall rentals, activity rentals, convention childcare and hotel programs. We partner with various organizations to provide additional childcare and family friendly services and are continuously on the lookout to see what else we can do to help the communities we live in.
Kamaaina Kids is made up of several divisions employing approximately 1,000 employees and serving nearly 9,700 children and families daily. We are currently one of the largest childcare providers in the State of Hawaii.
EVENTS AND OPPORTUNITIES
Annual Flavors by the Bay: Saturday October 13, 2018, 4:30pm to 8:30pm. Raising funds to build a Heeia Learning Center, a place to perpetuate Hawaiian culture and to fulfill Kamaaina Kids' mission to serve our communities through quality education and enrichment programs. Tickets and information available at www.kamaainakidsevents.com.
Quality Childcare Scholarships: From infants and toddlers, pre-schoolers to school aged keiki, invest in our future with a variety of scholarships to donate towards including supporting your own organization's staff. Email us at info@kamaainakids.com for available opportunities.
LEADERSHIP
EXECUTIVES
Ray Sanborn, President
Mark Nishiyama, Executive Vice President, School Age
Buffy Owens, Executive Vice President, Preschool
Kathy Hew, Executive Vice President, Hotels & Conventions
Randy Miyashiro, Vice President, Kama'aina Ed-ventures
Brandon Jolley, Chief Financial Officer
Jeff Subee, Chief Information Officer
BOARD OF DIRECTORS
Ned Dewey, Chairman
Ralph Goto, Vice Chairman
Stephanie Doughty
Becky D. Gustafson
Jennifer Herring, Ed.D.
T. Michael Hogan, Jr.
Allison A. Ito, J.D.
Victor Lozano
Kevin Matsuda
Kamaaina Kids
www.KamaainaKids.com
808-262-4538
info@kamaainakids.com
156C Hamakua Dr., Kailua, HI 96734