Kapaa: A guide to Kauai's most charming town
The historic beachside community of Old Kapaa Town on Kauai's southeast shore sits in a wistful, sweet spot between the old and new.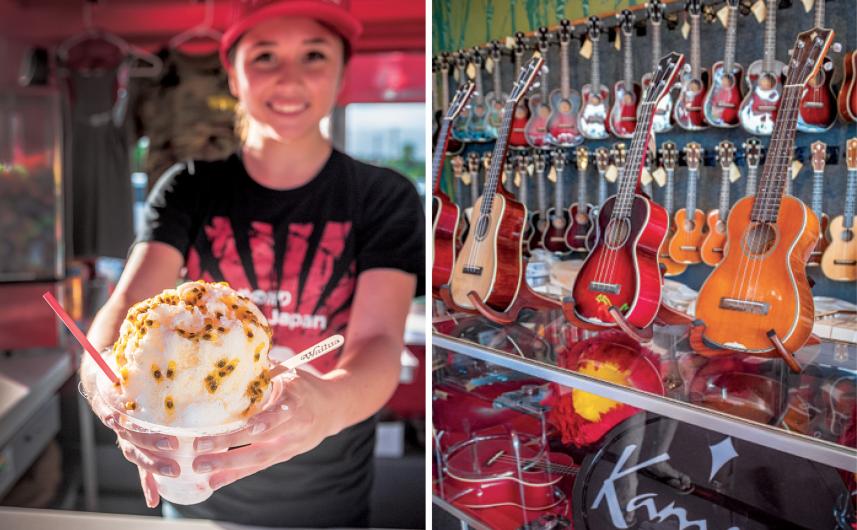 The next time you go to Kapaa, listen to the locals.
The 8-mile drive from the Lihue airport to the district's historic center was the only set of directions I had upon arriving to Kauai, and turns out it was the only one I needed.
My day cruising through Old Kapaa Town quickly, but casually, filled up with recommendations by those who live, work and play there: a Kauai-based musician tuning me in to a new shave ice truck; a born-and-raised resident letting me know where to get ahi poke (sliced Hawaiian tuna) from a longstanding favorite; a pair of gift shop owners suggesting a recently opened restaurant to eat up pupu (tapas) and a south shore sunset.
As I was guided from place to place, following each scribbled suggestion in my notepad, it was clear how intrinsic a sense of ohana (family) is to this community with a notable plantation past. Its eclectic storefronts lining Kuhio Highway are connected by more than just faded crosswalks and charming signposts—it's the people who keep this town together and, when I visited, these were the locales on everyone's lips…
Art Cafe Hemingway — "It's the cutest breakfast in the cutest part of Kauai."
I started my morning in Old Kapaa Town having an espresso and croissant with Ernest Hemingway, his hand-drawn portrait hanging opposite me at my corner table inside Art Café Hemingway. Leaf the literary-themed menu here for breakfast items named after the novelist's most famous books—simple French-style plates with Hawaiian footnotes, if you will. The crêpes, paired with fluffy breads cooked to perfection, are bright and flavorful, an unexpected, but welcome jumpstart to any day about to unwind beneath the famous Nounou Mountain, commonly called Sleeping Giant. The quiet, relaxed atmosphere isn't tropical per se, but it's definitely beach-y, making its outdoor dining porch a perfect place, naturally, for reading. Open Wed. through Sun., 8 a.m. to 2 p.m. and 6 to 9 p.m., (808) 822-2250, artcafehemingway.com.
Kiko — "There are all kinds of neat knick-knacks there."
Tucked behind a bevy of antique shops is Kiko, a surprisingly hip oasis of upcycled goods, locally made products and artwork from Hawaii-based artisans. Like the pace of Kapaa itself, I found myself slowing down to look at and handle every soap, candle, ceramic and unique piece of jewelry with curious interest. This mother-daughter owned boutique speaks volumes with its carefully curated inventory and inviting shopping environment. After a languid lap around the store, you'll eventually find yourself leaving with something you didn't even know you wanted. Open Mon. through Sat., 10 a.m. to 7 p.m.; Sun., noon to 6 p.m., (808) 822-5096, kikokauai.com.
Kamoa Ukulele Company — "They'll even give you a lesson if you want."
When I step into Kamoa Ukulele Co., I'm immediately drawn to the warmth of the colors of its flagship store's ukulele—golden yellows, reds and browns—emanating from the showroom racks. That warmth is matched by the knowledgeable and enthusiastic staff, including Kamoa founder, Samuel Bonanno, who can tell you the ins and outs of every model, even offering to briefly teach the proper way to tune one up right there on the sales floor. While you can score a Kamoa off the island, and even on the mainland, this is the only place where you can see its line of Kaua'i-built 'ukes in person and in the company and naauao (wisdom) of those who pluck their strings every day. Open Mon. through Fri., 11 a.m. to 4 p.m., (808) 652-9999, kamoaukuleles.com.
Street Burger — "It's probably the best burger in Kapaa right now."
Off the main stretch of road where Old Kapaa Town meets Wailua, I find myself going back toward Lihue to verify this claim about Street Burger, a new upscale joint across from Kintaro's. What I ordered didn't disappoint: the Wailua Burger, made with all grass-fed beef from Kauai's own Makaweli Meat Co. topped with a pineapple-glazed piece of Spam. Don't forget to order a side of truffle fries, if only to sample the ketchup made in-house from scratch, a happy reminder for those of us who forgot that this condiment is supposed to taste like hearty tomato. If you're not in a rush, request a table on the outdoor patio and wash it down with the largest craft beer selection on Kaua'i's east side. Open Tue. through Sat., 11 a.m. to 10 p.m., (808) 212-1555, streetburgerkauai.com.
Wailua Shave Ice — "Get the lilikoi (passion fruit), it'll change your life."
When I reach Wailua Shave Ice, a vivid red food wagon parked on Kuhio between Inia and Kauwila streets, it turns out the prophetic lilikoi wasn't in my shave-ice destiny. That's because this gourmet shave-ice stand uses only all-natural syrups with ingredients sourced by local farmers, and the fruit isn't in season at the moment. Nevertheless, the Coconut x Coconut x Coconut, coconut milk with a haupia (coconut-cream pudding) foam topped with toasted coconut flakes, was super refreshing, not overly sweet and creatively balanced with a texture that melts in your mouth—the best shave ice I've had in my life, honestly. Open daily, noon to 5:30 p.m., (808) 634-2387, wailuashaveice.com.
Pono Market — "It's classic Kapaa. Anyone from here has memories of eating there growing up."
The unassuming Pono Market has been feeding the locals here for more than three generations and it's easy to see why as I'm perusing the deli: fantastic prices on an extensive variety of poke, kim chee and fresh manju (Japanese pastries) to throw in your beach bag and picnic at neighboring Kealia Beach. But get here sooner rather than later; the homemade laulau (pork and fish wrapped and cooked in ti leaves) runs out fast. Open Mon. through Sat., 6 a.m. to 4 p.m., (808) 822-4581.
Shipwrecked Kauai — "They have cool, really modern swimsuits."
If you're looking to upgrade your wardrobe, believe it or not, you don't have to scramble to a shopping mall—you can do that at Shipwrecked Kauai, a new brick-and-mortar in Kapa'a attached to Java Kai coffee shop. The store carries cool women's bikinis from Boys + Arrows and kid's swimwear by Oopsy Daze, labels you'd be hard-pressed to find elsewhere. I was personally torn between leaving with a new pair of Vuori boardshorts from its men's rack or the hand-stitched canvas artwork by local fiber artist Michelle Wong decorating the walls. Open daily, 9 a.m. to 5 p.m., shipwreckedkauai.com.
Sam's Ocean View — "Everything is super fresh. Go at sunset."
It's easy to drive right past Sam's Ocean View, as I initially did, a hidden restaurant in the former Beachwalk Restaurant and Grill that delivers on its scenic name. After my long day exploring Old Kapaa Town, walking into Sam's open-air dining room overlooking the Pacific felt like an easy embrace. From 4 to 6 p.m., it serves a happy-hour menu, opening for dinner right around sunset. Just as I was about to doze off with a Mai Tai as the silhouettes of bikers coasted along the Kapa'a Bike Path below, Sam's menu perked me up with its Spanish, Italian and Indian influences. Try the poke nachos to start and the pan-seared daily catch with coconut jasmine rice in a curry sauce. Open Thu. through Mon., 11 a.m. to 9 p.m., (808) 822-7887, samsoceanview.com.