Kau Coffee Festival serving up world-class cups of Big-Island grown, roasted Hawaii joe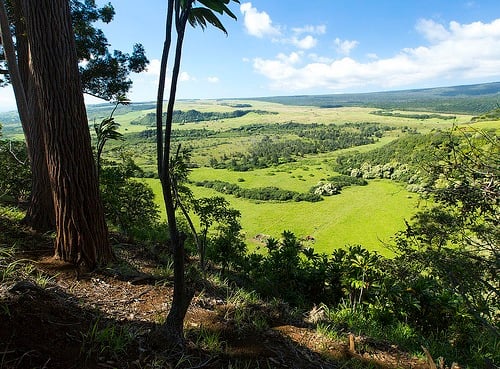 The fifth annual Kau Coffee Festival is slated to start this weekend in the Big Island's southeast district, where the beans are bringing home international honors in gourmet cupping competitions.
The fest's lineup of events, which spans two weekends, offers everything from coffee farm visits and coffee-tastings to Hawaii-focused cultural performances, and, for aspiring connoisseurs, the return of "Kau Coffee College." Among new offering offerings on this year's schedule: Kau Mountain Water System Hike (pictured, right), Coffee & Cattle Day at Aikane Plantation, and Kau star-gazing excursion (pictured, below) at nearby Mount Makanau's summit. For a complete schedule or events, click here.
Among the events slated for this weekend:
• Simply Elegant: the Kau Farmers Table — 5:30 p.m. to 8:30 p.m. Saturday (April 27) at The Inn at Kalaekilohana. Chefs Kenny Joyce and Patty Fujimoto showcase Kau's agricultural products with a dinner featuring everything from ahi tartare and Kuahiwi Pelehu beef to Kau coffee ice cream, Kau coffee espresso caramel and Kau estate coffee. For reservation information, click here.
• Triple C Recipe Contest — 1 p.m. to 4 p.m. Sunday (April 28), at Kau Coffee Mill in Pahala. The competition will feature cookies, candies and crackers, all made with Kau coffee. Judging is set for 2 p.m. A tasting session will follow. Free coffee tasting, love musical entertainment and tours of the Kau Coffee Mill. For additional information, click here.
Next weekend, the fest will feature its Kau Coffee Festival Hoolaulea (Sat., May 4), with a full day of music, hula, food, local crafts, and coffee tastings. Based at the Pahala Community Center, the fest's entry is free; a ticket for the Kau Coffee Experience coffee tasting is $5; and farm tours, $20. The annual Kau Coffee College will be held on Sun., May 5. Admission is free, and donations appreciated. For additional information about the coffee biz-focused event, click here or call (808) 929-9550.
Three Kau area coffee farms were ranked among the top 10 in the Roaster Guild Specialty Coffee Association of America's most recent Coffee of the Year international competition (2012). The winners are: The Rising Sun/Will and Grace Farms — farmers Will and Grace Tabios; Rusty's Hawaiian — farmer Lorie Obra; and Alii Hawaiian Hula Hands Coffee —farmers Francis and Trinidad Marques. The other winning coffees in the competition were from farms in Honduras, Columbia and Ethiopia.