Kau Coffee Festival to serve up world-class cups of Hawaii joe this weekend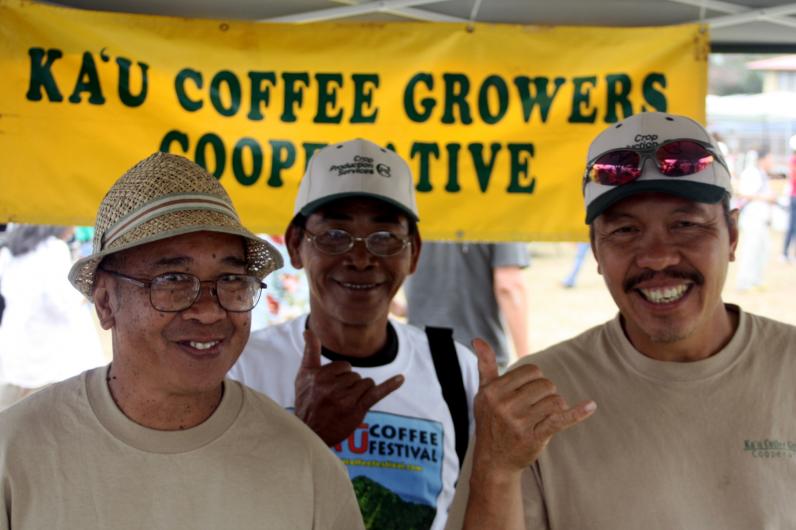 On the Big Island this weekend and consider yourself a coffee connoisseur?
The Kau Coffee Festival is back for a third annual celebration of the southeast Big Island district's increasingly world famous and award-winning java, May 14 and 15. Among the featured Kau area growers at the fest will be Kailiawa Farm, which earlier this month had one of its roasts named among the world's top 10 Coffees of the Year.

Kailiawa Farm was the lone coffee producer in the United States to make the cut at the 2011 Specialty Coffee Association of America and Roasters Guild's international cupping competition, held on May 1 in Houston.
We're eager to try a cup.
The two-day Kau Coffee Festival — once again, being held in Pahala town at the Pahala Community Center — will also feature coffee-infused foods, music and cultural performances, visits to coffee farms, Kau Coffee College seminars and, of course, lots of opportunities to sample Kau coffees.
Admission is free for most events. And you'll find lots happening on both days of the fest.
• 9 a.m. to 5:30 p.m., May 14 and 9 a.m. to 3 p.m., May 15: Java-sipping festivalgoers are invited to sample Kau Coffee Recipe Contest entries and enjoy live Hawaiian music, hula, food and craft booths, and performances by pageant winners Miss Kau Coffee, Young Miss Kau Coffee and Miss Kau Peaberry. Coffee farm tours will be offered, starting at the community center, for $10 a ticket. Sample Kau Coffee Recipe contest entries at a special tasting, for $ 5 a ticket.
• 10 a.m., 2 p.m., May 14: Check out guided coffee tastings led by the reigning national barista champ Pete Licata and other experts. Licata used Kau and Kona coffees to become the first barista from Hawaii to win the U.S. Barista Championship. The May 3 event, organized by the Specialty Coffee Association of America, featured espressos, cappuccinos and original signature drinks. Licata, of Honolulu Coffee Company, will travel to Bogota next month to compete in the World Barista Championship. Coffee tasting tickets are $5.



• 9 a.m. to noon, May 15: Industry experts will offer free seminars dubbed Kau Coffee College. Among the lecturers: specialty coffee guru George Howell of Terroir Coffee in Acton, Mass.; Skip Fay of Dunn Bros. Coffee in Minneapolis, Minn., and James Freeman of Blue Bottle Coffee in Oakland, Calif.
The Kau region, along the southern tip of the Big Island, is establishing reputation for producing world-class coffee. Kailiawa Farm's recent win at the Specialty Coffee Association of America and Roasters Guild's international competition marked the fifth straight year Kau coffee secured a spot on the top 10 list. More than 120 specialty coffee entries, representing 17 countries, competed in the Houston event.
For a complete lineup of activities slated for the Kau Coffee Festival, click here.