Kauai Boutique Machinemachine is Mad About Muumuu
Garden Isle designer Shannon Hiramoto is making the vintage Hawaiian dress cool again.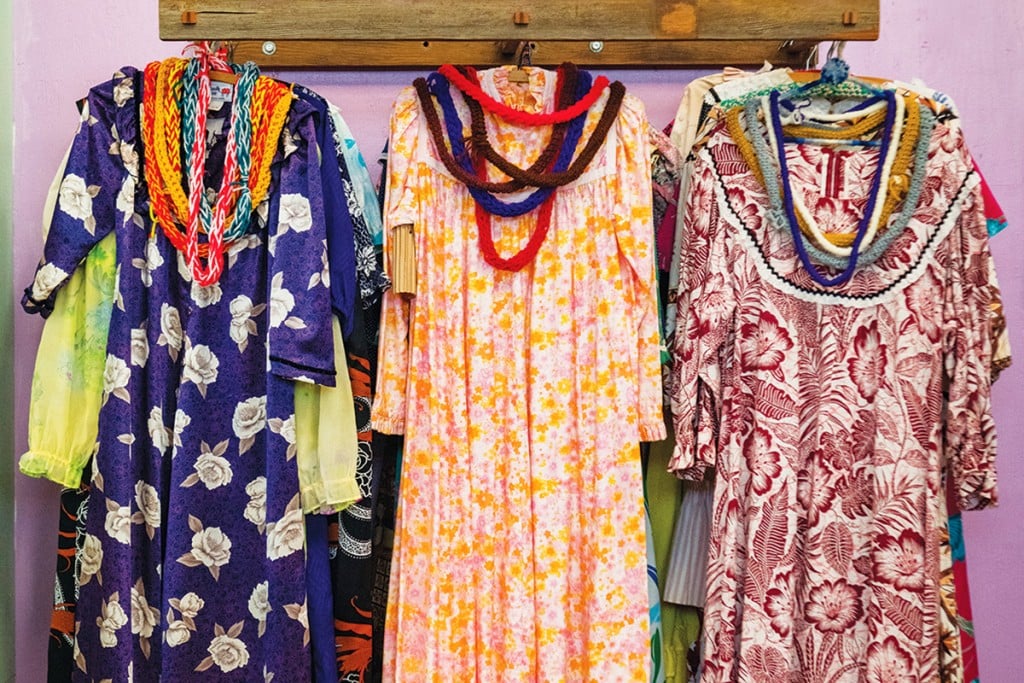 A year ago Shannon Hiramoto was browsing the Salvation Army thrift store in Lihue when she came across a short muumuu, with bright pink and purple flowers and a ruffled neckline. She absolutely loved it and bought it for $4.
The Kauai-born fashion designer has long had a thing for the loose-fitting aloha-print dresses that were commonly worn generations ago but are rarely found now. She scours consignment and thrift shops looking for these classic Hawaiian dresses. She has about 40 in her closet.
But the one she found at the Lihue Salvation Army is particularly special.
Handwritten on the dress tag—it was from the old Liberty House department store—was the name, "Kamei," the same last name as her great-grandmother, who had passed away in 2013.
Could this have been hers? she wondered.
Hiramoto and her mom searched through old family albums, looking for a photo of her great-grandmother in this muumuu. They didn't find one.
Later that night, though, Hiramoto's mom found a photo of her, Florence Shizuko Kamei, wearing the exact muumuu found at the thrift store, standing in front of the Hanapepe United Church of Christ, where her ashes are now housed. The next day, Hiramoto went to that exact spot, wearing her great-grandmother's muumuu, to re-create the photo, which had been taken years before.
"I feel like she was telling me I'm on the right path and should continue to follow my passions," Hiramoto says about her great-grandma, who was a muumuu seamstress. "I marvel at the rare opportunity I had to make that serendipitous connection with the dress."
Hiramoto has made it her personal mission to bring back the muumuu, a look that has been replaced with dresses that feature more modern cuts, fits and silhouettes. You rarely, if ever, see women walking around Downtown Honolulu in muumuu anymore—once the unspoken uniform of office workers, including my own mom—and girls will now only wear them to school for May Day performances. Hiramoto, on the other hand, wears them at least every Friday.
"They are a great blend of both comfort and beauty," she extols. "When I was growing up, muumuu was the thing that every woman wore. During the last couple of decades, the muumuu has gotten a bad rap. People think they're out-of-style and outdated. … Yet, most of us who have grown up here are very sentimentally attached to them. I feel that they're eternally in style!"
Not only does Hiramoto rock the mumuu herself, she encourages others to do it, too. Five years ago, she launched Muumuu Month, an annual monthlong challenge when women across the state don these vintage dresses when they're out—at work, in school, at the grocery store, in restaurants—to celebrate Hawaii's fashion history.
"Some people might look at me funny when they see me shopping at Costco or hiking in Kokee in a bodacious Mamo (Howell muumuu), and that's part of it, bringing an unexpected joy to others," she says.
Hiramoto sells vintage muumuu in her shop, Machinemachine, in Warehouse 3540 in Koloa. Each dress costs about $40 and she donates the profits to the Kauai Historical Society. She has dresses from throwback companies including Liberty House, Mamo Howell, Andrade, Princess Kaiulani, and Carol and Mary. This past January, during Muumuu Month, she gifted the nonprofit with $1,300 from the sale of muumuu, T-shirts and totes that read, "I'd rather be wearing a muumuu."
"It's an interesting personal challenge that forces you to get out of your comfort zone in a very unconventional way," she says. "I always say that to get out of your comfort zone, you must get into the comfort zone—the muumuu, one of the comfiest dresses ever created."
Here's how it started: About five years ago, Hiramoto, who uses secondhand materials to create garments and bags that she sells at her shop, received a box of old muumuu from a friend's mom, thinking she could repurpose the material into other clothing.
"I upcycled a few into tote bags, but it broke my heart to take such gorgeous dresses apart," Hiramoto says. "I felt it wasn't possible for me to repurpose these dresses into anything that could be cooler than the original. I felt like I was taking history apart."
Her sister and brother-in-law challenged her to, instead, wear them. So she did. For the entire month of January that year, she wore a different muumuu every day and posted photos on Instagram with the hashtag #muumuumonth.
"Most people like to stop me and talk about their moms or aunties or tutu [wahine] (grandma) who wore them," she says. "It's a great bonding experience. I love that we're striking a chord and bringing history to life in such a sweet, simple, beautiful way."
The word muumuu means to "cut off" or "shorten" in Hawaiian because the dress originally lacked a yoke. It's considered a shorter, more informal version of the holoku, a seamed dressed that often had a high collar and train and was patterned after the Mother Hubbard dresses worn by the missionaries to Hawaii in the 1820s. As the holoku became more formal—more fitted at the waist, longer train—the shortened version, the muumuu, became more popular as casual wear.
Today, though, its popularity has waned so much, it's actually difficult to find muumuu, even in thrift shops.
"More than ever I feel dedicated to preserving this garment," Hiramoto says.
In her shop, she hosts an annual muumuu repair clinic where women can fix or make adjustments to their dresses, many of which are purchased from secondhand shops and don't always fit properly. ("I'm not thrilled with any sort of altering of the dresses to make them more modern or anything that affects their original integrity," she adds. "These dresses are an endangered fashion species!") And she has also started documenting her own collection of muumuu with the goal of creating an online digital archive, which she plans to launch in 2020.
She's taken photos of about 80 dresses already, including details of each garment, from brand labels to fabric. There's even a section where people can share their personal stories about muumuu.
"Maybe there are more stories like my great-grandma's muumuu," she says. "These dresses need to be worn again, out in the world, getting the opportunity for a second life."
Machinemachine, Warehouse 3540, 3540 Koloa Road, Kalaheo, Kauai, machinemachineapparel.com