Kauai's Waimea town is a relaxing getaway with lots of character
It may not be as green as Kauai's north shore, but Waimea has an unforgettable country charm.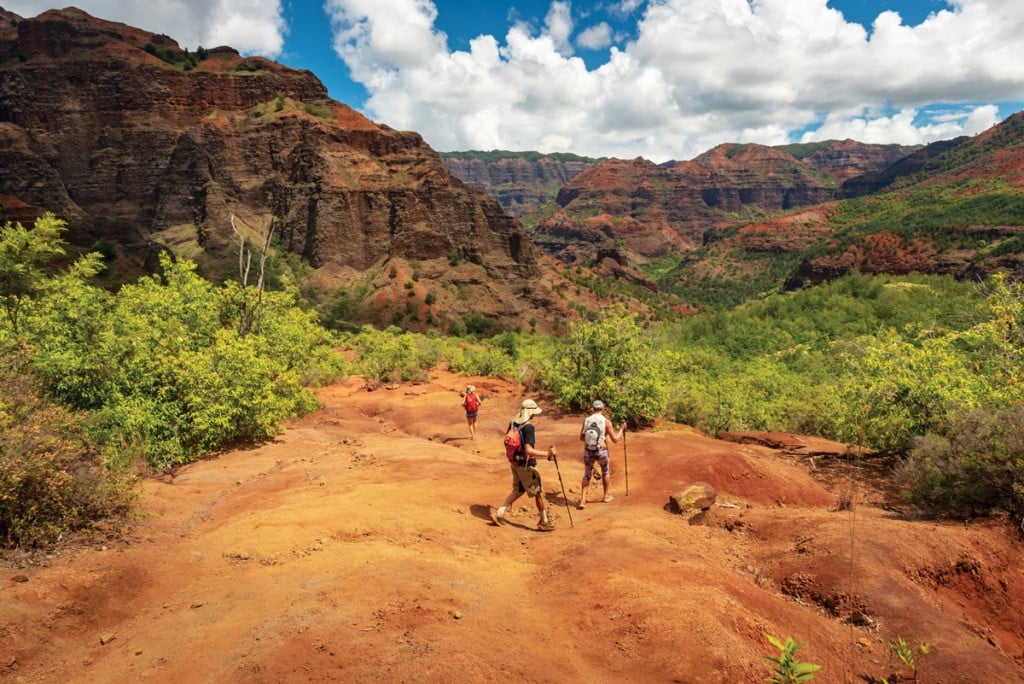 When I think of Waimea, three things come to mind: sunny weather, Porky's kalua-pork hot dogs and that vibrant red dirt. Kauai's the oldest island—approximately 3 million years older than Oahu—so its soil is a bit further along in the oxidation process, causing that bright, beautiful color of red. Driving to the town, you'll spot stores selling red dirt shirts as souvenirs (I have one of these), and let's not forget the town name, Waimea, which literally means "red water" for the color the dirt turns the river and ocean. It adds to the small but thriving, town's character and distinguishes it from other west side towns around the Islands—in fact, it's my favorite town of them all.
Standing at the lookout above Waimea Canyon, an hour up the mountain from the town, one can truly appreciate the varying shades of oranges and reds. A volcanic collapse and erosion from the Waimea River created this canyon that's approximately 10 miles wide and 3,000 feet deep. It's often described as a miniature version of Arizona's Grand Canyon. Visitors swarm to the lookout daily to take photos in front of the colorful landscape, and to watch the waters of Waipoo Falls plunge off the side of a cliff. Further up the mountain are Kokee State Park and the Kalalau Valley Lookout, both must-sees. Avid hikers trek the trails around the canyon—some to Waipoo Falls' small pools, and others to the bottom of the canyon on a steep, and hot, route called Kukui Trail. For this trip, though, I decide to take an alternate route—back down the mountain for some lunch and a shave ice.
Kaumualii Highway takes you right through the heart of Waimea. Most people pass through this town on their way to see Waimea Canyon, to camp at Polihale State Park or to catch a boat at Kikiaola Harbor for a Napali Coast cruise, but if you stop and explore, you'll find a place with a storied past. Waimea, for instance, is where Native Hawaiians' first contact with Europeans occurred. At Lucy Wright County Park, there's a statue of Capt. James Cook commemorating his first landing in Hawaii, here on Jan. 20, 1778. The following year, Cook landed at Kealakekua Bay on the Big Island, where he was killed.
Drive to Waimea's black-sand beach (which is more brown than black) and you'll see Waimea Pier. The town became a major port of trade with the West after Cook's arrival, but that ended in the 1930s, replaced by other Kauai ports of calls. Today, residents use the pier for fishing and picnicking.
Nearby, on the other side of the river, is Pa Ulaula o Hipo ("Red Enclosure of Night Purge"), also known as Russian Fort Elizabeth. After Kauai's King Kaumualii ceded to King Kamehameha, he created an alliance with an agent of Russia from the Russian American Co. in hopes of building an army, gaining control of the Islands, and then splitting the lands between themselves for the sandalwood trade. This fort was one of three built on Kauai as part of that plan; Kamehameha eventually found out and put an end to the scheme.
On the opposite side of Waimea are remnants of its sugar plantation days—the biggest reminder being the Waimea Sugar Mill, built in 1884, which looms large over the town. It's usually here in front of the mill that I find Porky's food truck (9630 Kaumualii Hwy., porkyskauai.com). I'd been salivating for its smoky hot dogs topped with kalua pork and tangy barbecue sauce since the moment I'd arrived, but, I find out, it's closed on Mondays. I opt instead for the popular Island Taco (9643 Kaumualii, Hwy., islandfishtaco.com) down the street, and am not disappointed.
Used to the small tacos I receive from some of the restaurants in Honolulu, I mistakenly order two, a mahimahi and a kalua pork, not knowing that one is the size of half a paper plate. Each taco is packed with meat, cabbage and rice, and comes with chips and salsa on the side—it's worth the $9 price per taco. A few bites into one and I'm already almost full, but I have to save room for what's next, JoJo's Shave Ice (9734 Kaumualii Hwy., jojosshaveice.com).
A quick walk across the street and I'm there, staring at a colorful chalkboard menu of 16 shave ice combinations and an impossible decision to make. Do I want the classic Rainbow with strawberry, banana and vanilla or do I want the JoJo's Special, made with chocolate and butterscotch? I decide instead on the Tropical Breeze—guava, lilikoi (passion fruit) and mango flavored shave ice, on macadamia nut ice cream and topped with vanilla cream. I ordered the smaller size, but it still came out as a giant yellow and red ball of ice in a cup. That doesn't matter though, because one sweet bite into it and I'm hooked. I now understand why JoJo's is a favorite for many people.
Satiated, I drive to Waimea Plantation Cottages (9400 Kaumualii Hwy., coasthotels.com) to check in for the night, the only resort on this side of the island. This place has an elaborate story of its own, being made up of old Kauai plantation houses from the 1880s to 1940s. The houses were literally picked up from old plantations and brought to their current location, but the layout of the resort was thoughtfully designed and the houses were placed around large courtyards facing the beach. The large shade trees and expansive lawns make it a relaxing getaway, where you can easily picture your kids playing in the grass while you sit on the lanai (porch) reading a book. All of the homes have their own individual character, full kitchens and all of the modern amenities you need, including Wi-Fi. There's even a beachfront swimming pool, which is where I head to next. The sun is about to set and there's a front-row seat waiting for me there—another perk of being on the west side.