Kilauea eruption 1959-60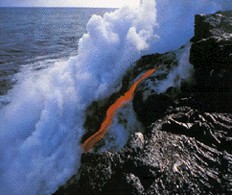 We've been mesmerized by the current eruptions at Kilauea Volcano—and it reminded us of a remarkable educational film we once saw in school.
You have to love the Web. The film Eruption of Kilauea 1959-1960 still exists and has been restored. And it's still remarkable.
A half-century is nothing to a volcano: This film, put together by the United States Geological Survey in 1960, will give you a great overview of the geology at work in the current eruption.
HawaiiMagazine.com visitors left us some terrific comments the last time we dug up vintage film from Kilauea Volcano's eruptive history. A few of you shared your adventures at Kilauea. Others just oohed-and-ahhed over the film's footage, showcasing some of Kilauea's most visually stunning eruptive activity ever at Kilauea Iki Crater and Kapoho.
This film's better, with much of its science still relevant.
You'll find it in four parts, below. Let us know what you think of it.
Click here for part 2
Click here for part 3
Click here for part 4