Kilauea volcano lava flow no longer poses immediate threat to towns, roads in Hawaii Island's Puna district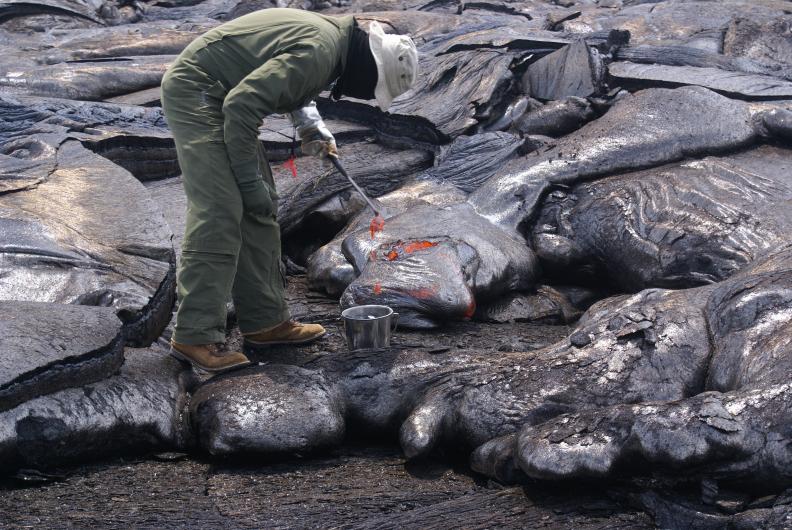 The ongoing Kilauea Volcano eruption that has continuously sent lava in the direction of Hawaii Island's eastern Puna district since last September, is now inactive at the flow front closest to the town of Pahoa. The lava flow no longer poses an immediate threat to the town.
The so-called June 27th flow for the date it began in 2014, claimed a single residential property in November, and has continued to threaten communities and roads in Pahoa for months. While the flow front outside of the town never touched critical infrastructure, it still managed to cause anguish and anxiety for many residents and businesses in Pahoa forced with the decision to stay or close-up and evacuate.
Late last month, the Hawaiian Volcano Observatory (HVO), downgraded their alert system for the June 27th flow from "warning" to "watch." And National Guard troops, stationed in the region since September to assist with what seemed like impending disaster, were recalled in February.
Since early March, no new lava has reached the flow structures outside of Pahoa. The HVO report detailing the alert downgrade said it was unlikely lava would reoccupy the lava tube outside of the town.
In the months since HawaiiMagazine.com's last lava update, the lava pooled and widened behind the town—instead of crossing Highway 130, the main artery connecting Pahoa and the small communities of Hawaii Island's easternmost tip with the rest of the island, as many feared. Prior to becoming inactive, the massive flow front inched forward, new breakouts over took older ones and the front advanced at a pace averaging just a few feet per day.
Though Pahoa is safe from the threat of lava for now, the ongoing Puu Oo cone eruption isn't finished yet. As of this morning (Mon., April 6), volcanic activity from the same eruption was still feeding lava flows in three breakout directions including one to the northeast of the Puu Oo cone—the same direction as the stream that stopped outside of Pahoa. Fortunately, these three surface flows are far enough away from communities that HVO scientists predict it could take months for any of those flows to come within one mile of area communities, if at all.
Situated 20-miles southeast of Hilo, Pahoa is part of Hawaii Island's Puna district, which encompasses the island's eastern-most tip. Eruptions in the area have been continuous since 1983. According to USGS statistics, lava from the three-decade plus eruption has destroyed 215 structures and claimed nearly nine miles of highway.
HawaiiMagazine.com has been monitoring the news from the Hawaiian Volcano Observatory and Hawaii County Civil Defense and will continue to update this story as changes occur.