Kilauea volcano lava flow picks up speed, poised to cross Pahoa town road on Hawaii Island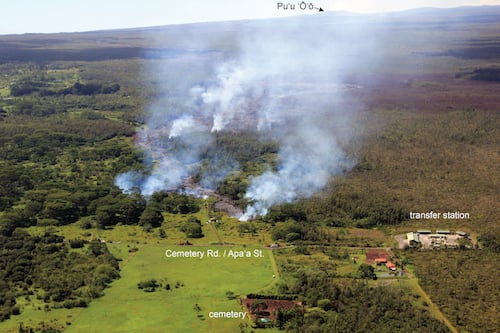 A lava flow from Kilauea volcano that has slowly advanced toward the Hawaii Island town of Pahoa over the last two months, quickened its speed over the last 48 hours. At its current pace, the magma could cut off area residents' access to the rest of the island within a matter of days.
Between Tuesday and Wednesday of this week, a narrow breakout surpassed the flow's former leading edge, picking up speed as it moved downslope through forest near the Puna district town. In the last 48 hours, this new leading edge has advanced 2,400 feet—a distance greater than six and a half football fields.
At 2 p.m. this afternoon, Hawaiian Volcano Observatory (HVO) officials reported the lava was 450 feet from crossing its first area road, Apaa Street, which connects Pahoa town and Kaohe Homesteads. The proximity of the flow to Apaa Street and variability in its rate of advancement over the last several days caused Hawaii County officials to close Apaa Street for the first time on Thursday. Hawaii County Civil Defense officials are stationed in the area and will be closely monitoring the lava's progress.

HVO/USGS map of Puna district showing progress of lava flow as of Fri. afternoon, Oct. 24. Click to enlarge.
Civil Defense and State Department of Public Safety personnel will be conducting door-to-door notification of area residents beginning tomorrow (Oct. 25). Hawaii County Civil Defense emphasized that this is not an evacuation notice as the lava flow does not pose an immediate threat to area residents. Further, they assured that residents would be given adequate notice to safely evacuate should it become necessary.
Since HAWAIIMagazine.com last reported on the lava's progress several weeks ago, the leading edge of the flow has been slow moving, advancing between 80 and 450 feet per day and even stalling completely. Breakout flows behind the front edge have been common.
If the lava flow continues along the path currently projected by HVO, it will cross two critical access routes: Keeau-Pahoa Road (Pahoa Village Road), a small two-lane outlet running through Pahoa town, and the larger Highway 130 (Pahoa Bypass Road). As of Friday morning, the lava was 0.78 miles from Pahoa Village Road and 1.10 miles from Highway 130— the only arteries connecting the small communities of Hawaii Island's easternmost tip to the rest of the island.
Because of the recent variability in the flow's speed, Hawaiian Volcano Observatory officials are currently not offering a timeline for when the lava could reach any of the roads.
Ongoing construction continues on emergency access routes that would allow residents to travel into and out of the area should lava overtake the roads.

A wider view of the flow front, relative to Pahoa Village Road, on Fri. afternoon, Oct. 24. Click to enlarge. Photo: Hawaii Volcano Observatory.
Work began today in Hawaii Volcanoes National Park on restoring an eight-mile section of historic Chain of Craters Road. The road once connected the park with the easternmost tip of Hawaii Island before being overtaken by lava in the late 1980s. The emergency access route will follow the original path of Chain of Craters Road along the Puna coastline. Click here for a full list of closures in Hawaii Volcanoes National Park due to construction.
Situated 20-miles southeast of Hilo, Pahoa is part of Hawaii Island's Puna district, which encompasses the island's easternmost tip. The current flow began on June 27, and is part of a long-running eruption from the Puu Oo volcanic cone, on the eastern flank of Kilauea volcano. To date, the flow has largely remained on federal and state lands and has not yet impacted roads or homes.
Eruptions in the area have been continuous since 1983. According to USGS statistics, lava from the three-decade plus eruption has already destroyed 189 structures and claimed eight miles of highway.
HAWAIIMagazine.com will continue to monitor news from Hawaiian Volcano Observatory and Hawaii County Civil Defense on the lava flow. We will update this story as necessary.
You can also follow the USGS Hawaiian Volcano Observatory as they monitor the situation.
UPDATE (11:30 a.m., HST, 10/25/14): The flow front crossed Apaa Street at 3:50 a.m. today, according to Hawaii County Civil Defense officials, and is continuing to advance northwest at 10 yards per hour. Residents in the flow path will be placed on evacuation notice today and asked to prepare for possible evacuation in the next three to five days.