Kilauea volcano's Puu Oo vent sending lava flow into ocean edging Big Island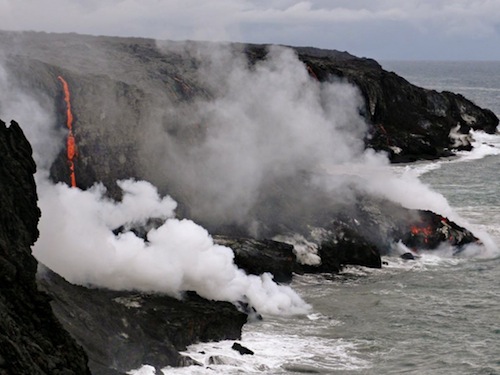 Over the holiday weekend, lava from Kilauea volcano's Puu Oo vent poured into the ocean, setting the scene for dramatic views along a remote stretch of the Big Island shoreline. Today, the drama has largely subsided, with the flow continuing at the pace of a weak trickle outside of Hawaii Volcanoes National Park's eastern boundaries.
On-island viewing of the ongoing lava flow is now largely limited to the Kalapana viewing area, which is maintained by Hawaii County and located outside of the national park. Click here for more information about the viewing area.
For park updates on the status of the Puu Oo ocean-entry flow, along with the latest on the volcano's lava lake in Halemaumau crater, click here. Last December, Puu Oo lava flow reached the ocean within the park's boundaries, with several streams of lava pouring over a sea cliff (pictured, above).
Puu Oo, a cinder cone Kilauea volcano's eastern flanks, began erupting in January 1983. The ongoing eruption ranks among the longest-lasting Hawaiian eruptions in recorded history. The first written accounts of eruptions in Hawaii date back to the 1820s, when American missionaries arrived on the Big Island.


Daily updates on Kilauea volcano activity are available at the Hawaiian Volcano Observatory website.
HawaiiMagazine.com has reported regularly on lava activity at Kilauea volcano and Hawaii Volcanoes National Park on the Big Island. Click here to catch up with all of our Volcano News posts. You can also follow our updates on our Twitter and Facebook pages.