Ko Kane Sugarcane Juice Bar Perpetuates Real Hawaii Sugar
Using all-natural products and real, unprocessed Hawaiian sugarcane, this Honolulu startup is slinging out ono, refreshing drinks.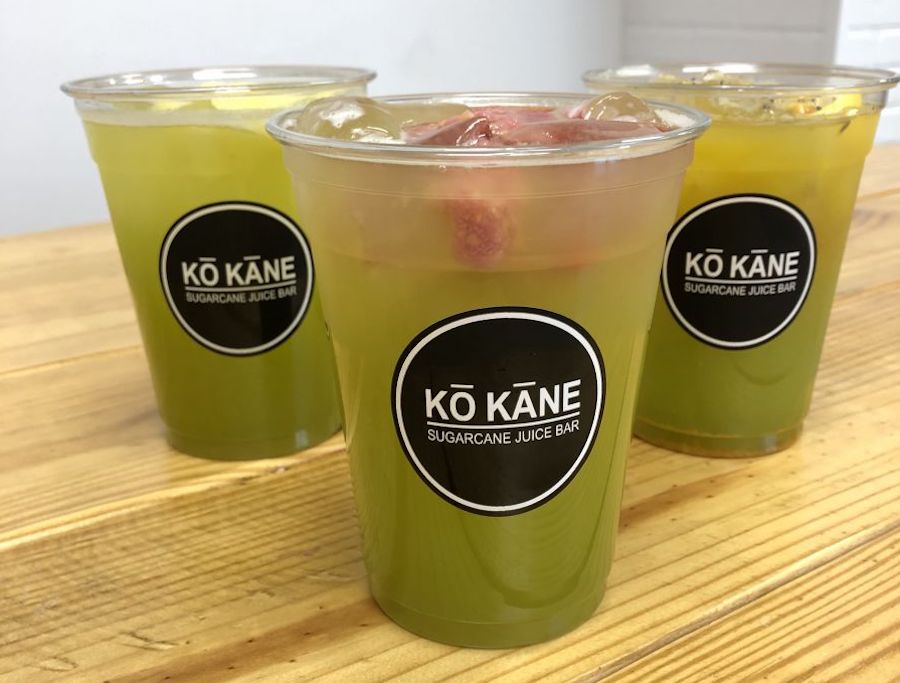 "There's so much you can do with sugarcane," says Kevin Nguyen, owner and operator of Ko Kane Sugarcane Juice Bar. Located across the street from Ala Moana Center, this watering hole-in-the-wall mixes local Hawaii fruits and produce with real sugarcane stock—sugarcane was once Hawaii's largest and most influential crop—to craft colorful and creative drinks that will keep you hydrated on those hot Hawaii days.
View this post on Instagram
Nguyen opened Ko Kane Sugarcane Juice Bar in November of last year, choosing the name ko kane (ko kah-nay) because "ko means sugarcane and kane means man (in Hawaiian language). So we're the sugarcane men," says Nguyen, who holds fond memories of the long, slender and sweet crop. "Growing up as a kid, my parents would give me sticks of sugarcane to chew on. That was our treat, and it was the best ever. Now no one wants to chew it, so we thought we would press it as a juice."
Sugarcane, which was once grown on all of the Hawaiian Islands, shaped much of Hawaii's modern culture, bringing in immigrant workers from countries like Japan, the Philippines and Portugal. Derelict husks of now out-of-service sugarcane plantations, and their cigarette-shaped smokestacks can still be found all throughout Hawaii, and the stalk is only grown by a few of the islands' farms, with Ko Kane's sweet supply of sugarcane coming from an agricultural operation based in Waialua.
And although juiced sugarcane tastes good on its own—think of a mildly sweet syrup that leaves a saccharine taste on your tongue—Nguyen and his small team combine their drinks with an array of fresh, locally grown Hawaii produce, ranging from blueberries to guava and lychee. "Everything's all natural, we don't add sugar or syrups, everything's just fruits," says Nguyen. "We work with Frankie's Nursery in Waimanalo to source our produce."
Combinations of these flavors can be found on Ko Kane's menu, which sports drinks named after iconic places on Oahu, like Diamond Head, Kakaako and Waikiki. "We came up with the names because we just want to represent Hawaii. Take Diamond Head, for example. If you think about it, it's kind of yellow and green and it's so hot, so you just want a lemonade, so we use lemon and lime," says Nguyen. "Kakaako is the new, fresh spot in town, so we use watermelon and mint." Customers are also given the opportunity to mix and match up to three of their own ingredients.
And with rising summer temperatures, Ko Kane's tasty drinks are well worth the price ($6.50 a cup). Aside from being packed with nutrients, sugarcane water is also loaded with alkaline, making it a hydrating drink for those extra hot days. Even the shop's interior is refreshing, with succulents hanging on the walls and large wooden tables complete with equally sized wooden benches. "The thing is, I wanted to get that feeling of being outside, but inside," says Nguyen.
On an average day, Ko Kane goes through roughly 50 pounds of sugarcane stock, however, they try not to let any of it go to waste. "We turn sugarcane waste into mushrooms," says Noah Brown, co-owner of Opala Foods, a Kaneohe-based farm that grows a variety of oyster mushrooms. "We'll take the sugarcane waste, grind it down a little further, mix it with some nutrients and then all of that goes into the bag that we ferment our mushrooms out of."
A large picture of sugarcane plantation workers takes up the back wall of Ko Kane. What was once the king of crops in Hawaii, sugarcane is now just a shadow of the past. However, Nguyen hopes to keep the stock, and its memorable flavor, alive for as long as possible. "Sugarcane's on life support," says Nguyen, "and we're just trying to bring it back."
Ko Kane Sugarcane Juice Bar, 36 Piikoi St., Honolulu, (808) 591-0802, @ko_kanehawaii.