Koa forest on Maui's Haleakala Crater now protected as Nakula Natural Area Reserve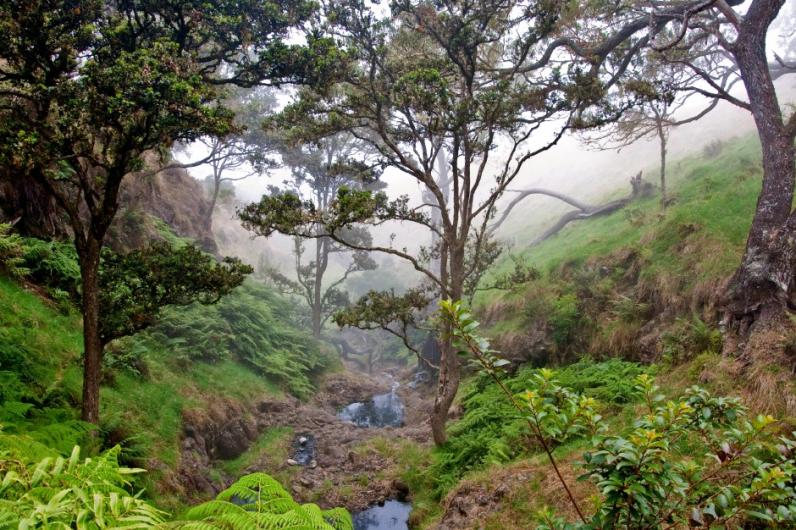 A stretch of old koa forest growing on the misty slopes of Maui's Haleakala Crater is now designated as Hawaii's 20th natural area reserve.
Earlier this month, the Hawaii Department of Land and Natural Resources created the 1,500-acre Nakula Natural Area Reserve (pictured, right) to help preserve what remains of a native forest that once covered 40,000 acres on the southern flank of Haleakala, extending from Makawao to Kaupo. Logging tied to urban development, invasions of alien plant species and grazing/terrain-trampling cattle, goats, pigs and deer have contributed to the forest's decline.
In a statement released by Hawaii's Department of Land and Natural Resources, the department's chairperson, William Aila Jr., said: "The seedbank of the ancient forest remains in the Nakula (Natural Area Reserve), and with protection from threats, the forest can be restored." The also noted, "It has been repeatedly demonstrated that koa forest can rapidly re-grow in areas fenced from grazing animals."
Koa, the largest endemic Hawaiian tree — the species exists nowhere else in the world — is the fastest-growing among Hawaii's prized hardwoods. Still, the tree can take up to 50 years to mature. Koa typically grow to heights of between 50 feet and 80 feet. Its branches are tipped with pale yellow flowers throughout the year, peaking during winter months.
Early Hawaiians favored koa wood for building ocean-voyaging canoes, spears and paddles. These days, the hardwood is valued for items ranging from furniture and guitars to boxes, bowls (pictured, left) and paneling.
The koa tree is not listed as a federally protected endangered plant species. However, according to the Sierra Club's Hawaii Chapter, "It is estimated that native koa forest ecosystems have shrunk to less than 10 percent of their former area. … The remaining koa forests represent a last haven for many rare, threatened or endangered species of endemic birds, insects and plants."
The designation of Nakula Natural Area Reserve is part of the Hawaii Department of Land and Natural Resources' plan to revive Haleakala's leeward forest, from mauka to makai (mountain to sea). The next step: Erecting fencing downslope from Nakula to keep out grazing animals, such deer and goats, and thereby help restore a native wiliwili forest in the lowlands.
Hawaii's Natural Area Reserve system covers a total of about 116,945 acres on five islands. The reserves aim to protect fragile ecosystems ranging from marine and coastal environments to lava flows, tropical rainforests, and even an alpine desert. For more information about the state's Natural Area Reserves System, click here.