Koloa Plantation Days fest gets under way this weekend near Kauai's south shore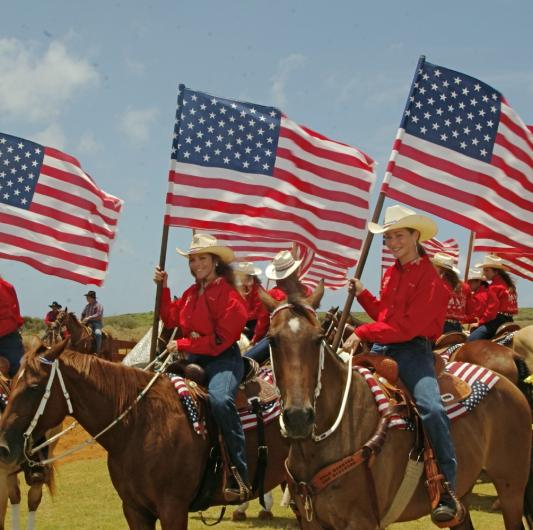 The 26th annual Koloa Plantation Days, a nine-day festival that celebrates Kauai's sugar-plantation past with more than two dozen events, will get under way Fri., July 22 with barrel racing and a preliminary round of roping for the annual Plantation Days Rodeo, followed by a paniolo (cowboy) cookout.
Founded in 1835, Koloa Plantation, near Kauai's south shore, was Hawaii's first sugar plantation where immigrant workers from Philippines, Europe, the Azores, Japan, Korea, China, and elsewhere lived in the same area and shared homeland traditions ranging fro music and dances to food.
In addition to rodeo-related events, the celebration's lineup is packed plantation era walks, talks and exhibits, a craft fair and a culinary market, and several sports-related offerings, ranging from outrigger canoe and paddleboard races to fun runs and a tennis tournament. Among the highlights are the annual historic Plantation Days Parade and the Koloa Town Park Celebration, both set for Sat. July 30. Headlining the park celebration's musical performances is Hawaii's Grammy-nominated Henry Kapono. For a complete park celebration entertainment schedule, click here. For a list of Koloa Plantation Days daily events, click here. Most events are outdoors and free of charge.
Among this weekend's events are a guided walk along Historic Hapa Trail and the 12th annual Plantation Days Rodeo.
On Sat., July 23, the Koloa Community Association is offering a free morning walk along Historic Hapa Trail, starting at 9 a.m., followed by lunch at Poipu Beach. Guides will explain how, during plantation days, the trail was once a major route connecting Koloa and the Poipu area. Today, Hapa Trail is designated by the County of Kauai as a pedestrian and bike way.
Archeological surveys of the area have uncovered ingenious auwai system Hawaiians built to irrigate the area known as the Koloa Field System. The Koloa Field System occupied most of the southern portions of Koloa and Weliweli.
This year's walk will also include samples of kalo, ko (sugar), uala (sweet potato) and pa akai (sea salt) manufactured in the area. Lunch and tour are offered free of charge. Shuttles will take walkers back to the walk's starting point, St. Raphael's Church, near Old Koloa Town shops.
The 12th annual Plantation Days Rodeo is set for 11 a.m. to 3:30 p.m. on Sun., July 24 at CJM Stables, east of Poipu (near the Grand Hyatt Kauai Resort). Bring hats, umbrellas and sunblock to the arena. Tickets: $2 for adults, and no charge for kids. Featured events include: team roping, double mugging, steer riding, and barrel racing. There will also be a Paniolo Challenge, through which this year's riders try to beat last year's times for additional prizes.
For additional details about Koloa Plantation Days, click here.