Kona Street Eatz is Hawaii Island's new one-stop food truck shop for huli huli chicken, malasadas and fresh fish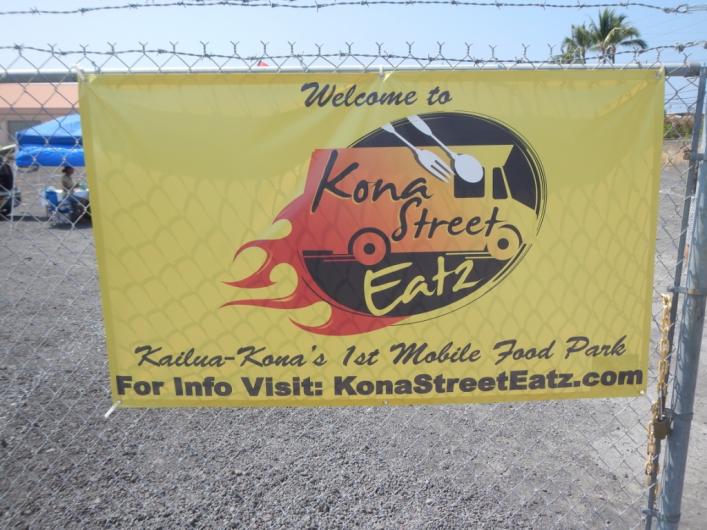 Some of the best food in Kona can be found at small, pop-up roadside eateries along the Belt Road (Highway 11). Fire-roasted huli huli (repeatedly turning) chicken, sold-hot-out-of-the-back-of-the-van malasadas and fresh island-caught fish tacos are true local foodie gems, even if there are miles between them. Now, it seems, there will be a regular one-stop shop for all of your Kona food truck fantasies located right in downtown Kailua-Kona: Kona Street Eatz.
The food truck event is just three weeks old and still technically in its soft-opening phase, but has already generated considerable local buzz. It features five regular rotating food trucks and prepared food vendors four days a week—Friday is the big day, with all vendors present—and more vendors are expected to join in the weeks to come.
Kona Street Eatz, which kicks off more formally in March, is an initiative of the Hawaii County Research and Development Committee. "This food truck program is of course satisfying us foodies," says department head Kawehi Inaba. "But even more importantly, it is an opportunity for us to help businesses." In addition to securing the space and bringing the trucks together, the department also runs a resource center that provides information to locals wanting to start a food truck-style business. The initiative was started, she says, after the county noticed food truck businesses struggling to make a go of it in Kona—the department hopes the space and the resource center will add support, legitimacy and comradery to the local mobile food industry. "The county is dedicated to this industry and sticking by it to really make it happen," she says. With more and new local businesses involved there are plans for new landscaping, more seating and themed food days.
So, I headed down around lunchtime to see what the fuss was about.
Admittedly, on first approach, it didn't look like much: Two trucks and one tented stand clustered in a dusty roadside lot with picnic tables and plastic chairs. But, I kept an open mind, and I'm so glad I did, because what I found were inspired, local business-owners eager to chat about their creations, and the kind of truly amazing food that can only come from that kind of grassroots passion.
There was Lori of Island Creations/808 Cheesecake who left her job working for United Airlines to follow her dream of making melt-in-your-mouth cheesecakes. Salted caramel and lilikoi (passion fruit)-blueberry are popular sellers, but she also had perhaps the most original offering I've seen in awhile: ahi poke (sliced tuna) cheesecake. Less a "cake" and more a savory cream-cheese concoction, each pie is topped with a generous helping of fresh island poke. It sounds strange, but trust me, you've gotta try it.
And, Robert who realized his dream of running a North Shore-style cooked-to-order shrimp truck seven months ago. His tantalizing menu includes a lilikoi sweet-chili garlic-butter shrimp plate and his own take on a Cubano with kalua pork and kim chee.
Chef Fish was born and raised in Jamaica—he now uses Hawaii ingredients such as sweet potatoes and avocado to bring Hawaii flair to the jerks and curries of his childhood. He serves them piping hot from his Jamaican-flag waving truck.
Lets just say I left full.
---
The Kona Street Eatz lot is kitty-corner to the Kona Brewing Co. and next door to the Big Island Honda Kona at 74-5608 Kuakini Hwy. Trucks park there between 10:30 a.m. and 4 p.m. on Mondays, Tuesdays, Thursdays and Fridays. More info via Facebook and konastreeteatz.com.