Kukaniloko Birthstones: Where Hawaiian royalty was born
Kukaniloko Birthstones State Monument, a sacred site on Oahu, preserves a centuries-old birthplace of royalty.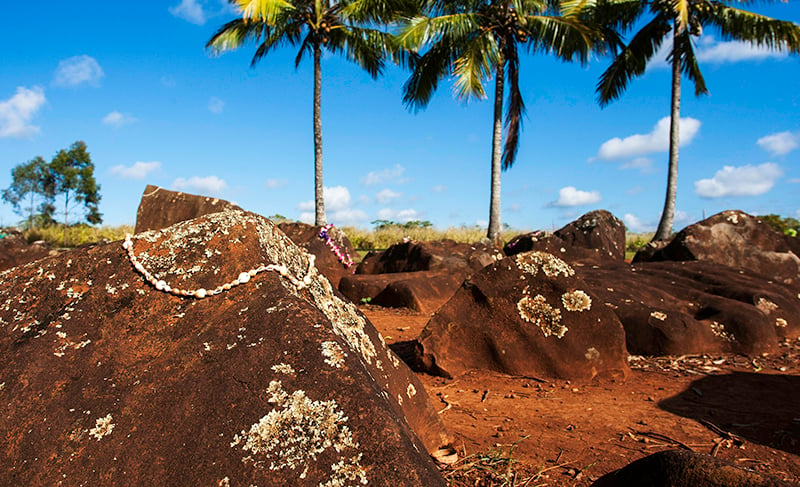 Kukaniloko, as translated from Hawaiian to English, means "to anchor the cry from within."
The massive central Oahu birthstone provided the strong support for mothers of alii (royal) children during childbirth. Positioned on a padded bed-stone, leaning into the arms of her attendant as she braced against the backbone of Kukaniloko, the mother would ride the waves of pain with no outcry. Surrounding her were 36 alii witnesses, arranged on large stone placements in two rows of 18. Another 48 alii would assist with the birthing protocols.
Kukaniloko and other birthstones like it in Hawaii are more than ritual locations. They provide a real and direct connection between life before birth and people alive today in Hawaii to those in the afterlife. Considered a piko (navel) of the island, Kukaniloko sits in full view of the Waianae mountain range, which, as seen from the site, resembles the reclining profile of a wahine hapai (pregnant woman). For the child born here, Kukaniloko and its surrounding lands would be a school, where he or she learned leadership and continued the sacred ways of their ancestors.
For Thomas Lenchanko, his sister Jo-Lin Kalimapau and other members of the Hawaiian Civic Club of Wahiawa (HCCW), who take care of this sacred place, Kukaniloko is a lifelong kuleana (responsibility).
"It is our inheritance. It is something we have to do," says Lenchanko. "Our generation goes all the way back—we believe we are descendants of the gods. If we believe, if we say, if we do, then we perpetuate who we are. We say, through education, [that] we do. We perpetuate through our young folks."
For 55 years, HCCW has maintained what is now Kukaniloko Birthstones State Monument, a 5-acre site within the 36,000-acre region traditionally called Kulanui Ao Kukaniloko. Utilized as a royal birthplace for seven centuries, the site today encompasses 180 large stones—some smooth, some carved with long grooves or bowl shapes.
Although there are birthstones on all of the Hawaiian Islands, only Kukaniloko on Oahu and Holoholoku on Kauai were designated for royal births, thus protecting lineages. Kamehameha the Great had planned for his highest-ranking wife, queen consort Keopuolani, to give birth at Kukaniloko, but she was too ill to travel. Their child, Liholiho, was instead born on Hawaii Island, succeeding his father as Kamehameha II.
First recognized, preserved and protected by the Daughters of Hawaii in 1925, care of Kukaniloko was passed to HCCW in 1960. It is on the National and State Registers of Historic Places. Today, the site is managed by HCCW and the community organizations Friends of Kukaniloko and Na Wahine O Kunia, in cooperation with the Hawaii Division of State Parks and the Office of Hawaiian Affairs (OHA). OHA also manages 511 acres of the surrounding area.
Thousands of people visit Kukaniloko each month, including doctors, midwives, Native American groups, halau hula (hula groups) from Hawaii, Japan and elsewhere, and individuals HCCW calls "kanaka maoli, those connected to spirit through hearts of aloha."
"This is a place of spirit," says Kalimapau, HCCWʻs historian. "Spirit does not know language, nationality or color. It only knows heart. We all have a cry from within."

How to get to Kukaniloko Birthstones State Monument
The monument is located in a 5-acre field at the intersection of Kamehameha Highway (Route 80) and Whitmore Avenue, Wahiawa, Oahu.

This feature was originally published in the February/March 2015 issue of MANA Magazine.