Lahaina Plantation Days celebrates West Maui's sugar cane past, Oct. 18, 19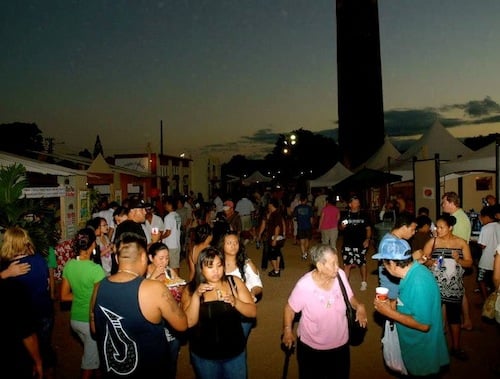 Get a peek into Maui's sugar plantation past at the fifth annual Lahaina Plantation Days, this Fri., Oct. 18 and Sat., Oct. 19 at the former Pioneer Mill Co. smokestack—a can't miss town landmark—on Lahainaluna Road.
The two-night event, which happens from 5 to 10:30 p.m. on Saturday and Sunday, celebrates West Maui's plantation and agricultural heritage. Both evening's festivities will feature food vendors, historical displays and exhibits.
Hawaii comedy duo and hosts of the event, Da Braddahs, will share the Plantation Days entertainment stage both nights along with Na Hoku Hanohano Hawaii music award-winning musicians Hoku Zuttermeister, Ekolu, Na Leo Pilimehana and more.
This being a Hawaii event 'round dinnertime, the fest will, of course, include lots of food, too. Nearly two dozen Maui restaurants will host food booths on Friday and Saturday, including Aloha Mixed Plate, Leoda's Kitchen & Pie Shop, Pacific'O Maui, Sansei Seafood Restaurant and the Plantation House Restaurant. Lahaina's Maui Brewing Co. will also also have a selection of its craft beers on draught.
Admission to Lahaina Plantation Days, organized by the Lahaina Restoration Foundation, is $3 per night. Children under 5 are free.
For more information about tickets and the Lahaina Plantation Days lineup, click here, or call the Lahaina Restoration Foundation at (808) 661-3262.