Lava Tree State Monument on Hawaii Island, closed since August, to reopen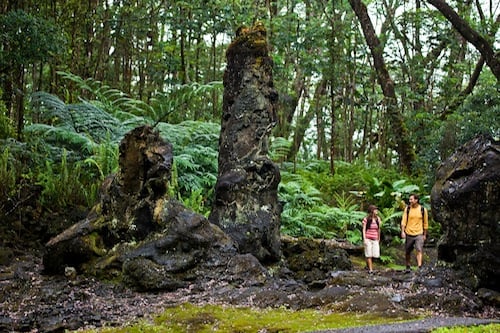 Lava Tree State Monument, a small, forested state park in Hawaii Island's Puna district that has been closed for nearly four months, reopened to the public yesterday. The park was closed in August due to downed albizia trees felled by
Tropical Storm Iselle
.
The small park is about three miles southeast of the town of Pahoa, where one edge of Kilauea volcano's active lava flow stopped just outside of town last month.
The Department of Land and Natural Resources (DLNR) announced yesterday that it had reopened portions of Lava Tree State Monument—allowing public access to most of the lava tree molds, the front portion of the park's loop trail, the main pavilion and the informational kiosk—on a limited basis. The back portion of the park will remain closed until further notice from DLNR officials.
Lava Tree State Monument is known for its freestanding hardened lava casts of tree trunks, remnants of a flow that swept through the area in 1790. The park's formations are surrounded by lush vegetation, and the park offers a 0.7-mile-long loop trail through the forest to see them.
Lava trees are formed when lava streams through forest and pools at the base of tree trunks large enough to withstand the initial force of the flow. The original tree often burns down, but their hallowed shape is preserved as the lava rock hardens. Similar formations can be seen elsewhere on Hawaii Island, but the concentration and setting of the formations in Lava Tree State Monument are what make this a popular stop for visitors to the area.