Learn to Glide Over the Ocean with a Foil Board Invented on Maui
It's not just for the pros.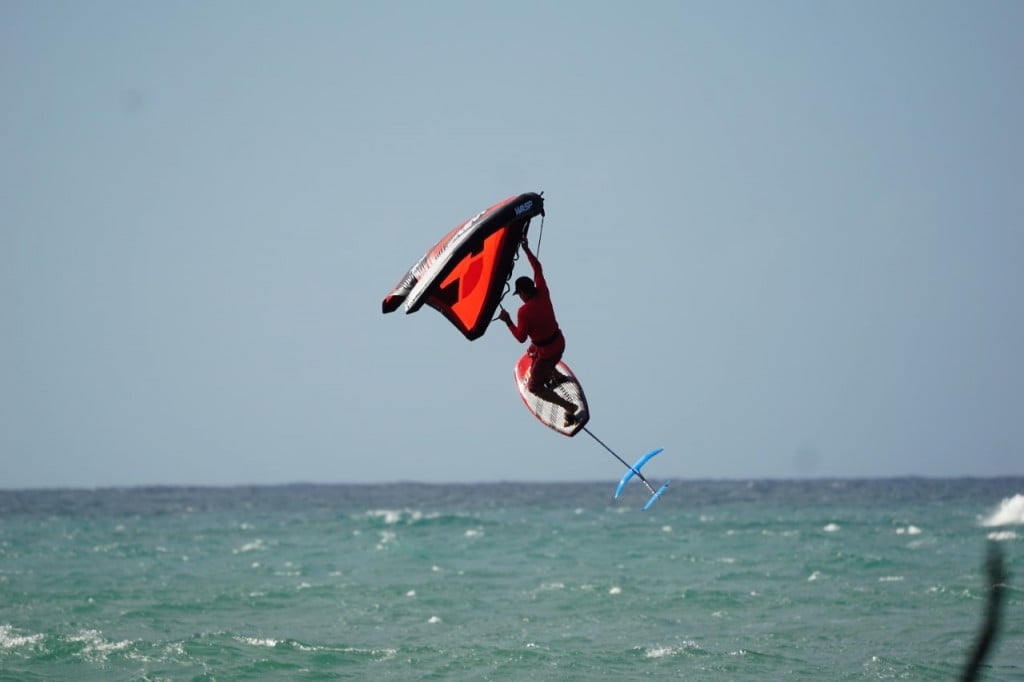 In 2016, Maui-based pro-wind surfer Alex Aguera reinvented the foil board and sparked a worldwide phenomenon.
At the request of pro-surfer and all-around waterman Kai Lenny, Aguera was asked to design a foil board that could be ridden using only the energy of the ocean and the individual paddling the board. Before Aguera's modernized version in 2016, foilers were reliant on external power sources—like holding a bulky kite or being towed by a boat—to gain enough speed to lift-off and fly feet above the ocean's surface.
If you're thinking, "What exactly is a foil board, and what do they do?"
That's a great question.
"Think of it as an underwater airplane. As you tilt the foil up, you start to lift off," says Aguera, referencing the underwater "foil" attached to a foil board via a long metal mast. "You get to a certain speed, angle the foil up toward the surface and you start to take off, then you put a little bit of pressure on the front of the board to keep it down at a certain altitude and you're just flying.'
After weeks of R&D, and a couple of near collisions with the foil, Aguera successfully rode his first prototype at Kanaha Beach Park in Kahului. Then Lenny rode it and—following a Facebook video that garnered millions of hits—surfers and paddleboarders began to take notice. Now you can almost always find a small group of foilers at breaks across the Islands. Even Aguera—who now runs Go Foil, a business dedicated to selling foils and foil-based accessories—is surprised by its success. "I'm driving around Maui, and I see foils all over the place," says Aguera. "And I never would have thought that was going to happen."
And while foiling may look like it takes years of experience surfing to get down, it's really its own sport that is open to individuals of all skill ranges. Like surfing, Aguera recommends that newbies get their start in the smallest waves possible, ankle-to-knee high being the best conditions for beginners.
"Rolling white water is the easiest to learn on as it will push you and help you get moving," says Aguera. "Steep drops are not what you want when you are first learning to foil!"
Aguera also recommends using a shorter mast so users don't go too high out of the water—which may lead to a wipeout. "And remember," says Aguera, "that foiling is a front leg sport, so put lots of weight on your front leg to hold the foil down."
Of course, you'll also need to find outlets that rent both foils and the board itself. Fortunately, surf shops across the state have taken notice of this ever-growing trend. For example, Panʻani Wai Hawaiʻi in Kailua rents foil boards—along with kite and SUP paddle add-ons. Hi-Tech Maui offers rentals as well, and outlets such as Blue Planet on Oʻahu and Pakaʻa Kauaʻi on Kauaʻi both offer lessons instead of rentals.
The feeling of foiling is one like no other, and if you're looking for an alternative to surf lessons, consider grabbing a foil board.
"There's something about humans and flight, they like to fly. And there's this sensation you get when you come up out of the water that you're flying," says Aguera. "It gets quiet, you're above the water zooming along and it's a whole new feeling. And people really gravitate towards that."