Lessons in the Leahi Concept Kitchen, a classroom and incubator in one
The space is a collaboration between KCC culinary school and the Waikiki Parc Hotel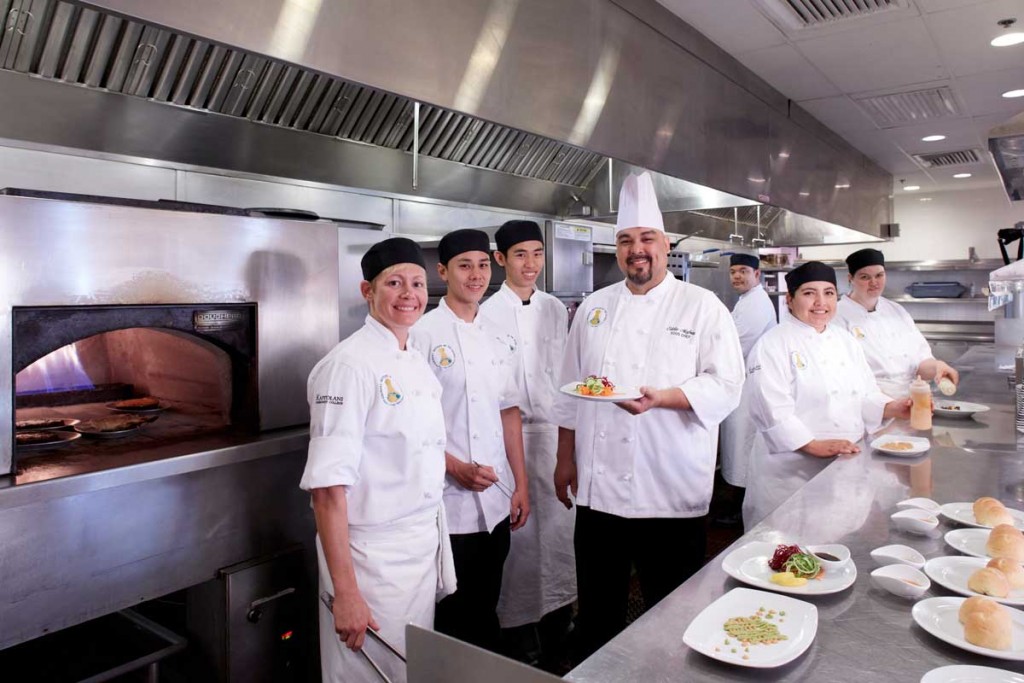 School is in session at the new Leahi Concept Kitchen in the heart of Waikiki. The restaurant is a partnership between Kapiolani Community College (KCC) and the Waikiki Parc Hotel to connect students with a changing lineup of international chefs in a working environment.
KCC's new program, the Guslander Distinguished Visiting Global Chef series, brings chefs from Japan, Korea, Thailand and China to teach cooking skills and styles. Each chef stays about a week, spending two days in the classroom with the students before sharing hands-on techniques in the kitchen.
The budding culinarians next apply what they learned, creating dining concepts and menu items that can be ordered until the next visiting chef arrives—about every six weeks. In addition, each chef will stage a pop-up event benefitting KCC's culinary arts program.
"Leahi Concept Kitchen is designed to be an incubator for the highly anticipated restaurant at the Culinary Institute of the Pacific at Diamond Head," says John Richards, dean of career and technical education at KCC. Richards says the planned fine dining restaurant should be in operation within two to three years.
At Leahi, students are learning and earning. They, along with dining room staff, are paid the same wage and are not as dependent on tips, says John Mizokawa, KCC's culinary arts operations manager. "The staff has tremendous teamwork and you can see that the moment you step into the kitchen," he says.
Waikiki Parc resident chef Eddie Mafnas oversees the daily operations of Leahi while offering a locally-focused menu available year-round. Complementing the rotating student menus are chef's small and large plates infused with local flavors. Dishes include a chicken kelaguen, a Chamorro-style marinated chicken, and prime rib served with ulu mash.
"We use as many locally-grown ingredients as possible, and our seafood is all locally sourced," says Mafnas. "The ability to utilize local foods brings awareness to the culinary flavors of Oahu, while also paying tribute to the many farms around the island."
As a KCC alum, Mafnas attests to the importance of providing students with a well-rounded culinary education. He says, "The future of the culinary realm is now in the hands of the next generation."
Watch for public cooking classes at Leahi this summer.

Leahi Concept Kitchen is open 5-10 p.m. nightly. Guests are welcome to bring their own wine and valet parking is complimentary. (808) 971-6300, leahiattheparc.kapiolani.hawaii.edu.
Kauai Black Pepper Shrimp
Recipe by Eddie Mafnas
Black Pepper Sauce:
4 cups chicken broth
1 ½ can American lager beer
¾ cup Worcestershire sauce
1/8 cup molasses
4 ounces garlic, minced
1 tablespoon thyme, dried
1 tablespoon black pepper, ground
½ tablespoon cayenne pepper
½ tablespoon kosher salt
½ tablespoon Caribbean spice mix
2 ounces brown sugar
Shrimp:
2 cups vegetable oil
5 pieces Kauai shrimp, peeled and deveined
½ cup cornstarch
1 teaspoon kosher salt
1 teaspoon black pepper, ground
3 ripe plantains, sliced at an angle, ¼-inch thick
Add all the black pepper sauce ingredients to a 2-quart saucepan. Bring to a simmer and reduce by half. Let cool and reserve.
Heat oil in a saucepan to about 350 degrees F.
Place cornstarch, salt, and pepper in a bowl and mix until combined. Dredge shrimp with cornstarch mixture, shake off excess, and fry for about 3 minutes. Place on plate with paper towels to drain.
Fry plantain slices until golden brown and reserve.
Heat a non-stick sauté pan and add the shrimp. Ladle 3 ounces of black pepper sauce into pan and reduce by half. Plate the shrimp with the plantains and garnish with microgreens.