Lifeguards Now Working Longer Hours on Oʻahu
The extended hours will help keep beaches safer.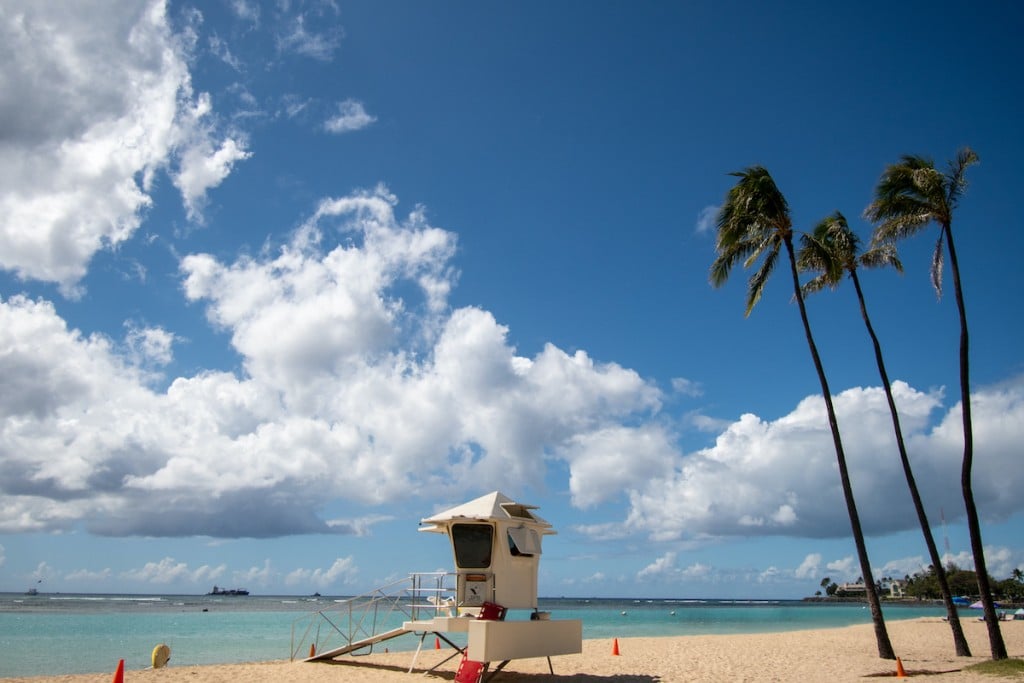 Lifeguards are working longer hours on Oʻahu beaches—and that's good news for beachgoers.
Beginning on July 11, hours changed to 7 a.m. to 7 p.m., extended from from 9 a.m. to 5:30 p.m. (Right now lifeguard towers at the beach will continue to operate under the old hours; mobile response vehicles will be working the new hours.)
With record numbers of visitors arriving to the Islands this summer—and Oʻahu is getting most of them—beach and ocean safety are big concerns for the city.
According to the city's Ocean Safety Division, there were 141 ocean-related emergency calls after lifeguard hours in 2019; that number increased to 172 in 2020 and already in 2021 there have been 130 emergency calls between 5 p.m. and 7 p.m.
Honolulu Ocean Safety Chief John Titchen said there have been eight drownings and near-drownings in the last two weeks, five of which were visitors.
There are 250 ocean safety personnel staffing 41 towers around the island everyday. They cover the island's 227 miles of coastline—and all the people who use it, from open-ocean canoe paddlers to nearshore snorkelers to families lounging on the beach. The city also has a fleet of mobile response vehicles to help.
If you get into trouble before 9 a.m. or after 5:30 p.m., you won't see lifeguards in towers at the beach—but you can call 911 and an ocean safety officer in a mobile response unit will respond.
Here are some beach safety tips for your next visit to a Hawaiʻi beach:
Not all beaches have lifeguards, so pick one with lifeguards present. If you're considering an ocean activity like snorkeling or surfing, go with a certified instructor or professional.
Always check conditions before going out, read all posted signs and talk to lifeguards about ocean hazards.
Swim, snorkel or surf with a buddy.
Know your limits and don't push beyond your abilities.
Ocean conditions in Hawaiʻi can change quickly and without warning.
Don't go into the ocean under the influence of drugs or alcohol, which greatly increases your risk of drowning.
For more beach safety tips, click here.