Listen to the 12 songs from our "Kealii Reichel: A Life in Song" feature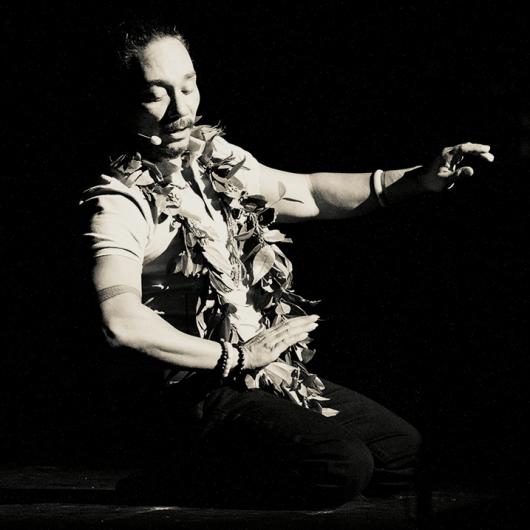 For the March/April issue of HAWAII Magazine, I visited with multiple Na Hoku Hanohano Hawaii music award-winning musician Kealii Reichel to talk about favorite songs he's written and recorded over his two decade-plus career and how each reflected or impacted moments in his life.
The result is "Kealii Reichel: A Life in Song," a feature I'd long wanted to ask him to work with me on.
A Merrie Monarch Festival-winning kumu hula (hula master and teacher), Reichel is one of the most iconic and influential individuals of modern Hawaiian music and culture. But he's also a fascinating guy to sit down with for a few hours and talk story. One of our most memorable chats happened a decade ago when his 2003 album, Kealaokamaile, was nominated for the first Best Hawaiian Music Album Grammy award.
He spoke then about the many kupuna (grandparents and family elders) that had inspired much of Kealaokamaile and shaped his view of the world. In particular, his grandmother, Kamaile Puhi Kane. His memories were rich, detailed, vivid, humorous, occasionally sad, and heavy with abundant love and respect for his subjects. I felt honored hearing the stories straight from the source.
So when I found out last summer that Reichel was recording his first album since Kealaokamaile—the recently released Kawaiokalena—I figured it was a good time to catch up and, maybe, hear a few more stories. Stories spanning the 20 years of life and career since his breakthrough debut album, 1994's Kawaipunahele.
And so I contacted Reichel with my idea: Select a dozen or so songs from your music career that personally mean the most to you, then sit down with me and share the stories of their creation, the inspiration behind them and what was going on in your life when you recorded them. They didn't have to be his best-known songs, I told him, just the ones he would put on a playlist of songs that told the story of his life.
Though, these days, Reichel only very rarely agrees to do interviews, he said "Yes" immediately to my request and was gracious, loquacious and just plain good fun when we eventually met at the Upcountry Maui home he shares with his husband and longtime inspiration for much of his music, Fred "Punahele" Krauss. I had an exceptional afternoon with Reichel reminiscing his life in song, and I think he did, too.
You'll find my full "Kealii Reichel: A Life in Song" feature in HAWAII's March/April issue, on sale now on newsstands and on Apple iTunes and Android for mobile and tablet devices. Below is a Spotify playlist of the 12 songs from his life and career Reichel personally selected to talk about in the feature.
Enjoy listening, and reading.