Little Rippers: Where to Teach Your Keiki How to Surf in Hawaii
Choosing the right surf break can make all the difference.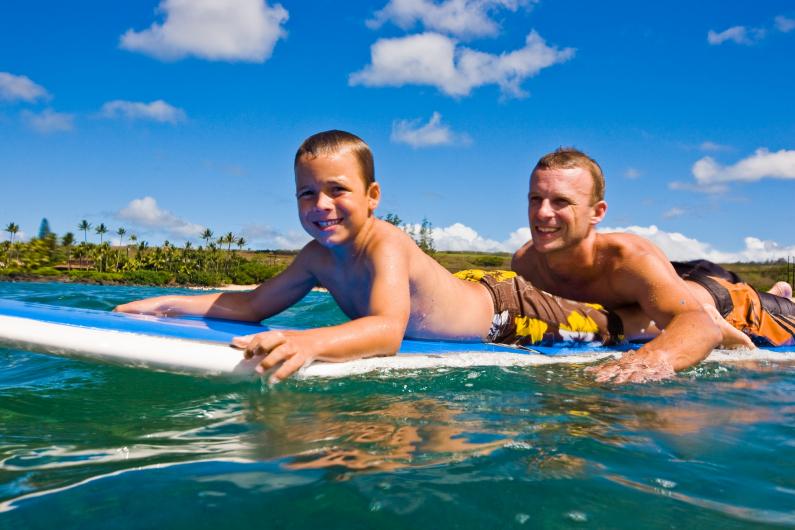 Remember that as a parent you should be confident in your surfing ability and familiarity with the ocean conditions of each spot before taking your child to surf. Furthermore, make sure your grom (young surfer) knows how to swim and wants to surf before taking them out into the waves. It's a traumatizing experience to take an unwilling child into the surf that could potentially turn them off of surfing for years or a lifetime. Make the sure wave heights are small, ocean conditions are relatively calm, and have a chat with the lifeguard before going out. You can use this rule to decide if you're ready to teach your kid how to surf: "When in doubt don't paddle out." Also, it helps a lot to have two adults in the water per child when teaching a grom to surf with one pushing the kid into wave and the other catching the grom at the end of the ride. We chose the following surf spots because of the presence of lifeguards, shallow area so parents can stand and these waves typically break during the winter months.
OAHU
Alii Beach Park
The surf spot is actually called "Haleiwa," which means "House of the Iwa bird" in Hawaiian, and this is the home of the first contest of the world famous Triple Crown of Surfing. But, when the waves are small and the sun is out this is a spot that many local pro surfers rode their very first waves as groms. 66-105C Haleiwa Road, Haleiwa, 96712
Pokai Bay
Otherwise known as Pililaau Army Recreation Center or Waianae Rest Camp this surf spot is known as the "Waikiki of the West Side" by the locals for its soft, rolling waves. If you're in the military this is a great place to teach your grom how to surf because you can rent the cabins that front the beach.  85-10 Army Street, Waianae, 96792
---
MAUI
Hookipa Beach Park
Located on the east side of Maui, this surf spot breaks year-round from swells generated by the trade winds as well as north and east swells. There are numerous grom contests held here and the inside of the cove is an ideal place to start pushing your kid into waves. Hana Highway, Paia, 96779
---
KAUAI
Hanalei Bay Beach Park
The inside of Hanalei Bay is possibly the best place on this entire list to teach your keiki how to surf because it's a sand bottom so you don't need to worry about the reef. In addition, there are a lot of families teaching their kids to surf here at the same time. Keep your eyes peeled because Bethany Hamilton and numerous other pro surfers frequent this spot. Weke Road, Hanalei, 96714
---
HAWAII ISLAND
Honolii Beach Park
Much like Hookipa Beach Park on Maui, Honolii Beach Park in Hilo breaks year-round and also receives north and east swells. This may be the most-challenging place to teach a kid how to surf out of this entire list because there is a river that empties into Honolii (which means "little bay"), making the water very cold and constantly changing the contour of the bottom. Definitely consult a lifeguard before taking your grom out to surf here. 180 Kahoo Street, Hilo, 96720