Living in the Heart of O'ahu: Honolulu's Downtown District
The city center has it all—the arts, the food and the views.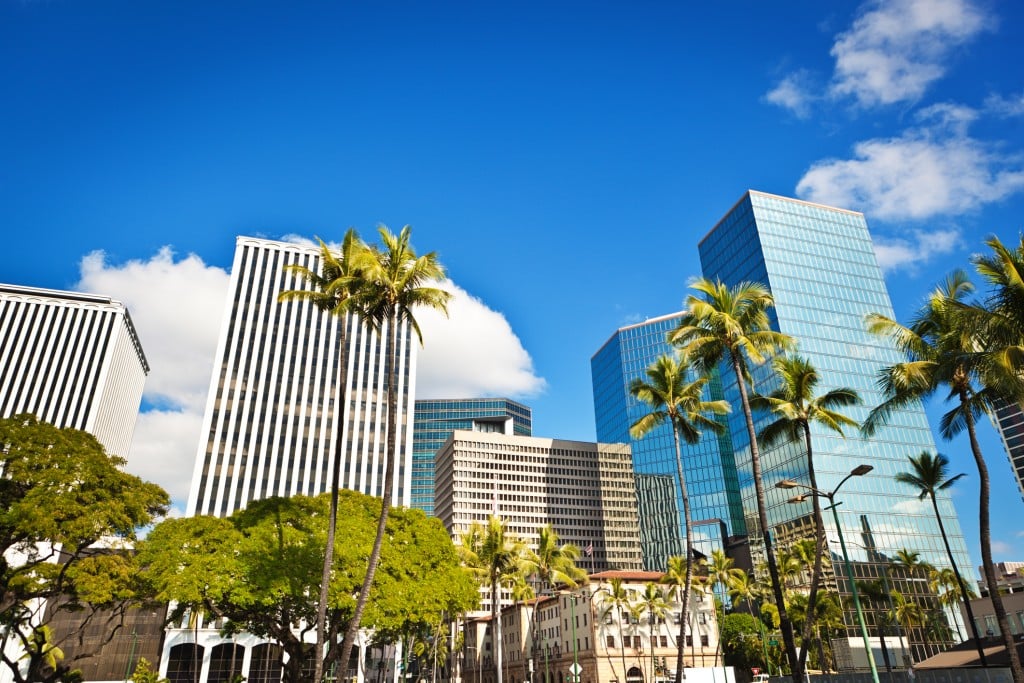 When people think about living in Hawaiʻi, bungalows on the beach and cabins tucked deep in tropical forests might come to mind. And quiet serenity. But Downtown Honolulu is a very different story. Home to an amalgamation of urban culture, artistic vision, the freshest local cuisine and heaps of happening bars—all a few miles away from some of Hawaiʻi's best beaches—Downtown Honolulu really has it all.
"The Downtown and Kaka'ako area offer wonderful lifestyle options with easy access to markets, hospitals, the eclectic Chinatown area, golf courses, private clubs, theaters, museums, schools, dog parks and beaches," says Curtis J. Jackson, a specialized agent with List Sotheby's International Realty and a Hawaiʻi resident since 1989. "All of these features make living in the Downtown Honolulu area a very unique experience for residents who want all of the bells and whistles suited for every lifestyle."
And Jackson is right. From art lovers to foodies and career-driven professionals, Downtown really has something for everyone. Considerably more urban than most other neighborhoods on Oʻahu, the arts have flourished in a big way, and venues like NextDoor (nextdoorhi.com) and Marks Garage (artsatmarks.com) are known for hosting live music and art showcases throughout the year. And with bars and bistros—such as Artizen by MW (artizenbymw.com) and Fête (fetehawaii.com)—in the area, you have easy access to some of the hippest culinary experiences on the island.
Since Downtown is also the Islands' business hub, you'll likely be within walking distance of work. And if you're a remote employee, places like Cafe Daisy (1132 Bishop St., Suite 131) and Sip Honolulu (siphonolulu.net) are great spots to work out of if your home office is feeling stuffy. "Downtown Honolulu has four main districts—central business, capital, Chinatown and the waterfront area," says Jackson. "Each area has its own social features and are convenient and perfect places for a variety of professionals, from office workers to entrepreneurs, attorneys and doctors as well as nurses, government workers, active retired folk and students."
For nature lovers, don't fret—just because Downtown is the closest thing Oʻahu has to big-city life doesn't mean it's far from beaches and hiking trails. Ala Moana Beach Park, one of the biggest and best beaches on O'ahu's South Shore, is just a few minutes' drive from Downtown, and the less popular but equally nice Sand Island Beach Park is also nearby. And since Oʻahu is a small island, residents who want to explore the North Shore, trek up to the East Side for a day in the sun at Lanikai Beach or take a drive up to Yokohama Bay on the West Side still won't have to travel more than an hour each way.
Prospective property owners will also be happy to know that there is a wide variety of affordable and luxury apartments and condominiums for sale in the area. "Buyers and investors can expect to find a variety of FS (fee simple) and LH (leasehold) condominium and apartment units on the market, many with spectacular ocean and mountain views for sale in the Downtown area—ranging from $165,000 to $2,000,000 plus," says Jackson.
To learn more about homes in Downtown Honolulu, visit the List Sotheby's International Realty website for a list of real estate agents and properties.
Curtis J. Jackson, Realtor®, e-PRO, MRP, SRS, HI License RB-22974, (808) 291-4404, cjackson@listsir.com. Visit his profile here.