Makaha Sons on the Mainland this summer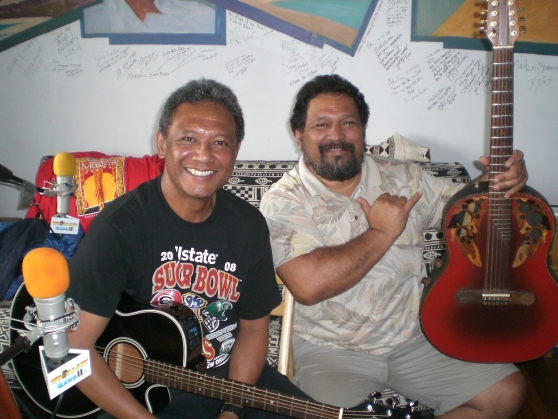 Recently we had the good fortune to hang out at Ron Jacobs' Whodaguyhawaii.com studio, when two-thirds of the Makaha Sons showed up for a visit.
In cyberspace, Whodaguyhawaii.com may be international in scope. But the Kaneohe headquarters of the internet Hawaiian music station are hardly spacious.

Moon Kauakahi (left, in pic) and Jerome Koko, accompanied by manager Sharlene Oshiro, wedged themselves into the room already occupied by a half dozen computer monitors, microphones, Ron Jacobs and a few friends and neighbors.
Even without Jerome's brother John, the effect of hearing the Makaha Sons soft precise harmonies in a small space was overwhelming.
The mood was nostaglic. The group recalled hanging out with Jacobs in the '70s, when both Israel and Skippy Kamakawiwoole were still alive. Among the recollections was a memorable date when they jammed for seven straight hours at Jacobs' daughter's baby luau.
The Makaha Sons—with or without Skippy and Iz—have always been one of our favorite groups, blending astounding harmonies orchestrated by Moon, with real Hawaiian spirit.
If you need a Hawaiian music fix, the Sons may be coming to a venue near you real soon. They'll be on the road more days in the Mainland U.S. than they are in Hawaii this summer.
June 20, Rogue Theatre, Grants Pass, OR
June 21, David Marr Theater, Redding, CA
June 23, The Living Room Community Church, Kennewick, WA
June 26, Bing Crosby Theater, Spokane, WA
June 27, World Beat Festival, Salem, OR
July 11, Bayou Theater, University of Houston at Clear Lake, Houston, TX
July 13, Lakeview Harbor Restaurant, New Orleans, LA
July 16, Johnson Theater, Tennessee Performing Arts Center, Nashville, TN
July 19-20 Palm Ballroom, Hilton in Walt Disney Resort, Orlando, FL
Sept 20, New Hampshire (location TBA)
Sept 23, The Triad, New York City, NY
Sept 25, Thomas Jefferson High School Auditorium, Jefferson Hills, PA
Sept 26, Private party
Sept 28, Room 101, Lakeland Community College, Cleveland, OH
Take our word for it. You'll won't leave a Moon, John and Jerome concert disappointed.