Make These Hawaiʻi-Inspired Eggs for Easter
Give your Easter eggs an Island twist this weekend.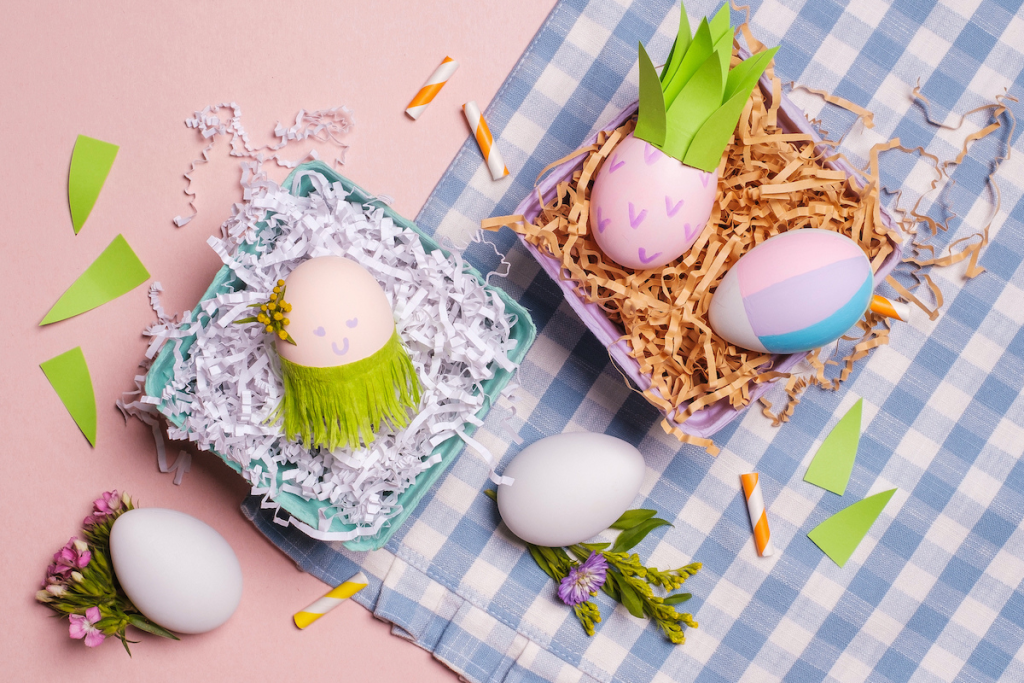 On the hunt for an Easter activity with a Hawaiʻi twist? Transform plastic eggs into ultra-cute pineapples, shave ice cones and hula dancers. That's right, it's time to bust out your hoppy dance.
Shave Ice Egg
Supplies
Plastic craft egg
Markers
Paper straw
Glue dot (we used the 5-mm size) or hot glue and hot glue gun
Instructions
Use markers to draw on the different flavors, leaving the "cone" area white.
Cut a ½-inch piece of straw.
Use glue dot or hot glue to adheres the straw piece to the top of the egg.
Pineapple Egg
Supplies
Plastic craft egg
Markers
Scissors
Green construction paper
Ruler
Glue dots
Instructions
Use markers to color the egg and draw rind markings.
Cut 10-15 leaves of varying lengths out of construction paper (ours ranged from 1.25 inches to 2 inches long), giving each leaf a straight bottom and curved/pointed top.
To give the leaves definition, curl each leaf around the barrel of a marker.
Use glue dots to adhere the bottom of each leaf to the egg. Start at the center top of the egg with the tallest leaves and work your way outward—the leaves should get smaller, the further out you go.
Hula Egg
Supplies
Plastic craft egg
Green crepe paper streamer (we used a 1.75-inch-wide roll)
Markers
Flower—we foraged for ours in our backyard, but you can also draw this on
Glue dots (we used the 5-mm size)
Scissors
Ruler
Instructions
For the body:
Use a light-colored marker to color the entire egg.
For the skirt:
Cut a 12-inch-long piece of crepe paper.
Fold crepe paper in half vertically and use a glue dot to adhere the top two corners of the loose ends together.
Fold in half vertically again and trim ½ an inch off from the bottom.
Make vertical cuts into the bottom of the paper, leaving a ¼-inch band uncut across the top.
Gently unfold back to 6-inch length—if you unfold too fast, the strips can tangle and rip.
Use glue dots to adhere the skirt band to the waist area of the egg, wrapping it around and adding more glue dots as you go.
Using your fingers, lightly fluff up the bottom of the skirt to give to it volume and dimension.
Face and flower:
Draw on the eyes and mouth.
Draw on the flower or use a glue dot to adhere a real flower to the egg.
This story was originally published in our sister publication, Honolulu Family.