Make Your Own Flower Lei at This Workshop on Kauaʻi
Create a haku lei that's uniquely yours using flowers and foliage from your garden.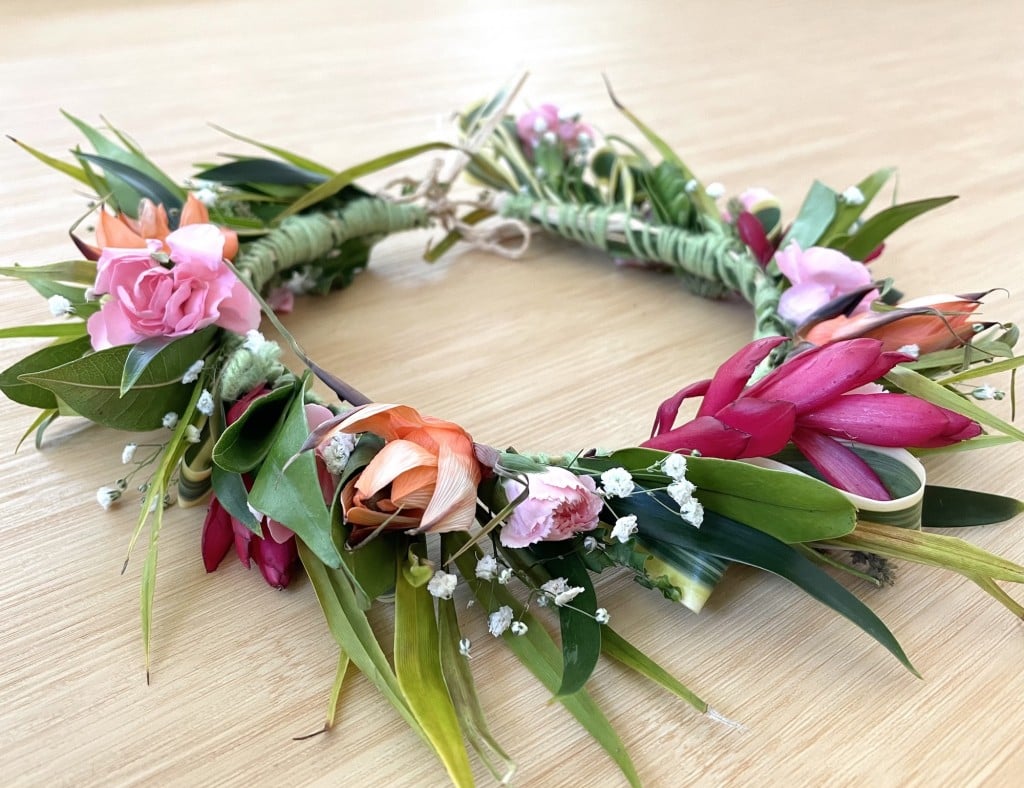 It's a crisp Saturday morning, and I'm thoroughly enjoying myself as I pick through baskets of laua'e, kupukupu and palapalai ferns, allspice, red and green ti leaves, Song of India leaves, carnations, baby's breath, fuchsia bougainvillea, red 'awapuhi (ginger), roses and other flowers and foliage I don't know the names of.
I'm gathering materials to make a haku lei, a lei commonly worn on the head (lei po'o), at a workshop led by Elvrine Chow of Heavenly Hakus and author of the book "Heavenly Hakus Kaua'i." The workshop is hosted by Hawaiian Artisans at Coconut Marketplace in Kapa'a on Kauaʻi.
I'm one of eight students and we listen attentively as Chow shows us how to prepare our coconut leaf, which will serve as the base of the lei. The leaf is too thick to use as is, so we're told to measure about an inch away from the yellow spine and slice away the outer portion. Then we trim the leaf to fit around our heads and place it over strands of raffia, which will be used to tie the finished lei together.
She also shows us how to bundle flowers and leaves. These bundles will be used to start our lei and can also be used throughout to give the lei a fuller look. I tie together a Song of India, a snippet of baby's breath and a pink carnation. For another bundle, I match part of a laua'e fern with several thin, light green dancing pandanus leaves.
Chow was born in Holland, raised in California and came to Kaua'i in 1976. She first learned to make haku and ti leaf lei from her sister-in-law, Cashie Lopez, who taught all the children in the family to dance hula and adorn themselves with lei. Chow also improved her skills by learning from the other lei makers who participated in Kaua'i Museum's annual Lei Day competition.
"You just learn because all the lei makers are there and everybody's telling their secrets and talking story, you know, admiring each other's work," Chow says. She launched Heavenly Hakus in February 1996.
View this post on Instagram
Today's class is all about the wili style of haku lei making. Wili means "to wind or twist" in Hawaiian, so we made our haku lei by winding yarn around individual flowers or bunches of flowers laid on top of the coconut leaf base. Chow says some lei makers use raffia for this step, but she was taught using yarn.
It's quite a simple process—so much so that it's actually meditative. Chow says her favorite time to make lei is late at night, after everyone else in her house is in bed, and when she can focus solely on the lei and flowers.
"I believe the flowers are magical," she says. "So when I work with them, you know, I'm working with magic. It's like amazing. And I like the way they turn out because you never really know until you're done how they're going to turn out, and it's always fun and it's calming."
The hardest part of making haku lei was remembering to designate one hand to hold the yarn, flower and base together, and the other to do the winding. Chow's mantra for haku lei making is "close and tight." You want to wrap the flowers and foliage tightly and closely, so they don't fall off later. And Chow would test our leis at the end of the class by dipping them in a bucket of water and spinning them around to shake out the excess and see if any flowers or foliage would fall out.
She has been teaching haku lei making for about 20 years through private and public workshops. And she hopes that her students continue to practice lei making and perpetuate the artform.
"My motto, I guess, is to share, wear, create and perpetuate the art of lei making," she says, adding that she never wants the practice to die. She recalls a year when she didn't receive any calls for haku lei, so she canceled her general excise tax license. Business picked up the next year, and today she hopes more people will wear lei more often, rather than just for special events. Other places, like Haku Maui, The Happy Haku on O'ahu and Hakus by Ki on Hawai'i Island also offer lei po'o or haku lei making workshops.
I wanted a certain color palette as I built my haku—light and dark greens, pastel pinks, oranges and reds—and I chose my flower placements based on the flower quantities I had. For example, I only had a few red 'awapuhi and orange dancing pandanus flowers, so those could go near the front of the lei, and the pink carnations and baby's breath were more plentiful, so they could be used throughout.
By the end of the class, I had a beautiful haku, and it passed Chow's test. Only one carnation fell out—and the fix was simple. Chow took a small snippet of yarn and retied the flower to the base. I was so proud of my lei that I kept it on for most of the day.
To learn more about this workshop, visit Heavenly Haku's Facebook page.