Make Your Own Mask by Hawaiʻi Designer Jana Lam
The Honolulu designer offers a tutorial on sewing your own mask—or you can buy one of her DIY kits, too.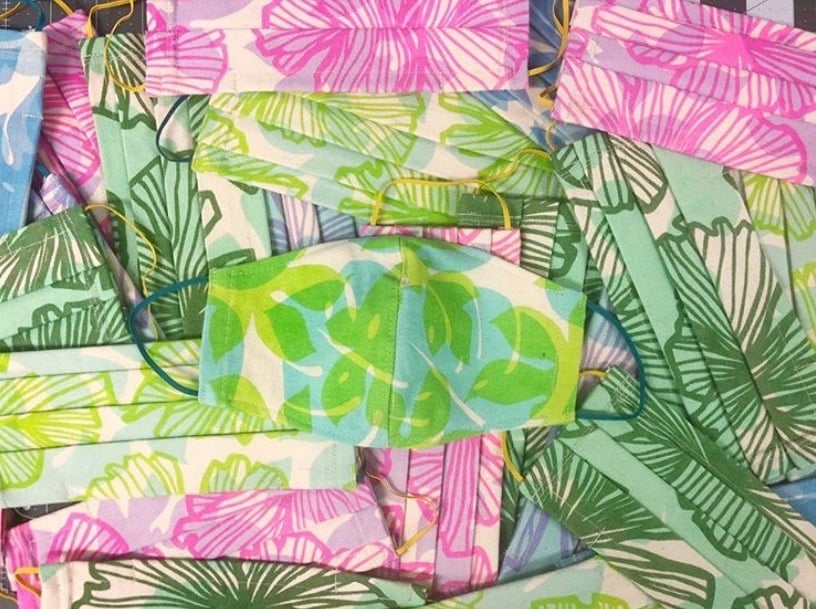 Last month, when COVID-19 forced a statewide shutdown, shuttering shops and restaurants across the state, Honolulu designer Jana Lam was sick in bed with pneumonia. (Not the coronavirus, thankfully.)
Two of her friends messaged her on the same day—with the same message: Make masks.
"I was like, ʻOh, duh,'" she says (now healthy and back at work). "I was mad at myself for not thinking of it sooner."
The next day Lam had prototypes made. She posted the mask on Instagram and it immediately got more than 100 comments that day.
She designed two kinds of fabric masks in assorted prints and colors: a fitted mask that's modeled after an N95 fit (above) and a pleated mask modeled after a surgical mask, both with a bendable wire to fit around the nose and cheeks.
While neither mask can prevent you from contracting COVID-19—or should replace the best thing: social distancing and staying home—wearing one is highly encouraged when going out in public. Now some stores won't allow customers to enter unless they're wearing some kind of face covering.
The masks sold out quickly—the second time Lam offered them online, she sold 400 in 8 minutes—but she's still taking orders. (The link on her website isn't live, but you can follow her on Instagram to find out when she'll be selling masks again.) Masks cost $24 each, and all of the profits go toward making more masks that are then donated to first responders, healthcare workers and others who need them the most. She's partnering with another local designer, Allison Izu, who's making three masks to donate for every one sold.
She also started selling DIY kits ($12 each), but she's sold out of those, too.
Now she's encouraging people to make their own.
Lam posted her pattern online with a step-by-step tutorial to help people craft their own fitted masks at home.
Here's what you need:
Exterior and lining fabric. Use the pattern to cut one left piece and one right piece for both.
Either 6-inch elastic or 2 ties cut at 18 inches for the top and 16 inches for the bottom.
4-inch nose piece of bendable metal, ideally plastic-coated. You can use twist ties or pipe cleaners, too.
The rest of her instructions can be found here.
"Making masks help support my team during this time," says Lam, a mother of two. "And, of course, our main goal is to get as many masks out to people as possible."