"Mangoes at the Moana" in Waikiki celebrates Hawaii's delish summertime fruit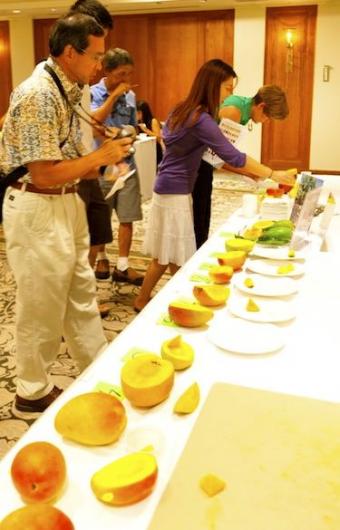 It's mango season in Hawaii. Those fragrant spheroids are ripe in treetops. Reason enough to celebrate? We think so. If you agree — and happen to be on Oahu this weekend — head on over to the Moana Surfrider in Waikiki for the fourth annual fruit tribute, Mangoes at the Moana, 10 a.m. to 6 p.m. on Sat., July 21.
Among the highlights: A cooking competition for celebrity chefs dubbed Tree to Table — A Mango Throw Down, best recipe and best mango contests, mango-themed seminars (novice- and advanced-level), and "how-to" demonstrations ranging from pruning and and trimming mango trees to decorating a cake with mango.

The event, which will be held at the resort, is free, except for two events: the mango throw down competition, which will be held from noon until 4 p.m., and the Mango Cocktail Mix Throw Down, which starts at 4 p.m. Spectators may purchase tickets to sample the culinary creations made with mango as the main ingredient. Adults: $75, includes two drinks at the Southern Wine & Spirits booth. 
A portion of proceeds will go to
benefit the Leeward Community College Culinary Arts Program. For more information about tickets, click here.
The deadline for the best recipe contest has been extended to Fri., July 20. So, if you have a contender, click here for entry information. If you would like to enter the best mango contest, just bring one of your best homegrown mangoes to the judging area by 8:45 a.m. Judges will base their picks on flavor, texture, skin color, aroma, flesh color, and proportion of flesh to seed.
Musical entertainment will be under way in the Banyan Courtyard, 10 a.m. to 6 p.m. For additional information about the event, click here.