"Mangoes at the Moana" in Waikiki celebrates Hawaii's sunshiny summertime fruit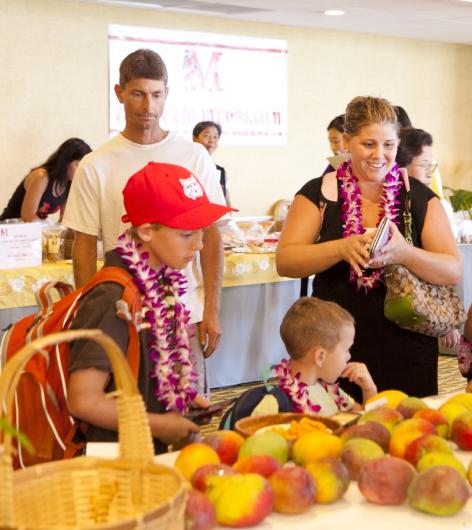 It's mango season in Hawaii. Those fragrant yellowish-red spheroids are ripe in treetops throughout the islands. Reason enough to celebrate? If you are nodding in agreement — and happen to be on Oahu this weekend — head on over to the Moana Surfrider's third annual tribute to the prized fruit, Mangoes at the Moana, 10 a.m. to 4 p.m. Sat. July 9.
The free event at the Waikiki resort features a mango farmer's market, recipe contest, and mango-themed seminars, one of which includes an invitation for participants to try out the Mona Lani Spa's popular mango body scrub. Among the celebration's highlights will be the second annual Mango Throw Down, a featuring local celebrity chefs in a friendly competition in which the juicy-sweet fruit is the main ingredient.

Here's the lineup for the daylong celebration.
Mango Recipe Contest (10 a.m. to 11:30 a.m., Lani Kai Room) — Chefs and wannabe chefs will present dishes made from their best recipes to a panel of celebrity judges. Among them will be New York City restaurant Kogi's Executive Chef Lee Anne Wong, who competed on Bravo's Top Chef television show and has hosted Cooking Channel's Unique Eats.
Mango Farmer's Market (10 a.m. to 4 p.m., Banyan Courtyard) — Hawaii's mango farmers will provide free samples of the various varieties of mangoes grown on their farms. You're invited to "talk story" with the farmers about how they raise their trees. Several of Hawaii vendors will be offering mango-inspired products for purchase.
Mango Throw Down (12 p.m. to 4 p.m. Banyan Courtyard and Lani Kai Room) — Eleven local celebrity chefs will cook up creative dishes featuring mango as the main ingredient. Admission is free and you're welcome to taste each chef's creation for $3 per script; number of scripts required will differ at each booth.
Chefs will be judged by a panel of celebrity judges including Lee Anne Wong, one of the finalists for the first season of Bravo's popular cooking reality show Top Chef. A portion of the proceeds will go to benefit University of Hawaii's Culinary Institute of the Pacific. Participating chefs include: Chai Chaowasaree, Chai's Island Bistro; Darren Demaya, Kai Market; Kevin Hanney, 12th Ave Grill; Wayne Hirabayashi, The Kahala Hotel & Resort; Hardy Kirschner, Michel's at the Colony Surf ; Dave "D.K." Kodama, D.K. Steakhouse; Jon Matsubara, Azure Restaurant; Ronnie Nasuti, Tiki's Grill & Bar; Jason Peel, Roy's Hawaiian Fusion Cuisince Waikiki; Goran Streng, Tango Contemporary Café; and Rodney Uyehara, Beachhouse at the Moana.
Mango Seminars (Lani Kai Room) — Learn about different varieties of mango grown in Hawaii at Mango 101: Introduction to Mangoes, 1 p.m. to 2 p.m. Experts will be available to answer questions on how to grow, preserve and prepare mangoes. Mango 501: Mangoes for the Seasoned (advanced course), 2 p.m. to 3 p.m., will feature experts sharing best practices in growing a healthy fruit-bearing mango tree.
Mango Boot Camp (11 a.m. to 12 p.m. Moana Lani Spa) — Learn about the health benefits of mangoes at this "wellness seminar," and try the spa's mango body scrub.
Musical entertainment will be under way in the Banyan Courtyard, 10 a.m. to 6 p.m. Also, the day's menus for the resort's lunch and afternoon tea will be mango-themed. For additional information about the event, click here.