Marriott readying EDITION luxury boutique hotel brand for Waikiki debut this fall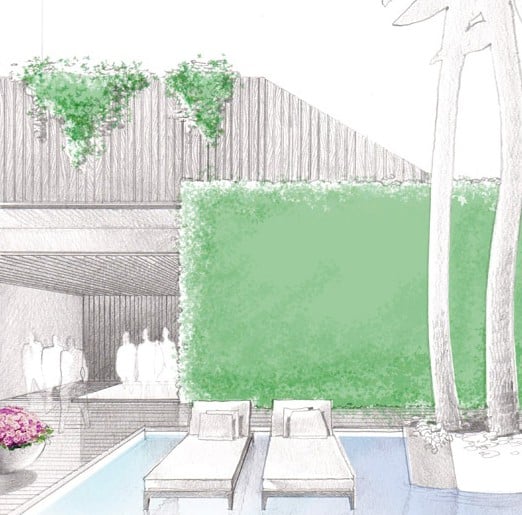 After months of secrecy and swirling industry rumors, EDITION Hotels has revealed that the first of its planned international chain of luxury boutique properties will bow in Hawaii this fall.
The Waikiki EDITION—the debut property of Marriott International and global hotelier Ian Schrager's EDITION "lifestyle hotel" partnership—will open in October in a former wing of the landmark Ilikai Hotel. The target market for the new EDITION brand? Travelers already enamored with the modern, stylish and very urban aesthetics of Marriott rival Starwood Hotels' W boutique brand.
The list of Waikiki EDITION dining and entertainment options, guest services and amenities accompanying the new hotel's announcement certainly had a very hip and familiar "W" ring to it.
The 353-room Waikiki EDITION will be home to a restaurant from celebrated Iron Chef Masaharu Morimoto, a nightclub called Crazybox and three(!) bars and lounges. Among the lounges: a garden-set sunrise pool bar (artist rendering, above), and a beach bar adjoining a manmade sand-filled lagoon overlooking the ocean and Ala Wai Yacht Harbor (artist rendering, middle). The Waikiki EDITION's guest amenities will also include a full-service spa and fitness center, a custom fitness service program cheekily called the Surf and Bikini Boot Camp, an outdoor cinema, meeting studios and a 9,200 square-foot ballroom.
Extensive refurbishing of the Waikiki EDITION property—formerly the Ilikai's Yacht Harbor Tower wing—began earlier this year. But until EDITION's recent announcement of its Waikiki debut, both Marriott International chairman/CEO Bill Marriott and Schrager had remained largely mum about the brand since February 2009. That was when Hotel Business Magazine first broke news that EDITION was looking to convert a wing of Ilikai rooms into a luxe boutique property.
At the time, the two-year-old EDITION brand was billing itself as "the first truly global branded boutique/lifestyle hotel on a large scale," even though planned debut projects in Washington D.C. and Miami had stalled due to dried up financing. So it seemed a bit odd to some hotel industry watchdogs that Waikiki—which didn't even warrant a place on EDITION's initial 2008 list of dream cities for its properties—was suddenly a frontrunner for the brand's first hotel. A relatively quiet construction launch in February confirmed speculation.
Schrager is a lodging industry pioneer, largely credited with originating the modern "boutique hotel" concept. In recent years, he has been best known for conceptualizing and developing high-profile hotel and residential properties such as New York's Gramercy Park Hotel and 40 Bond, Los Angeles' Mondrian and Miami's Delano. The Waikiki EDITION will be Schrager's first Hawaii project.
Marriott brand Renaissance Hotels had been the management company for the Ilikai's hotel operations as recently as last year, until the property's owners decided to convert it to an EDITION.
EDITION will follow its Waikiki debut with the opening of an Istanbul EDITION in Turkey later this year. EDITION properties are also planned for Barcelona, Mexico City and Bangkok.
For more information on Waikiki EDITION, visit the EDITION Hotels website.