Matt Damon gains gut, films in Hawaii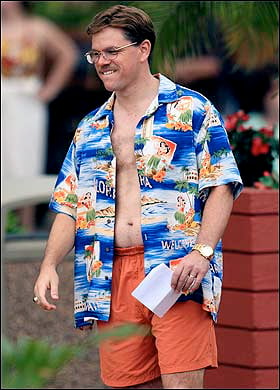 Can you believe these photos? Yes, it's Matt Damon—shooting scenes for his next movie at Oahu's Makaha Valley Country Club earlier this week.
The cheap aloha shirt, post disco-era 'stache and serious paunch? All part of his character.
People's current Sexiest Man Alive is playing real-life whistleblower Mark Whitacre in director Steven Soderbergh's thriller The Informant.
Based on journalist Kurt Eichenwald's 2000 book, the film traces Whitacre's journey from button-down Archer Daniels Midland executive to FBI informant intent on taking down the agribusiness giant. Supposedly, Whitacre had clandestine meetings with Archer Daniels Midland brass at the Makaha club in the '90s.
Possibly shady, possibly downright delusional, Whitacre first confessed to the FBI in 1992 that the Fortune 500 company was conspiring with its competitors to fix the price of a potentially lucrative food additive.
The case for and against "anti-hero" Whitacre is still making headlines.
The Informant is set for a March 2009 release. Damon's workouts with his personal trainer will likely begin much sooner.