Maui Brewing Co.: Hawaii-friendly, Earth-friendly beer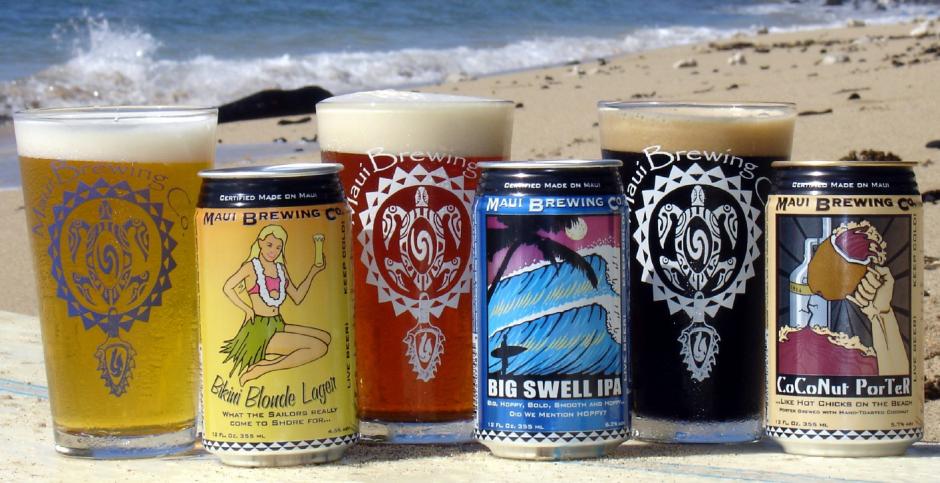 The new issue of HAWAII Magazine features a story on Maui Brewing Co., a Lahaina-based artisanal brewery crafting Hawaii-inspired beers.
Its brews have won international beer awards. Owner Garrett Marrero and brewmaster Tom Kerns use Hawaii-grown ingredients, when possible—fresh island-grown pineapple, Maui-made rum, Kauai lehua blossom honey.
But since opening in 2005, Marrero has also worked to make his company one of Maui's most Earth-friendly. He's one seriously resourceful brewer.
All of his delivery trucks—including his and wife Melanie's cars—run on biodiesel he makes with his Kaanapali brewpub's used vegetable oil. The brewpub's lighting is entirely energy-saving compact fluorescent. Marrero is installing photovoltaic solar cells that will soon generate all of the brewery's electricity.
Beer brewed by the Maui sun? What a concept.
Leftover grain, yeast and hops from the brewing process are given free to Maui farmers for use as pig and cattle feed, or to create compost fertilizer for produce. Marrero then purchases meat and produce from the farmers for his brewpub.
Maui Brewing Co.'s retro Hawaii-inspired packaging is made of recycled cardboard. Cans for restaurants and bars are delivered sans packaging in reusable trays.
About those cans. Why does Maui Brewing Co. sell its retail beer exclusively in cans instead of bottles? First off, they're recyclable, use less energy to chill, transport and recycle again, and are made locally. It's also a taste issue.
"If a bottle took better care of the beer, I would be bottling," says Marrero. "The cans have a water-based liner so the beer does not contact the aluminum. Cans don't allow light exposure and oxygen pick-up, which affects taste. It's beer as the brewer intends."
Keeping things "green" is as important to Marrero (that's him in the photo) as the quality and taste of his beers.
"We're not going to have a 'zero (carbon) footprint' at the brewery, but we'll be damn close," said Marrero. "That's just something we believe is the right way to go. At the end of the day, it's good to know that there's one less smog cloud we're contributing to."