Maui Brewing Co. opens first Oahu brewpub in Waikiki
The new brewpub at the Waikiki Beachcomber hotel boasts Hawaii's largest bar top and an extensive menu of locally crafted beers.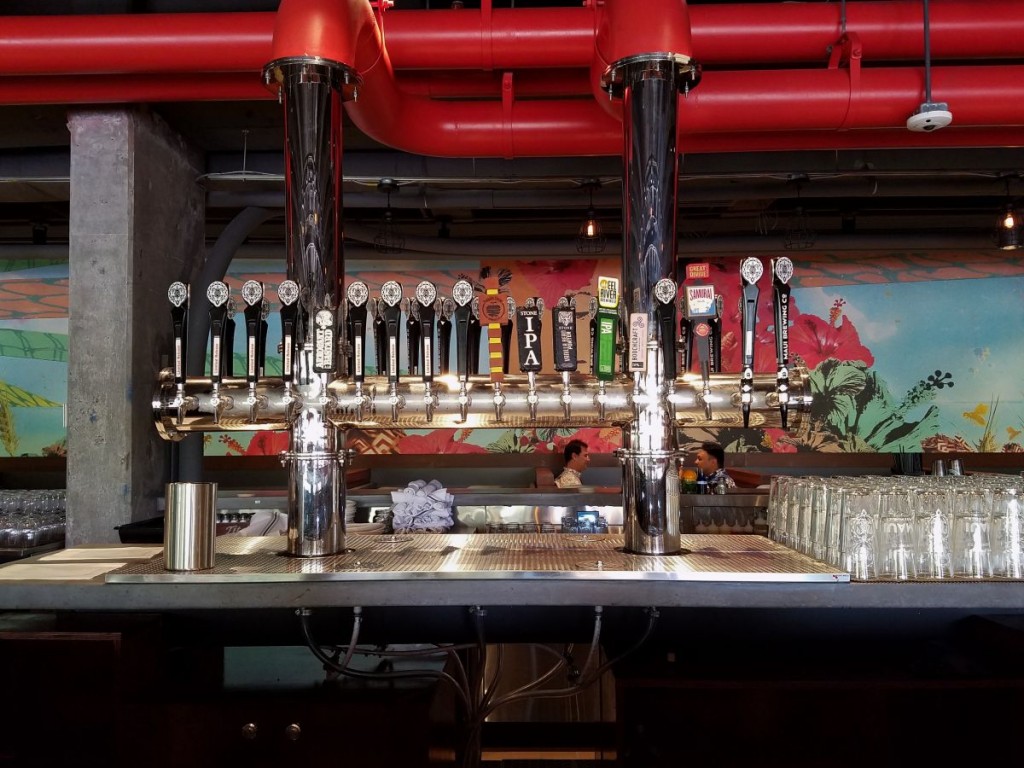 The much anticipated Maui Brewing Co. restaurant in Waikiki has opened its doors on the second floor of the Holiday Inn Resort Waikiki Beachcomber. Boasting a solid menu of carefully crafted, Hawaii-made house brews, culinary cocktails, pub fare, entrée plates and pizza, we're predicting this place will become Oahu's new hot spot for residents and visitors.
"We are the curators of craft," says bar manager Josh Guidi.
It is a philosophy that keeps Maui Brewing Co., started in Kihei, Maui in 2005, one of the major players in Hawaii's growing craft beer scene. With one brewpub already established in Kahana, Maui, and a brewery and tasting room in Kihei, this second brewpub and restaurant, managed by Maui Brewing Co.'s CEO of Restaurants, Chris Thibaut and veteran restaurateur Bill Terry, also taps the talent of executive chef Terry Lynch.
The main offerings at Maui Brewing Co.'s second brewpub is its flagship Hawaii-made beers—Bikini Blonde Lager, Big Swell IPA, Pineapple Mana Wheat and Coconut Hiwa Porter—plus seasonal and limited edition specials like Lemongrass Saison, the surprisingly smooth and fruity POG IPA and Liquid Breadfruit, a flavorful dark golden ale that tastes of toasted malts, fruit and the distinctive earthiness of breadfruit. All the beers offered on tap will be available for purchase in take-home growlers.
The brewpub has a modern, industrial décor in a huge 18,000 square-foot space, which can seat a total of 435 people and has the largest bar top in the state of Hawaii.
Look up, and you'll see one section of the restaurant where the ceiling is covered with upside-down metal beer kegs, each bearing the Maui Brewing name and logo.
A striking element you'll notice from the street outside is the 70-foot kinetic wall on the building's front, the first of its kind in the state, made of individual metal sheets that move in the wind to simulate the movement of waves on the water. As patrons climb the stairs from the main entrance off Kalakaua Avenue, they will get to learn more about the brewing process from a three-story mural in the front atrium.
So for those of you looking for an authentic, local taste of Hawaii on the Waikiki strip—or even just a really good beer—this might be your new favorite Oahu destination.
Maui Brewing Co., Waikiki
2300 Kalakaua Ave. (second floor lobby of Waikiki Beachcomber)
Open daily 11 a.m. to 11 p.m.
(808) 843-BREW
mauibrewingco.com/waikiki