Maui chefs and produce shine at Kaanapali Fresh culinary event this weekend on Maui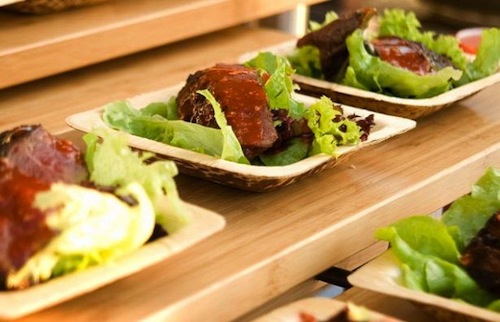 So you're on Maui this Labor Day weekend, consider yourself something of a foodie and, maybe, feel like noshing on some of the best cuisine on the island?
Plan on a visit to the second annual Kaanapali Fresh, a three-day series of culinary events at the hotels and resorts of the Kaanapali Beach Resort, dedicated to showcasing the food and produce of Maui.
You could spend Saturday morning browsing the locally-grown produce at a Maui farmers market steps from the beach at Kaanapali. Near lunch, tour a working West Maui coffee farm. And your plans for the evening? On Friday, Saturday AND Sunday, how about tasting events featuring stellar dishes from Maui's top chefs and farmers?
Attend all of the Kaanapali Fresh events or pick and choose.
This year's festival includes a special edition of the weekly Grown on Maui Farmers Market at Whalers Village shopping center at Kaanapali Resort, featuring local farmers, food producers and chefs; a tour of the Kaanapali Estates coffee farm; and a mixology class at the Royal Lahaina Resort where guests can learn the art of crafting cocktails using local ingredients.
The main events of Kaanapali Fresh, however, will be its evening tasting galas, which include:
• Progressive Kaanapali: "A Double Culinary Grande with a Shot of Jake,"
6-9:30 p.m. Fri., Aug. 30
A progressive dinner beginning at the Westin Maui Resort & Spa and ending at the Sheraton Maui Resort & Spa with an outdoor live performance by ukulele virtuoso Jake Shimabukuro. Chefs at each resort will use local ingredients to create dishes ranging from appetizers and entrees to desserts.
• Signature Kaanapali Fresh Food & Wine Festival: "Kaanapali 5-0"
6:30-9:30 p.m. Sat., Aug. 31
The biggest event of the three-day festival will feature pairings of 12 Kaanapali chefs and 12 Maui farmers crafting dishes using local ingredients, many of these grown especially for the occasion. The tasting will be held under the stars on the Royal Kaanapali Golf Course.
• Malama Maui
6-9:30 p.m. Sun., Sept. 1
This dinner gala at the Hyatt Regency Maui Resort & Spa officially kicks off the Hawaii Food & Wine Festival, a weeklong culinary festival finishing off on Oahu later in the week. Held in the resort's open-air Sunset Terrace, the dinner will feature six renowned Maui chefs, each highlighting Maui-grown products.
Click here for more information on all Kaanapali Fresh events and seminars, or to buy tickets.