Maui County Ag Fest celebrates island food and growers this Saturday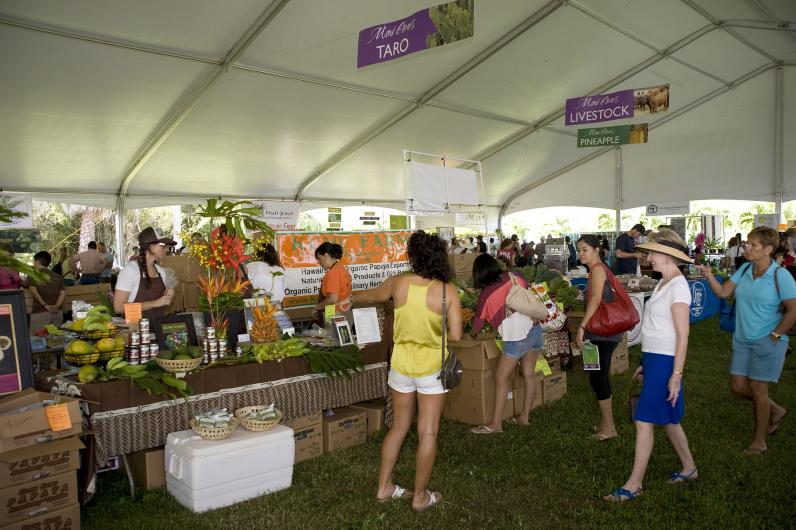 If you're on Maui this weekend, don't miss the annual Maui County Ag Festival.
The one-day-only fest, now in its eighth year, was voted one of the top agricultural festivals or fairs in the state in our 2015 Readers' Choice Awards polls. The event brings together farmers, ranchers and their products with the visitors, area residents, food artisans and chefs that utilize them, to explore Maui's food ways and the importance of local agriculture in a fun, festival atmosphere.
Held Sat. April 4, the event takes place on the luau grounds of the scenic Maui Tropical Plantation in Waikapu in the foothills of the West Maui Mountains. All day, attendees can explore farmers' markets, livestock exhibits, farm-to-table food booths, and find tasting opportunities as well as wellness, health and educational demonstrations teaching everything from how to make compost to how to prepare a local, healthy meal.
Perhaps the most compelling reason to attend, though, is the rare chance to meet so many of the area's farm workers and ranchers face-to-face. Be sure to ask them about the larger farming community, their salt of the earth occupations and how they cultivate food from rich Maui County soils.
Two popular open-to-the public events include the Live Chef's Challenge and the ticketed 2015 Grand Taste. In the Live Chef's Challenge, chefs form three teams and competitively problem solve to prepare a locally-sourced meal using surprise ingredients, a limited food pantry and outdoor cooking equipment. The event is free to watch. The Grand Taste educational event ($30 in advance or $40 at the event) runs with the tagline: "A Bite of Maui," and is a talk story session with both chefs and farmers that will include tips and tricks for growing and preparing local food. The event is put on in collaboration with Slow Food Maui.
Additional featured entertainment throughout the day includes Japanese Taiko drumming, storytelling sessions, Hawaiian-award winning musicians and an Easter egg hunt.
A pre-festival dinner in conjunction with the Maui County Ag Fest and put on by locavore chefs will be held this evening (Thurs., April 2) from 6 p.m. til 9 p.m. at the Maui Culinary Academy. Passed appetizers, a plated course and an array of dessert options will be prepared by some of Maui's top chefs. Tickets are $89 plus an online fee.
The Maui County Agricultural Festival is hosted by the Maui County Farm Bureau in partnership with the Office of Economic Development and a number of regional sponsors.