Maui County Ag Fest celebrates the island's exceptional food bounty this Saturday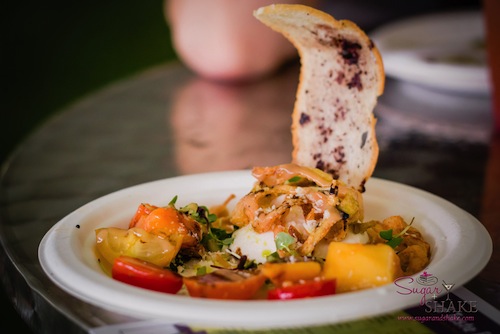 The Maui County Agricultural Festival was voted No. 2 "Best Annual Agricultural Festival or Fair" in our 2014 Readers' Choice Poll.
What was No. 1? That's not important right now. (Buy our "Readers' Choice 2014" issue, on sale now nationwide, to find out.)
What is important right now (especially if you're on Maui this weekend) is that you check out the 2014 Maui County Ag Fest, this Saturday, April 5, from 9 a.m. to 4 p.m., at the Maui Tropical Plantation in Waikapu.
What is it?
Only one of our favorite annual state celebrations of the growing importance and inarguable coolness of grown-in-Hawaii produce and product to our Islands. Ag Fest's schedule of event, however, is focused squarely on Maui and the business partnerships and friendships between its farmers, food producers and chefs. It's also one very educating and appetite-sating day for the 8,000 or so residents and visitors who attend annually.

Goats do roam. Livestock tent at 2012 Maui County Ag Fest. Photo by Sugar + Shake.
At Ag Fest, you'll find everything from cooking demonstrations and booths filled with straight-from-the-farm produce and made-on-Maui food products for sale, to Maui chef food challenges using local ingredients, livestock exhibits, entertainment, and a whole lot of Maui-centric food booths. And we do mean "a whole lot."
Most of all, though, Maui Ag Fest is a great annual event, offering residents and visitors the opportunity to talk story and get to know farmers, ranchers and food producers. And entry is just $3 (free for age 21 and under).
HAWAII Magazine took a closer look at the history and ethos of Maui Ag Fest for a feature in our March/April 2012 issue. Click here to read the story.
Some must-check-out Maui Ag Fest events?

Maui-grown flowers on sale at 2012's Maui Ag Fest Farmers Market. Photo by Sugar + Shake.
• The Grown-on-Maui Farmers Market – featuring Maui flowers, produce, coffee, food products and more, for sampling and purchase. We've discovered great new products and made great new friends in the industry at the market on past visits to Ag Fest. The Farmers Market was where we first met Anthony LaBua-Keiser and Maleta Van Loan, owners of boutique pickle, preserve and condiment maker Maui Preserved, who we've since written about in our pages (check out "In A Pickle" in the current March/April 2014 issue of HAWAII).

Grand Tasting participant ballot from last year. Photo by Sugar + Shake.
• The Grand Tasting – a food challenge pairing a dozen Mau chefs with a dozen Maui farmers, a dozen Maui-grown ingredients and a mix of multi-ethnic cuisines to create dishes showcasing the important bond between farmer and chefs. For your $30 advance or $35 day-of-event ticket, you get to taste all 12 dishes presented. Trust us, it's a good deal. And you get to vote for your favorite chef-farmer pairing for "Peoples Favorite." Purchase advance tickets for the Grand Tasting here.
Grand Tasting chef/farmer/produce/cuisine pairings will include:
• Isaac Bancaco (Kaana Kitchen at Andaz Maui at Wailea) and
Chauncy Monden (Kula Country Farm)
Produce: Onions
Cuisine: Portuguese
Eric Faivre (Humuhumuapuaa at Grand Wailea) and
Heidi and Tommy Watanabe (Watanabe Processing)
Produce: Bok Choy
Cuisine: Korean
Gevin Utrillo (Japengo at Hyatt Regency Maui Resort & Spa) and
Noel Escobedo (Escobedo Farms)
Produce: Eggplant
Cuisine: Filipino
Wesley Holder (Pulehu: An Italian Grill at Westin Kaanapali Ocean Resort Villas) and
Jamie Shishido (J. Shishido Farm)
Produce: Kai Choy
Cuisine: Chinese
Chris Kulis (Capische?) and
Ian Cole (Breadfruit Institute at Kahanu Gardens
Produce: Breadfruit
Cuisine: Hawaiian
Bobby Masters (Hula Grill Kāʻanapali) and
Geoff Haines (Waipoli Hydroponic Greens)
Produce: Watercress
Cuisine: Japanese
Marc McDowell (Mākena Beach Resort) and
Emanuela Vinciguerra (Kumu Farms)
Produce: Long Bean
Cuisine: Chinese
Tylun Pang (Kō at The Fairmont Kea Lani) and
Fernando Traje (Traje Farms)
Produce: Zuchini
Cuisine: Filipino
Jeff Scheer (Maui Executive Catering) and
Gerry Ross (Kupaʻa Farm)
Produce: Taro
Cuisine: Hawaiian
Chris Schobel (Fat Daddyʻs BBQ) and
Bryan Otani (Otani Farms)
Produce: Broccoli
Cuisine: Japanese
Sheldon Simeon (Migrant) and
Olowalu Nui Farms
Produce: Tomato
Cuisine: Portuguese
Jojo Vasquez (The Plantation House) and
James Simpliciano (SimpliFresh)
Produce: Radish
Cuisine: Korean
I'll be at Maui Ag Fest again this year (my third consecutive), wandering all over the Maui Tropical Plantation grounds for sure, but guaranteed at the Grand Tasting tent come 11 a.m. If you're on Instagram, follow HAWAII Magazine at @hawaiimagazine to see out our Maui Ag Fest photo posts. And feel free to say, "Hi!" if you're there.

Fresh carrots at 2013 Maui Ag Fest Farmers Market. Photo by Sugar + Shake.