Uncover How Chocolate Goes from Bean to Bar at this Lahaina Farm
At Maui Ku'ia Estate Chocolate, exceptional cacao thrives in the Lahaina heat, making for some of the best chocolate under the sun.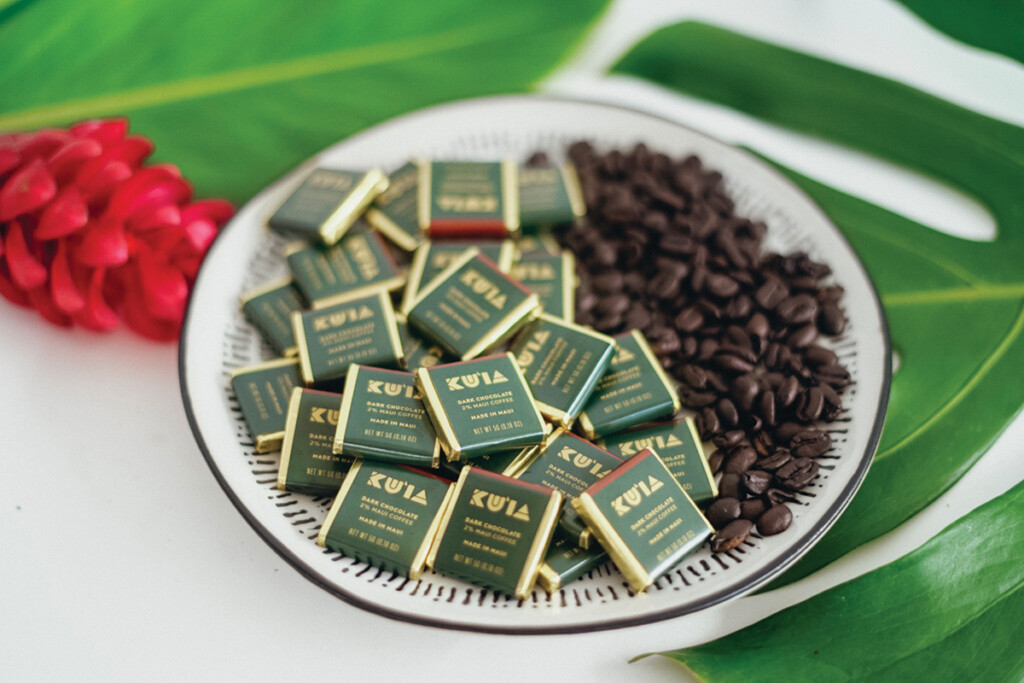 Varying in shades of marigold orange, crimson and pistachio green, dense pods hang low on rows of slim evergreen trees. The beans inside these pods will be made into rich chocolate.
Here at Maui Ku'ia Estate Chocolate, innovative and sustainable agriculture practices help grow high-quality cacao and craft artisanal chocolate. "It's like the difference between Budweiser and microbreweries," says Brian Bendschneider, my tour guide. "We're making world-class chocolate."
And he has the hardware to prove it: After only three years of selling its Maui-made chocolate, Maui Ku'ia Estate was awarded the 2021 Cocoa of Excellence Gold Award for the Asia Pacific region and later, the 2022 Good Food Award. The Cocoa of Excellence recognizes the quality of chocolate from global producers and celebrates diversity of flavors across regions. The Good Food Awards provide recognition to high-quality food that unites and strengthens small communities.
"Cocoa of Excellence awards the bean," Dan O'Doherty, the estate's vice president of operations, tells me. "The idea is to cut away the impact of the chocolate maker and focus on the quality of the raw material. The Good Food award, that judges the chocolate we actually formulate and make here." Essentially, the farm and factory are developing both exceptional cacao beans and superior tasting chocolate bars.
To satiate my curiosity about how chocolate is made, there's hardly a better classroom than Maui Ku'ia Estate.
It's late in the afternoon and there are no clouds above Maui's west side when I arrive at Maui Ku'ia Estate's factory. Among a small eager group, I board the shuttle to the company's farm. As we climb into the van, Bendschneider reminds us, "Lahaina means land of the unrelenting sun." (We find out later how unrelenting.)
Bendschneider drives us 15 minutes to the orchard where we'll learn about cultivating cacao plants and participate in a chocolate tasting. He's sporting a pair of checkered Willy Wonka-esque sunglasses, and I can't help but think how fitting his fashion choice is. Bendschneider exudes a rock star aura with his shaggy blond hair; he says some people say he looks like Sammy Hagar, or maybe Mick Fleetwood. And he's an encyclopedia on all things Maui Ku'ia Estate and chocolate.
The chocolate business was established by former biotech scientist Gunars Valkirs, who has a doctorate in physics. Bendschneider tells us that Valkirs always had a fervent interest in agriculture. Back in 2013, Valkirs leased the first parcels of farmland for Maui Ku'ia Estate. The same year, the first cacao seedlings were planted. But it wasn't until 2018 that the first cacao pods were ready to be harvested for chocolate production. The passion project to make extraordinary chocolate prospered, propelled by the excitement people seem to have for locally grown cacao.
While the company focuses on crafting high-quality chocolate, it also maintains a commitment to the Maui community. Maui Ku'ia Estate donates 100% of its profits to local charities. The farm also created its own program, Chocolate Laulima, in which the company partners with local nonprofits to support their fundraising efforts.
When we arrive at the orchard, I feel the heat from that unrelenting sun. Under these strong rays, the estate is cultivating nearly 7,000 cacao trees across 20 acres of farmland. After harvesting, the cacao beans are fermented and roasted before being made into chocolate at the factory. And like the farmland, the entire facility is powered by that same Lahaina sun, through solar panels.
As we explore the orchard, we pass cacao pods in varying colors and textures. I spot a pod with smooth skin and a rusty orange hue, and just a few trees over, there's a bright citrus yellow pod with rough skin.
"The trees are mixed hybrids. You can compare them to poi dogs, or mutts," O'Doherty explains after the tour. "The trees cross-pollinate, so you have every shape, color and texture, which is beautiful."
Hawai'i is the only U.S. state to commercially grow cacao. While the Islands are known for year-round sunshine and warmth, Hawai'i is actually the coldest place in the world where cacao can grow. Hovering about 20 degrees north of the equator, the Islands are right on the edge of the tree's cultivation range.
Native to South America, cacao was introduced to the Islands in the 1830s. King David Kalākaua was known to grow the trees in his garden and throughout history and across many cultures, the crop has been prized and valued by monarchs and regular citizens alike.
Cacao was like gold to the Aztecs, Benschneider says as we continue to tour the orchard, and he tells us about records chronicling the significance of chocolate in early Central and South American cultures. "It was considered food for the gods."
And that's our cue to climb the stairs to the farm's treehouse, or church as Bendschneider describes it. "I'll be damned if anyone falls asleep or gets bored in chocolate church."
That chocolate church is actually a bungalow, raised high above the farm. It's where the world-class chocolate is taste-tested. From there, I take in the panoramic views of the Pacific Ocean; Lāna'i and Moloka'i are visible and, in the distance, I can spot a hotel on Front Street. Directly below me is a jungle of cacao trees.
But soon my attention returns to the chocolate. Bendschneider hands us sheets, like for a wine tasting, to scrupulously write down the flavors we detect. As we pop 5-gram squares of chocolate into our mouths, our tasting guide reminds us, "There are no wrong answers." But there is a correct process: Let the chocolate sit in your mouth for 30 seconds to fully absorb the flavors. It takes every bit of self-control to savor the complexity of the chocolate rather than just chewing twice and swallowing it down. I note the balanced bitterness of dark chocolate and locally grown coffee in one square, and how the layers of orange, mango and guava reveal themselves in another, the perfectly named OMG chocolate.
In addition to the cacao beans harvested on the Lahaina farm, Maui Ku'ia Estate also sources beans from farms in countries including Ecuador, Brazil, Uganda and India. O'Doherty says he decided to work with those farms because he has an intimate knowledge of the growing conditions there; he visits the farms at least twice a year.
Sourcing beans from around the world also adds to the complexity of the estate's chocolate. "These beans offer a range of flavors, adding stories related to where they were grown," O'Doherty says. "It's like with wine, there's terroir, a taste of place. You can't exactly replicate that because of the varieties, the soils, the climate."
And as I depart Lahaina, I'm certain that O'Doherty is right. The chocolate produced on the gentle slopes of Mauna Kahālāwai, under that unrelenting sun, can't be replicated anywhere else.
Tours run 90 minutes; $85 for adults and $75 for children, mauichocolate.com.
This story was originally published in our 2022 Fall issue. Buy a copy here.