Maui Onion Festival salutes the world's sweetest-tasting bulb this weekend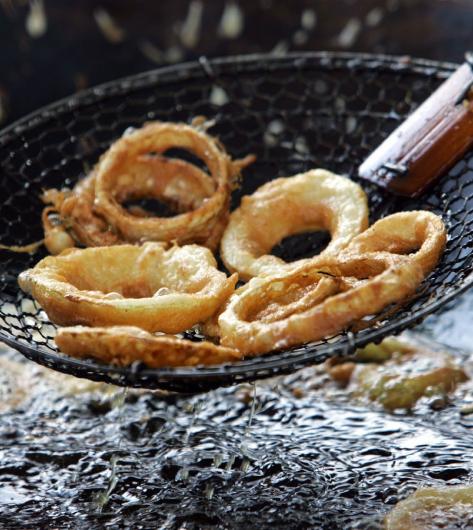 If you're headed to West Maui this weekend, you may want to bring some breath mints along.
The 22nd annual Maui Onion Festival at Whalers Village — packed with eating and cooking contests, onion-themed games, Hawaii celebrity chef demonstrations and oniony eats — happens all day Sat., May 7.
The Kaanapali area fest salutes the Maui Kula onion — known for its mild, crunchy bite and rated among the sweetest onions in the world. In past years, festivalgoers have gobbled up more than 1,000 pounds of fried, grilled and otherwise prepped Maui Kula onion rings.
Celebrity chef cooking demonstrations will begin with James McDonald of Pacific O and Io restaurants at 10 a.m.; Roy Yamaguchi of Roy's restaurants at 11 a.m.; D.K. Kodama representing his Maui restaurants — Sansei and Cane & Taro — at 1 p.m.; Brian Etheredge of Capische at 2 p.m.; Eric Arbogast of Cuarto at 5 p.m.; and David Paul Johnson of David Paul's Island Grill at 6 p.m.
At 3 p.m., all six chefs will assemble on the festival's center stage to compete for the title of "Best Maui Onion Recipe." McDonald (pictured, left) won last year's recipe contest.
Before and after the best-recipe contest, be sure to catch both rounds of a raw-onion eating competition. The keiki (kids) division set to begin at noon and the adult division, at 4 p.m.
An annual ticketed pre-event onion pairing dinner is set for the evening before the evening before the Maui Onion Fest, Fri., May 6 at Hula Grill Kaanapali. The three-course meal will feature Maui Kula onion paired with beer by Maui Brewing Co. For ticket information, call (808) 667-6636.
For a complete Maui Onion Festival festival schedule, click here.