Maui Whale Festival celebrates return of Hawaii's humpbacks, now through May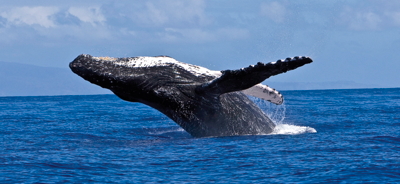 Some folks wait for Santa during the holiday season. But here in Hawaii, we wait almost as patiently to catch a glimpse of another annual winter season visitor—more than 10,000 of them actually.
The humpback whales—called kohola in Hawaiian—reside in Hawaii's warm and shallow waters each November through early May to breed, birth and raise their calves. The endangered mammals travel more than 3,000 miles of ocean from the waters off southeastern Alaska to get here—a journey that takes about two months.
And every year, pretty much as dependably as the whales' migration, Maui holds a multi-month festival celebrating the state's much-loved visitors. The Maui Whale Festival, in its 31st year, is happening now through May 15, 2011.
Hosted by the nonprofit Pacific Whale Foundation, the festival attracted more than 25,000 people last whale watching season, and promises even more whale-themed events this year. The festival began on Nov. 26—just over a month after the first humpback of the season was spotted in waters off Lahaina on Oct. 20. Over the next few months, the fest will feature a whale of an event lineup, including a sustainable seafood cruise, a golf tournament, educational lectures and the popular Run for the Whales charity run/walk.
The fest's signature event, however, is Whale Day, held on Feb. 19, 2011, at Oceanside Kalama Park in Kihei. The all-day event includes a Parade of Whales, live entertainment, food booths, a Made-on-Maui market, children's activities, a silent auction and educational displays. Proceeds from Whale Day will support marine education programs for schoolchildren on Maui.
The humpback whale is still on the endangered species list, but efforts to protect them have increased their overall population in recent years. Hawaii's humpback whale population is estimated to have doubled over the last decade to about 10,000 annually.
Harbors on Maui are already bustling with activity, as charter boats take curious on-lookers to see the humpbacks, as they breach and slap the ocean just off shore.
For more than 30 years, the Pacific Whale Foundation has taught more than 3 million people about the ocean, and established educational whale-watching and ocean eco-tourism in Hawaii. The foundations works with the international community to promote whale research and protection.
For more information on the Maui Whale Festival and a schedule of upcoming events, click here. For more information on whale-watching activities hosted by the Pacific Whale Foundation, click here.